Reflective of the conglomerate's ambition to turn into a consumer-driven business, most of the 33 acquisitions in the last financial year were for its digital, retail, or related verticals.
Illustration: Dominic Xavier/Rediff.com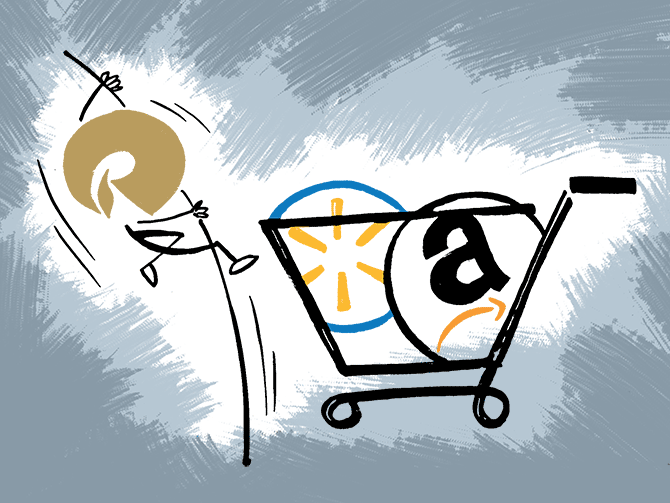 It is churn time for oil-to-telecom conglomerate Reliance Industries (RIL).
As the company divests from some core segments and invests in consumer-facing ones, it dealt with 33 merger and acquisitions (M&As), investment and joint ventures in the last financial year.
This is the busiest its M&A team has been in a decade.
According to data available with Bloomberg, RIL reported 33 such activities - some complete and some pending in 2018-2019 financial year (FY19) - valued at $ 2.9 billion.
In FY18, the company had reported 16 such deals.
Reflective of the conglomerate's ambition to turn into a consumer-driven business, most of the acquisitions in the last financial year were for its digital, retail, or related verticals.
The list includes two major buy-outs - majority stakes in DEN Networks and Hathway Cable & Datacom for a total of Rs 5,230 crore and interest in Alok Industries through the National Com­pany Law Tribunal route.
Part of the company's 'to sell' list are its stakes in Cambay basin divested to Sun Petrochemicals for an undisclosed amount, announced in July 2018 and sale of its pipeline infrastructure to Brookfield Infrastructure Investment Trust (InvIT) in March this year for Rs 13,000 crore.
RIL's M&A activity has been on a steady rise since FY18, the second highest in the past one decade.
The trend for FY18 was similar - where the company divested from some core business assets and purchased consumer-facing ones.
In FY18, for instance, RIL divested its stake in its US shale gas assets announced in October 2017.
In July 2017, it announced an investment in Balaji Telefilms.
In the first month of the current financial year, RIL announced two deals - sale of a significant stake in six companies which own its very large ethane carriers for an undisclosed amount and a Rs 700-crore investment in Artificial Intelligence (AI) start-up Haptik.
With reports emerging on a possible stake sale for the company's refining and petrochemicals business and a purchase of stake in global toy seller Hamleys, RIL's M&A team may be staring at yet another busy year.
The company has refused to comment on both deals so far.
At 21%, RIL's petro-retail growth outpaces the industry
RIL's growth rate in petrol and diesel retail volumes was higher than that of the industry during the March quarter.
This growth, however, has not been able to match RIL's consumer retail momentum.
For the January-March 2019 quarter, RIL said its petrol retail volumes grew by 21 per cent.
This is higher than the industry growth rate for the same period which was at 9 per cent, according to RIL's investor presentation for the March quarter.
The company saw a similar growth for its diesel sales.
Volume growth for diesel in retail was at 16 per cent, higher from the industry growth rate of 3 per cent in the March 2019 ended quarter.
For 2018-19, diesel grew 16 per cent and petrol 21 per cent for RIL against the industry average of a 3 per cent pick up in diesel sales and 9 per cent for petrol.
"Higher retail/bulk sales (for both diesel and petrol) are on the back of strong domestic demand," the company said in its presentation.
"RIL achieved its highest ever domestic sales in high speed diesel (HSD) and motor spirit (petrol) through its well-entrenched pan-India retail network and direct sales.
"The average throughput per outlet for Reliance is more than double that of the industry average," the company said in a press statement.
While RIL has managed to outdo the industry average growth in the fuel industry, it lags compared to its own non-fuel retail business.
The revenue pie for the company's retail business shows petro-retail's contribution has fallen to 10.2 per cent in the last financial year, compared to 14.6 per cent share it held in financial year 2017-18.
Revenue from consumer electronics at the same time contributed 30 per cent to the total retail revenue in FY18-19, against 21.9 per cent in FY17-18. For the full year, the retail business reported revenue of Rs 1.30 trillion.
In addition to its growing retail sales, the company also saw higher volumes in the bulk HSD segment.
The presentation stated the company's market share was now up to 8.5 per cent in this segment, sequentially higher from 8 per cent in the December 2018 ended quarter.
In the March 2018 ended quarter, RIL held a 7.5 per cent market share in the bulk diesel segment.
"We maintained priority position with railways," the company said in its presentation.
The railways is one of the largest consumers in the bulk diesel segment in the country.
RIL also reported a 37 per cent rise in its non-railway business.
The company did not disclose actual volumes for this segment.
RIL operated 516 owned fuel retail outlets as of March 2019 and recommissioned 21 outlets in the last financial year. It operates a fuel retail network of 1,372 pumps.