IndiGo's situation points to a deeper malaise where skill shortage can challenge India's status as the fastest-growing aviation market, say experts.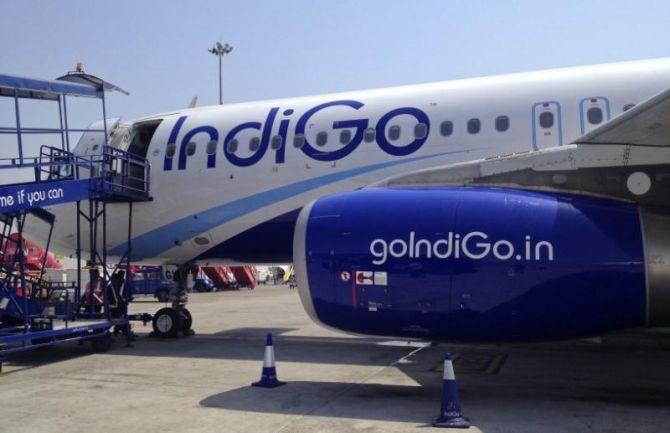 Hundreds of cancelled flights and disgruntled customers; reprimand from the regulator and a possible cut in expansion plans -- IndiGo's public image has taken a severe beating in the past one week or so, forcing analysts to doubt if India's infrastructure and skill gap will support the country's largest airline's aggressive growth plan.
IndiGo has said the situation is well in control and that it will not slow capacity addition.
"We are sticking to the growth forecast given to investors. There was a slight mismatch in the projected and actual availability of pilots. But we are on our way to set things right by April," IndiGo's Chief Operating Officer Wolfgang Prock-Schauer said in an interview.
Prock-Schauer attributed the disruption to a hailstorm and simultaneous runway closure at Bengaluru and Mumbai airports. "We don't want to cancel flights, but with such a large network and so many things happening together, it creates a ripple effect, leading to disruption," he said, explaining the cancellation of 2 per cent of the airline's total flights.
However, industry executives pointed out that Prock-Schauer's reasoning and the magnitude of cancellation revealed a tight situation with availability of pilots.
"That one storm can disrupt operations of the airline for one month shows that IndiGo doesn't have a bench strength of pilots, which is essential for the airline's wide network. IndiGo cannot be hand-to-mouth with crew availability. On any bad day, they will hit the ceiling of regulated flying time of pilots," said the head of operations of a low-cost carrier.
A poor system of crew scheduling and planning only made things worse, according to many top executives.
"Crew planning and scheduling must be perfect during rapid expansion. In this case, there was no sync between fleet planning and the flight operations department," he added.
In fact, the genesis of the pilot crisis is being linked to the Pratt & Whitney engine issue.
Aircraft delivery had slowed down due to the Pratt & Whitney engine problems for about one year, and this led to under-utilised crew for the airline.
This, in turn, resulted in an increase in the employee cost by almost 25 per cent during the first quarter of 2016-17.
"During the last financial year, we witnessed an increased employee cost primarily on account of excess bench strength of operational staff because of the delay in capacity addition," IndiGo Chief Financial Officer Rohit Philip had said.
Sources said the airline, known for its obsessive focus on cost control, stopped hiring new captains, and upgradation of first officers.
But within one year, delivery of new planes was back on track. IndiGo was now deploying one new aircraft per week but the availability of commander didn't pick up.
"The tell-tale signs have been visible for the last seven months now. Induction was continuing, but commanders were in short supply," said an airline executive.
The first sign that something was wrong with IndiGo's famed tight ship showed up last summer. Calls to pilots from the rostering department to work on offdays had become frequent and on short notice.
What made the situation more complex was a regulatory change introduced in 2017, extending the notice period for commanders to one year.
"While IndiGo with its higher salary was able to poach pilots from rivals, the new rules made it difficult to do so," said an IndiGo executive, who recruits pilots for the company.
To tide over the crisis, IndiGo dispatched recruiters to Latin America and West Asia -- areas where troubled airlines were cutting costs and laying off pilots.
But multiple approvals required for inducting an expat pilot slowed the process. A foreign pilot needs to get approval from security agencies, besides passing an oral examination conducted by aviation regulator Directorate General of Civil Aviation (DGCA), which conducts it only once a week.
Typically, it takes around three months from after security clearance to get DGCA approval, sources said.
"We had planned to induct 120 expat pilots by the end of the year. Twenty of them have joined and remaining will join by June. There was some delay, more than anticipated as it requires multiple regulatory approvals," said Prock-Schauer.
Last June, the management put out a call offering pilots more money to work on extra days -- the first time it had done so.
While most IndiGo pilots work on a contract of 56 days of privilege leave, the company asked pilots to reduce it to 42 or 22 days for a bonus of Rs 35,000 and Rs 86,500.
"As you are aware, the induction of new aircraft is now reaching a rapid and aggressive phase. Under these difficult economic conditions, a lot of time has been devoted by us in trying to find ways of rewarding more productivity with financial benefits," the airline's head of flight operations Ashim Mittra wrote to pilots.
But the scheme proved to be short-sighted as it resulted in captains hitting the limit of 1,000 hours of allowed flying per month.
Expansion also meant the airline was opening multiple bases, but crew shortage resulted in uneven staffing in smaller bases.
For instance, in Mumbai, it parks only six planes overnight, but has over 250 pilots, while the airline has stopped hiring for smaller bases like Pune, Jaipur, and Bhubaneswar.
This resulted in increased layover for pilots, leading to fatigue and uneven duty patterns. Many IndiGo pilots are currently operating three-four days at a stretch away from home.
"From the start of the summer schedule, there were very clear signs of issues in crew control. Pilots voiced their concerns multiple times and many resigned or are on notice period," said a commander of the airline.
In a communication sent to pilots in December, Mittra had accepted the resentment among the crew. "While we have been able to expand our footprint in key markets, I have to admit that the complexities of our network and infrastructure constraints have affected the quality of life," Mittra wrote in an email with the subject 'Work Life Balance', assuring the crew that the problem would be resolved soon.
According to Prock-Schauer, there was a "slight mismatch" between supply and availability of commanders.
But he promised to fight it with aggressive hiring plans. "In the last one year, we have upgraded 200 of our own first officers to captains. We will be stepping that up and additionally hiring 100 more expat pilots," he said, adding it would increase the number of captains per aircraft.
"We don't have a shortage. For IndiGo, there are 6.65 captains per aircraft. We would like to take that to seven to prevent such disruptions in future," he said.
Experts view the scenario differently. IndiGo's situation points to a deeper malaise where skill shortage can challenge India's status as the fastest-growing aviation market, they believe.
Pilot training is very costly in India and not many can afford it unless it is borne by the airline, said Hemanth D P, head of Hyderabad-based Asia Pacific Flight Training School.
Airlines in India recently rejected a government proposal of inducting their own simulator for training, saying it will increase their operating cost.
"No, I don't think IndiGo should go into training pilots. That is not our business," Prock-Schauer said when asked about it.
Instead, the airline has plans of increasing tie-ups with flight training schools to strengthen the pipeline of pilots.
"We have recently tied up with a new academy and are in talks with two more," said Prock-Schauer.