Aditya Ghosh, with no prior aviation background or MBA degree, managed not only to become the CEO of an airline but even piloted it to the top with almost half of the market.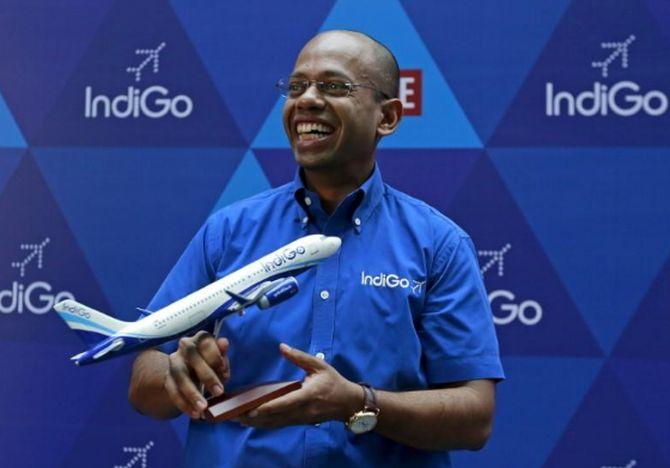 During those turbulent days when IndiGo faced public ire for manhandling a passenger on the tarmac, Aditya Ghosh changed his WhatsApp profile picture to 'Forever 6E'.
6E is the code which IndiGo cheekily uses as ''sexy'' for branding purpose.
To show his loyalty, he even sports wrist bands with the company logo.
Ghosh, with no prior aviation background or MBA degree, unlike most top executives of India Inc, managed not only to become the CEO of an airline but even piloted it to the top with almost half of the market.
After graduating from law college, Ghosh had joined J Sagar Associates. Jyoti Sagar, founder of the legal firm, gave him the responsibility to handle important clients including Rahul Bhatia's InterGlobe Enterprise, which had interests in the travel and hospitality sector.
It was 2004 and Bhatia was preparing to launch his own airline, IndiGo. Impressed with his work, Bhatia roped in Ghosh as general counsel. It was a significant role as the company was finalising a mega aircraft order, the biggest in India's aviation history. Ghosh handled all complex legal aspects with manufacturer and lessors.
He must have handled it well because when the first CEO Bruce Ashby retired, Ghosh was instantly made the CEO. A person who was part of the launch team says Bhatia liked Ghosh's diligence and will to learn. Subsequently, he was made the president.
Ghosh was swift to respond to the role. It was the time of skyrocketing oil prices. He kept things at IndiGo running with a few elementary guidelines -- low cost, on time, efficiency.
"I would say Ghosh successfully put IndiGo on auto pilot. What Bruce Ashby implemented at IndiGo, till today it is operated on that concept," an airline executive said.
As they say luck favours the brave, Vijay Mallya's Kingfisher shut shop in 2012 after acquiring Air Deccan. It was immediately followed by near-bankruptcy at SpiceJet, leaving a large vacuum in the market.
With a robust order book which meant IndiGo was adding at least one aircraft every month, the airline successfully capitalised on it.
By July 2012, six years after it started operations, IndiGo became the market leader with 27 per cent share surpassing Jet group's 26 per cent. The gap has been widening since then.
In an interview earlier, Ghosh said that learning the tricks of business has been tough and he has constantly worked to increase his knowledge from global peers.
At his office, Ghosh's bookshelf still shows signs of the airline outsider that he once was. Aviation case studies such as Nuts! Southwest Airlines' Crazy Recipe for Business and Personal Success and Ruinair jostle for space with titles such as Richard Branson's Business Stripped Bare and Outliers: The Story of Success by Malcolm Gladwell.
By 2015, when IndiGo did public listing, Ghosh had become the face of the airline.
People say what clicked for Ghosh was his ability to connect with people from all spheres of the company.
In his communication with employees, Ghosh made it a point to add a line: "You people make me look so good and successful."
In fact, in his note to the employees announcing his exit on Friday, he said quite the same.
"You ask any pilot and he would tell you how approachable Ghosh was, the CEO was just one WhatsApp message away, can't ask for more," says a pilot.
But the last few months have been turbulent for both Ghosh and IndiGo. From a public relations crisis to engine woes.
As Ghosh prepares for his next inning, IndiGo is gearing up to be a 200 aircraft company and is eyeing long haul operations, now under a new leadership.
The changes might show results, but IndiGo employees could still miss 'Captain Ghosh'.
Photograph: Danish Siddiqui/Reuters.