IndiGo clearly needs to refresh its HR and training manual, says Shyamal Majumdar.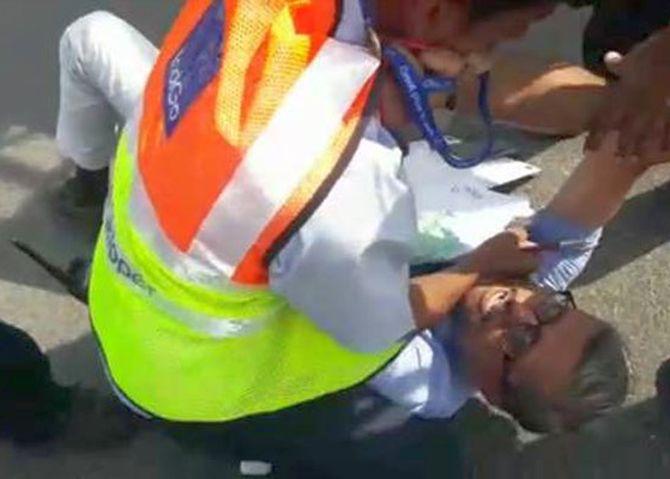 IMAGE: A video grab of IndiGo staffers assaulting a passenger that went viral recently.

Just three weeks ago, IndiGo was on top of the world when it announced that it would achieve the 1,000 flights per day mark in December. The celebratory mood was evident from the airline's statement that each of its flight represents an "opportunity for millions to chase their dreams".
Few days later, it was a different story altogether, with India's largest airline finding itself in the midst of its biggest battle so far to save its reputation as a customer-friendly organisation.
This happened after images of a few of its employees beating up an elderly passenger went viral. While it is surely unfair to tarnish the image of an airline for the unruly and unpardonable behaviour of a few of its employees, it is also true that IndiGo initially underestimated the repercussions of the incident.
It kept quiet till the images went viral before issuing a statement regretting the incident. It is not known what prompted the airline to wait for a public outcry before suspending the errant staff.
IndiGo clearly needs to refresh its HR and training manual so that such incidents can be minimised.
To begin with, it should audit its crisis response capabilities, as the staff clearly looked unprepared to deal with the social media storm over the incident.
It is important for any company to run employees through possible crisis situations and how best they handle them.
Merely blaming the outside world for pre-judging the issue hardly helps, as perception management is an integral part of the training manual for any consumer-focused industry.
The second task is to make its employees aware of soft skills, which are critically important for success at the workplace.
No company now lives in a world where technical skills are the most important factor for success in most jobs.
Instead, soft skills -- often defined as personal attributes required to work well with others -- are at the forefront.
As for dealing with difficult customers, the key is always to listen and empathise instead of jumping at their throats.
The third is to help employees deal with stress. In the short term, every employee experiences pressure to meet a deadline or to fulfil a challenging obligation. But when work stress becomes chronic, it can be overwhelming -- and harmful to both physical and emotional health.
It's useful to have stress management resources available through an employee assistance programme, including online information and counselling.
Stress management is particularly required for airline workers who are under more pressure than ever because of increased air traffic, heightened security standards, long/odd hours and lack of adequate rest.
A study conducted by the International Transport Workers' Federation a few years ago said several low-cost airlines around the world use their workers to the limit in their quest to lower running costs and advertise the lowest fare.
The federation says that poorly trained "emotional labourers" or those who are pulled in many directions at once may struggle to concentrate on doing good work with angry passengers.
When distracted crew and dissatisfied passengers are on the same aircraft after a very rapid turnaround time, with cabin crew expected to serve too many passenger segments, then a systemic failure in marketing is compounded by a systematic failure in crewing.
IndiGo can also learn lessons from the cultural change at British Airways (BA) where staff discontent was more than matched by customer dissatisfaction in the 1990s.
Under the programme, which has become a case study in several universities around the world, BA implemented "Putting People First", which aimed at restructuring employees' attitudes by encouraging them to learn how to better handle stress and set personal goals. Lapel badges were also made with the motto "We're putting people first" inscribed on them to act as a constant visual reminder.
Besides, systems were set up for direct contact between the top management and employees to ensure that mobile and isolated staff were not neglected. In fact, BA became the first company to make daily TV broadcasts to its staff.
Colin Marshall, then BA's chief executive, was quoted as saying that the airline has to "design" its people and service attitude just as it designs an aircraft seat, an in-flight entertainment programme or an airport lounge to meet the needs and preferences of customers.
The programme certainly didn't solve all of BA's problems, but it will do no harm if IndiGo implements a variation of the model.