Reliance Jio and Bharti Airtel have enough capacity to absorb over 113.9 million Vodafone Idea subscribers who are on 4G if Vodafone Idea has to shut operations, says Surajeet Das Gupta.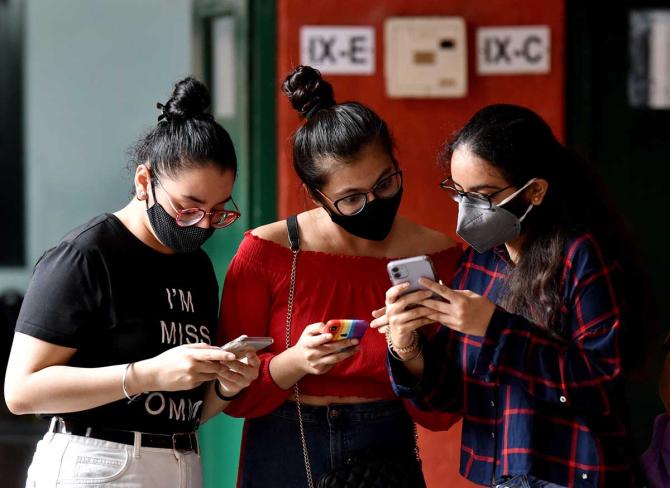 If Vodafone Idea folds up, competing telcos have enough capacity to absorb its 4G customers but its 2G customers could face serious challenges, according to top telecom executives.
For Reliance Jio and Bharti Airtel, this offers a new additional door of opportunity to increase their numbers -- by wooing Vodafone Idea's 2G customers to upgrade directly from 2G to 4G through attractive schemes and subsidies on the phone.
With the recent deployment of the spectrum bought by Jio and Airtel in the auctions, both have been able to substantially increase their 4G network capacity. Experts say they can collectively handle an additional 300 million customers.
Jio, for instance, in its presentation after the Q1 FY22 results, declared that the new 'spectrum investment has created capacity to onboard the next 200 million customers on Jio's network'.
Analysts estimate that Airtel has also deployed the additional spectrum that it bought in over 15 of the 22 circles and this has created enough extra capacity to handle over 100 million additional customers. Bharti Airtel declined to comment on the issue.
Both companies have enough capacity to absorb over 113.9 million Vodafone Idea subscribers who are on 4G if it has to shut operations.
With about 400 plus million users currently, Jio has in any case made it clear that its ambition is to hit the 500-million mark. A Vodafone India closure will accelerate the achievement of this goal.
The problem could be Vodafone Idea's 154 million 2G customers. Only two networks offer 2G services -- Airtel and state-owned BSNL. Most technical experts doubt their capacity to absorb such a large number of customers. "If you ask me, there is no question of BSNL and Airtel absorbing them," said a telecom gear maker executive.
For a long time, BSNL has not invested in its 2G/3G networks and the government is pretty clear that its fresh funding will go towards the deployment of a 4G network rather than on legacy systems.
BSNL/MTNL together already have over 120 million 2G and 3G customers on their old network which, in any case, is expected to be upgraded to 4G.
Airtel has announced that it has closed down its 3G services and that its focus is primarily on upgrading its 2G customers to 4G. That is why it has been re-farming spectrum used for 2G in the 900 band for 4G services across in over 10 circles.
Its 4G customer base has been growing quickly; it made up over 60 per cent of its total customers in the June quarter 2021 compared to 52.4 per cent in the March quarter of 2020. However, Airtel has said that it will take a couple of years for 2G services to call it a day, despite the fact that it has increased the minimum entry price for 2G voice packs with minimal data.
Clearly, the solution is to woo 2G customers directly to 4G. But the challenge here is the upfront cost of buying a new phone.
Jio has tried to reduce the cost of entry by offering 4G feature phones bundled with minutes for just over Rs 1,000. While this has helped them to corner over 130 million customers, the pace has been slowing down -- until, of course, it grabs the opportunity once again.
Airtel, on the other hand, has kept away from the subsidy model on the grounds that it is not sustainable. But analysts say it might change its mind if Vodafone Idea shuts shop.
Some telcos have been pushing the government to offer a Universal Service Obligation Fund subsidy to 2G customers.
"We have been suggesting that the USOF should be used to give a subsidy on 4G phones to 2G service users to help them to upgrade," said a senior executive.
*Kindly note the image has been posted only for representational purposes.
Feature Presentation: Ashish Narsale/Rediff.com