Analysts are questioning whether VIL could continue to function as a going concern, raising the spectre of a private sector duopoly of Bharti Airtel and Reliance Jio in the mobile market.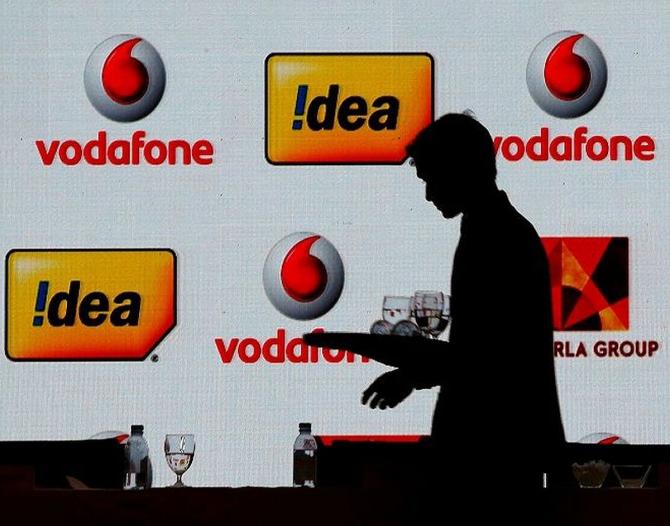 Vodafone Idea Ltd (VIL) CEO Ravin­der Takkar did some plain speaking.
In an analyst call after its quarterly results recently, Takkar said that the main stumbling block to raising fresh capital from investors is "pricing" — telecom tariffs, in other words.
Nine months ago, the telecom company's board had cleared a proposal for raising Rs 25,000 crore from investors, after the promoters made it clear that they were not ready to pump in more money.
But potential investors are concerned that without clarity on tariff hikes (there have been none for more than 18 months) they might just lose their money.
The lack of visibility on raising tariffs has also impelled VIL to request the Depart­ment of Telecom (DoT) for a fresh reprieve by extending the two-year moratorium on paying its spectrum instalment of Rs 8,200 crore for another year till FY23.
Takkar's panacea for his inability to raise tariffs is simple: The Telecom Regulatory Authority of India (TRAI) should announce a floor price soon so that competitors don't indulge in predatory pricing, the single biggest reason for the crisis in telecom.
Such a move will allow service providers to raise tariffs and recover some of their costs.
At the same time, Takkar said the company is still negotiating with investors, does not think plan B is needed and hopes to get to a deal in a few weeks.
Yet his letter to the government has already worried the market and analysts.
VIL's share price dropped 12.4 per cent between June 30 and July 5, when the company's Q4 results were announced showing that losses had widened (see box).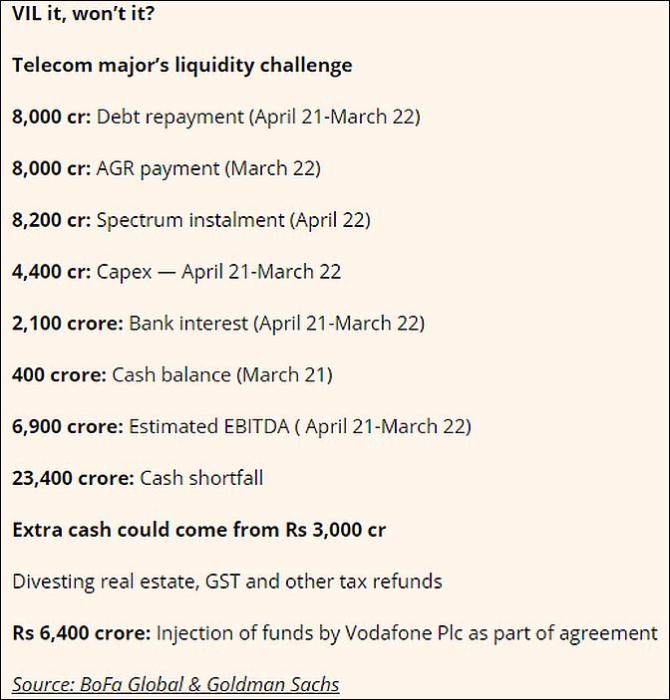 Naturally, analysts are questioning whether VIL could continue to function as a going concern, raising the spectre of a private sector duopoly of Bharti Airtel and Reliance Jio in the mobile market, which the government wants to avoid.
Deutsche Bank Research pointed out that the auditors have already said the assumption of a going concern is dependent on its ability to raise additional funds, refinancing and regulatory relief.
Takkar might have a point about pricing.
But his competitors say he does not answer how Bharti Airtel and Reliance Jio have been able to raise over $32 billion in the last 24 months.
After all, the lack of a tariff hike has impacted every telecom player.
So if the rivals can raise money from top notch global investors, what is stopping VIL?
There are, in fact, many reasons.
One is that VIL's liabilities have shot through the roof (especially as its Adjusted Gross Rev­e­nue, or AGR, dues — the revenue share on licence fees and spectrum charges — are far higher than competitors'. It records a staggering 21x net debt to EBITDA.
In contrast, the net debt to EBITDA for Bharti Airtel is pegged at 2.93 and Reliance Jio is almost debt-free.
Without a capital raise, VIL would need to increase its average revenue per user (ARPU) 2x.
But the problem with VIL is that it might not have enough cash to make repayments due in the next nine months — spectrum instalment, debt repayment, AGR dues, bank interest and fresh capex.
According to Goldman Sachs, even a 50 per cent hike in tariffs will not meet its cash shortfall of Rs 23,400 crore, which it requires by April 2022 if it doesn't raise capital or tariffs don't go up.
That is why it is banking on the extension of moratorium as well as a favourable judgment in the Supreme Court where it has filed a petition for a reconsideration of the way AGR is calculated.
If the court order goes in its favour, it would re­duce its immediate cash burden by half.
It also hopes to get some money from the monetisation of land assets, tax and GST refunds as well as cash from Vodafone plc as part of the merger agreement, totalling around Rs 9,400 crore, which, if it comes in time, could give it some cushion to carry on with the operations.
Yet the big problem is that VIL's key promoters — Vodafone plc and Aditya Birla gr­o­up, who together hold 71 per cent in the company — appear unwilling to change their stance on not putting in more money.
A Vodafone plc spokesperson said there is no change in its stance and sources close to the Birlas endorsed this view.
Said a top executive of one of the PE investors who has looked into the proposal: "The fact that promoters seem unwilling to pump in more money is surely a huge negative.
"So is the huge liability in the books.
"The positive is that it still runs a decent network and des­pite the fall in numbers, it has over 267 million customers, and its 4G subscriber base is going up, though it is far behind its rivals."
Vodafone plc CEO Nick Read has made no secret of questioning whether VIL can run as a going concern.
With pressure from his shareholders, he has written off $1.54 billion, the book value of its Indian operations in 2019.
And that came just three years after it took an impairment charge of $7.46 billion to reflect the losses due to competition from Reliance Jio.
Of course, Takkar's solution that TRAI should specify a floor price so that tariffs go up is not easy to push through.
Said telecom analyst Mahesh Uppal: "Currently, there is no price regulation. So what stops a telco raising tariffs? It is difficult for a regulator to justify support to just one player through a floor price."
One of the key functions of the regulator is to ensure companies don't make unear­ned income.
Raising tariffs through a floor price will ensure Reliance Jio and Airtel's revenues also go up and this can come under serious scrutiny.
Also, while Takkar said most operators want a floor price, the reality is that they are divided.
Jio, which changed the dynamics of the telecom market by its prolonged free introductory offer some years ago, has opposed such a move as it launches its new smartphone, Jio Next, and aims at grabbing customers so that it can hit the 500-million customer base.
Tariff increase is unlikely to help in any case.
"In December 2020, tariffs were upped by 20-25 per cent, but that did not help VIL from losing subscribers," an analyst said.
Also, with competitors showing healthy EBITDA margins at 45 per cent, it will be di­fficult to make the argument for a floor pr­i­ce for VIL alone.
Perhaps Deutsche Bank summed up the situation when it said the government will do just enough to keep VIL alive but not prosper.
Photograph: Danish Siddiqui/Reuters