Retail sales of cars are back to January 2018 levels in August 2021.
Two-wheeler retail sales are 22 per cent lower.
Abhishek Waghmare/Business Standard reports.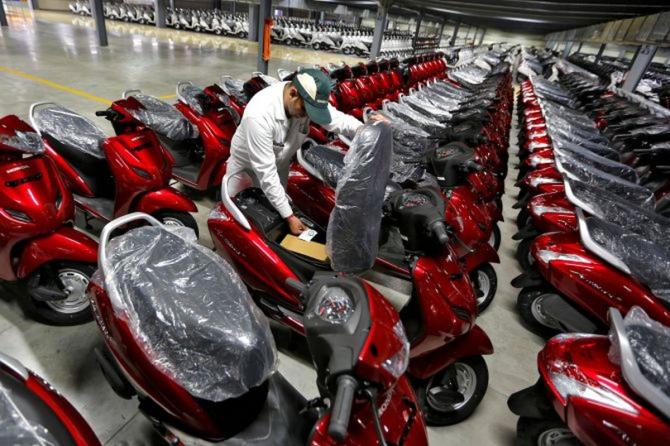 Eighteen months into the pandemic, there is a definite sense of recovery in the Indian economy.
Gross domestic product in April-June of FY22 was 20 per cent more than same period a year earlier, and services activity is picking up more recently.
But the long-drawn recovery is also beset with a legacy problem: lacklustre demand.
This could well be a result of a poor employment and income situation -- unemployment rose in August according to the Centre for Monitoring of Indian Economy.
The symptoms, though, are visible in real consumption data.
A look at broadly dis-aggregated data on sales of automobiles in India tells us how.
At the wholesale level, where original equipment manufacturers sell automobiles to dealers, two-wheeler sales are ten steps behind passenger vehicles in terms of recovery to the January 2018 level.
In other words, if 100 two-wheelers and 100 passenger vehicles were sold in January 2018, only 83 and 93, respectively were sold in July 2021.
Notice the gap between the two. The recovery to the 2018 peak has been slower for two-wheelers than passenger cars.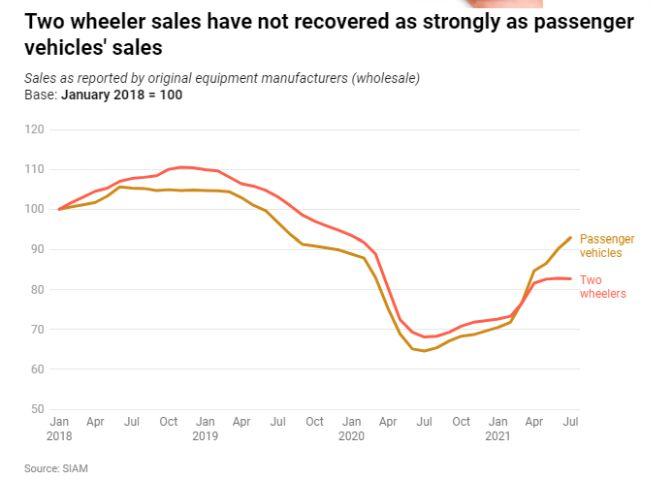 Similarly, retail sales of cars are back to January 2018 levels in August 2021.
Two-wheeler retail sales, on the other hand, are 22 per cent lower, nearly four years down the line.
Retail two-wheeler sales lag car sales by a larger distance: a staggering 22 steps.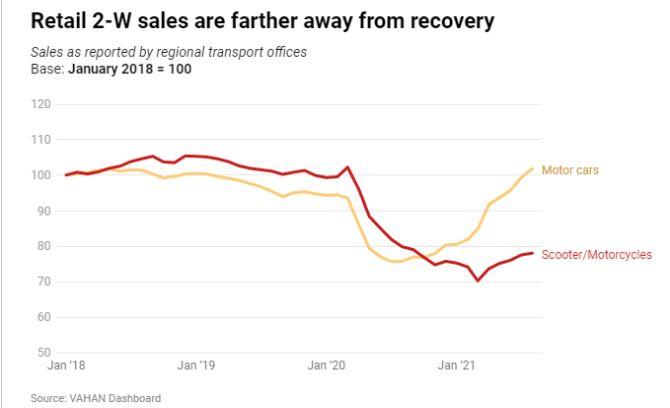 Data on the two wholesale categories has been accessed from the Society of Indian Automobile Manufacturers (SIAM), and that for retail sales, from the VAHAN dashboard by the ministry of road transport and highways.
January 2018, has been taken as reference as 2018 saw good growth in auto sales after the immediate effects of twin shocks of demonetisation and goods and services tax implementation had weaned off.
Now, it is very well known that higher-income individuals are more likely to buy a car, while lower-income people are more likely to buy a two-wheeler.
A faster pickup in wholesale car sales shows us that it is the relatively low income households -- urban factory workers, construction labourers, people in the rural workforce -- have been affected more severely than the salaried class or the business class.
In fact, the Periodic Labour Force Survey shows us that it was the urban labourers who are the most severely affected lot in the country's labour force.
While salaried jobs were relatively cushioned, and the incomes of salaried class are relatively back to normal, a section of rural labourers were supported by strong farm sector growth.
Ananth Narayan, senior India analyst at the Observatory Group, said the CMIE data suggests that people at the bottom of the pyramid are certainly suffering.
But he said that this trend of a dent in two-wheeler sales vis-a-vis other auto segments might indicate something more.
"The bottom 40-50 per cent of the pyramid actually contributes only about 10-15 per cent of consumption in India. So, low demand for two-wheelers could actually mean that a chunk of the middle has also been affected."
"The next Consumer Expenditure Survey should give a better holistic picture of consumption.
Beyond just CMIE, we certainly need more timely, frequent, and comprehensive data around employment, wages, and consumption than we have today," he told Business Standard.
While retail auto sales peak in the festive season, which generally runs from September to December, wholesale activity peaks a few months prior to that.
If we look at more recent data, for exactly a year to date, we see a dip in wholesale sales of two wheelers, despite the fact that festive season is at the doorstep in India.
But the PV segment does not show such a dip.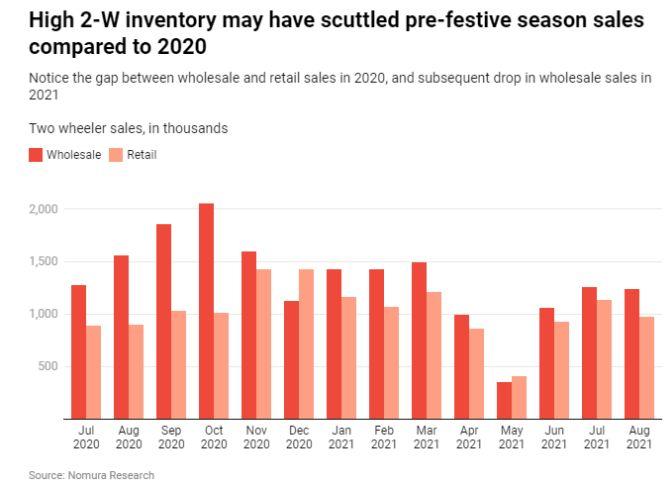 According to data by Nomura Research, wholesale sales of two-wheelers in July and August this year are lower than last year.
Dealers generally stock vehicles to be sold in September-December in this period.
It seems that due to lower retail sales last year, automakers have resorted to restricted production this year, courtesy a larger inventory.
For passenger vehicles, wholesale sales are growing, compared to the previous year, in response to the fact that car registrations have recovered faster.
This trend may not, yet, reflect the impact of supply issues such as chip shortage.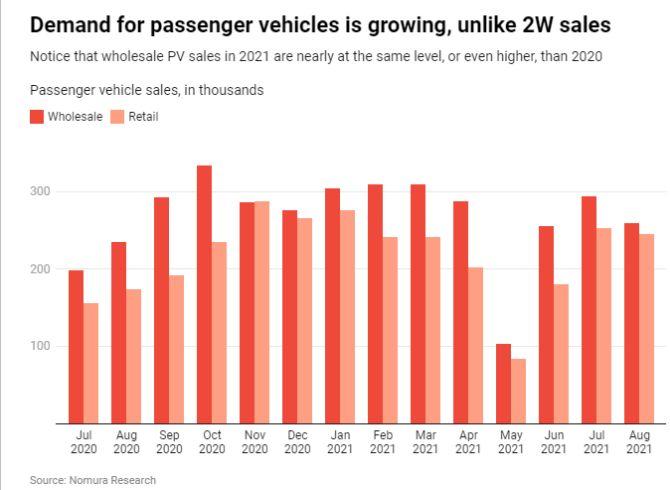 Experts have underlined the uneven nature of economic recovery in general, and sales of automobiles relate to how the demand is recovering unevenly.
"Dichotomies have emerged in the economy, with informal sector, smaller firms, getting hit harder than bigger companies where consolidation is happening," said D K Joshi, chief economist at Crisil.
"Under this K-shaped recovery, demand revival is also happening in a K-shape."
Feature Presentation: Aslam Hunani/Rediff.com