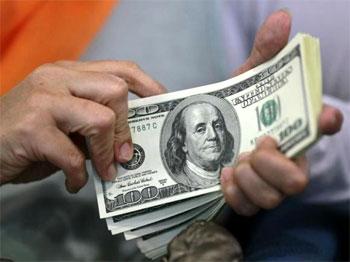 The Federal Reserve's back-pedaling on how aggressively it plans to raise interest rates acknowledges that the more dovish financial markets were right all along: turns out, the soaring dollar has stalled its policy-tightening plan.
The US central bank's far more modest inflation predictions, released on Wednesday, suggest that the strong currency and sagging oil prices are spooking policymakers more than they have let on. It sets the stage for later rate hikes than they expected, but which many investors have long anticipated.
A stronger dollar hurts US exporters and, along with cheap oil, puts further pressure on already weak inflation. In effect, it tightens financial conditions even while the Fed keeps its key policy rate near zero.
"The Fed did not have to say it. The forecasts tell the story. The FOMC cares about the dollar," Jens Nordvig, global head of FX at Nomura, said of the policy-setting Federal Open Market Committee.
Forecasts published after a two-day meeting show that Fed policymakers expect rates to rise to only about 0.6 per cent by year end, down from a median of 1.1 per cent in December. The 17 officials also slashed predictions for economic growth and inflation over the next two years.
The dollar has spiked 22 per cent against a basket of currencies since the Fed published its December forecast, continuing a trend since last summer. Oil prices have fallen about 25 per cent in that time.
The central bank's revisions effectively align policymakers with investors, who have mostly refused to believe a rate hike will come until September or later. Wall Street's top economists, who have long called for a June rate hike, now point to September, according to a Reuters poll.
The Fed has, in effect, tied policy to the dollar.
"It is now clear the bond market is not moving toward the Fed; the Fed is moving toward the bond market," said Tim Duy, a professor at the University of Oregon and a former US Treasury economist. He added that the Fed recognised the negative effects of a rising currency.
Fed Chair Janet Yellen, who like most central bankers tends to avoid discussing currencies, told reporters the strong dollar is compressing inflation "at least on a transitory basis."
Asked about the dramatic forecast revisions, which hammered the dollar in currency markets on Wednesday, she cited lower inflation predictions and a belief among her colleagues that unemployment can fall further without sparking wage gains.
"Both of those things would point to downward revision in the funds rate path," Yellen said.