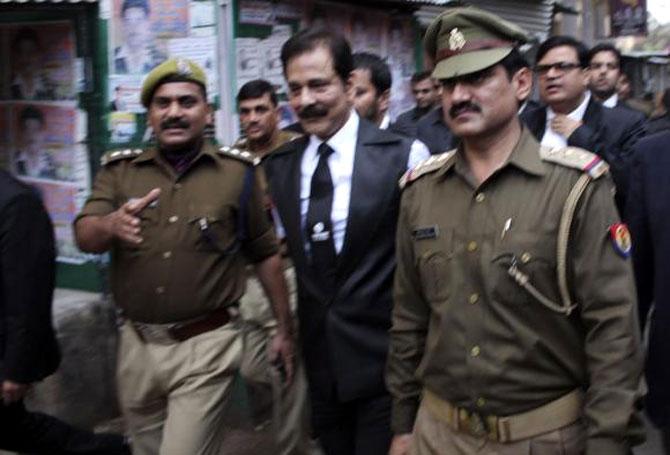 In a fresh twist to the alleged "forgery" saga, US-based Mirach on Saturday asked Sahara to make a "formal apology" for tarnishing its image, failing which it warned of legal action and demanded over $13 million in compensation for breach of contract.
The compensation would be in addition to $ 2.6 million already given by Saharas for meeting due diligence and related costs, Mirach Capital CEO Saransh Sharma said in a letter addressed to Sahara chief Subrata Roy.
Sharma also offered that Mirach can still go ahead with the $2.05 billion syndicate loan arrangement for Sahara, which needs funds to secure release of Roy from Tihar Jail, where he has been lodged for almost a year.
Mirach, which released the letter to media as well, gave another option of complete buyout of Sahara's three overseas properties. As a third option, it has offered to return $2.6 million given to it by Saharas if the Indian group tenders a formal apology and retracts its allegations.
There were no immediate comments from Sahara on this letter. Sharma said Mirach had offered to return this money ($ 2.6 million) seven days ago, but Sahara had insisted that Mirach keep it to cover expenses. "...however, given the recent public events, if all funds are returned then we will need a public retraction of the false allegations you have made against Mirach.
"Should Sahara not retract these false public allegations then Mirach will have to utilize the remainder of the Due Diligence budget to retain legal council to pursue breach of contract charges among others and demand its compensation that Mirach would have earned from the imminent closing of this transaction, which would have been in excess of $13 million," he added.
Sharma further said: "We both know that the question of Mirach forging a letter cannot arise as the letter was sent directly from the bank to Sahara's attorneys. "I am willing to work with any three of the solutions proposed above, however, I will not allow you to target and destroy my career when all I intended to do was structure a solution that benefitted every party involved."