Used smartphones are gaining popularity in the hinterland, the main market for JioPhone. Share of JioPhone in the feature phone market had shrunk from 47% in Q2 of 2018 to 28% a year after.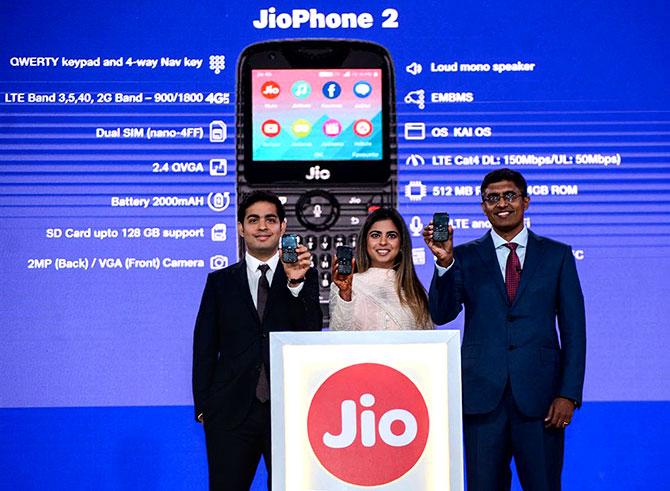 Reliance Jio, now largest telecom operator in the country by subscriber volume, is seeing a slowdown in sales of its flagship offering, JioPhone.
The JioPhone is fourth-generation technology.
Industry insiders feel used smartphones are gaining popularity in the hinterland, the main market for JioPhone.
Recent data from Counterpoint Research showed the share of JioPhone in the feature phone market had shrunk from 47 per cent in the second quarter of 2018 to 28 per cent a year after.
Anshika Jain, analyst at Counterpoint, said introduction of a number of phones priced below Rs 1,000 - by iTel, Lava and Samsung, among others - was a reason.
"While the second-hand and refurbished phone market is growing, thanks to the entry of a few large e-commerce companies in this space as well, it is not the only reason for the lower demand.
"There is a pricing shift, with rural phone customers also upgrading to phones in the Rs 6,000-8,000 and Rs 10,000-12,000 range as the demand for premium specifications grows," she said.
Another analyst said the used smartphone market was highly fragmented, with no credible source of information on size and growth.
"Used smartphones are definitely eating into the market share of JioPhone.
"However, this should not be a matter of concern for Jio, as long as their net subscriber additions remain steady," he said.
The JioPhone was subsidised, he added, and hence as long as Jio continues to sell SIMs, it is a positive for the company in revenue.
Sources in Jio said JioPhone contributed 30-40 per cent of their overall monthly addition.
"The market share loss that Counterpoint data shows could be due to the fact that imports from earlier have sold over a longer period of time.
"Usually, phone buying is also seasonal, skewed around festivals and harvest seasons," said an official, who did not wish to be named.
Jio says the JioPhone launch had kept in mind the 500 million featurephone user base at that time.
It has, it says, no plan for a cheaper smartphone anytime soon, as cheaper variants of its LYF did not see much offtake.
"However, the featurephone market is witnessing some slowing.
"Counterpoint said in the second quarter of 2019, the smartphone market showed growth over a year; however, the featurephone market fell 39 per cent.
"The decline was due to inventory build-up for Jio, besides the year-before period seeing very strong demand for JioPhone.
"Featurephone demand is back to the 2017 (pre-JioPhone) level but it remains to be seen if entry-level smartphones in the coming quarters are able to attract the hundreds of millions of featurephone users," it said.
Of late, Jio's subscriber addition momentum has slowed.
In a recent note (after Telecom Regulatory Authority of India subscriber numbers for May were issued), Edelweiss has noted Jio's subsciber addition dipped from an average of 10 million a month in 2018-19 (April 2018 to March 2019) to 8.1 million and 8.2 million in April and May 2019, respectively.
Analysts expect the JioPhone base to touch around 127 million over the next one year. At present, it is estimated to be 60-65 million.