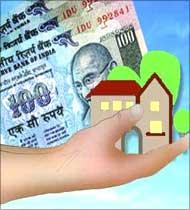 Tata Value Homes, a real estate firm focussed on affordable housing, has partnered with e-commerce major Snapdeal to sell houses through the online marketplace model.

As part of the partnership, about 1,000 homes across projects in cities like Mumbai, Pune, Ahmedabad, Bengaluru and Chennai will be put up for sale on Snapdeal.

Ranging from 1 BHK to 3 BHK, the houses are priced between Rs 18-70 lakh (Rs 1.8-7 million).

"According to reports, one in every two online real estate searches is to buy property and there is a $43-billion market opportunity in New Delhi.

"We started selling homes through our own website last year in December and have already sold over 600 units.

"This partnership will help us take that to the next level," Tata Housing Development Company senior vice president marketing and sales A Harikesh told reporters in New Delhi.

Tata Value Homes, a subsidiary of Tata Housing Development Company, will continue to sell through its own portal as well.

Upon possession of the house, customers buying the house through Snapdeal will get Rs 10,000 per month for a year as an assured rent (whether they stay on premise or lease it out)
as part of the deal.
Customers will have to register themselves on Snapdeal before making a booking, which opens on August 28.
"Details about the project and other things are shared on the website.
"Registered users can book a unit for Rs 30,000 and then our offline team takes over," he said.
However, the booking amount is not refundable in case the customer does not buy the house.
"We already have close to 50,000 merchants on our board.
"I think real estate, as a category, will do well on our platform is because people trust our brand. We want to offer our customers the best deals," Snapdeal co-founder and CEO Kunal Bahl said.
Harikesh said the company also plans to launch new projects in Kolkata and Delhi-NCR before March 2015, which may also get added to the deal.
"We are looking at a long term association with Snapdeal.
"While the Rs 10,000 offer is valid for a week, we will continue to sell through them after that too.
"Units will get added as and when they come up," he added.