Over the last 12 months, thanks to bold bets by venture capital firms like Sequoia, SoftBank Vision Fund, and foreign strategic investors like Naspers, pipeline of start-ups with potential to achieve $1 bn in valuation is at an all-time high.
Illustration: Uttam Ghosh/Rediff.com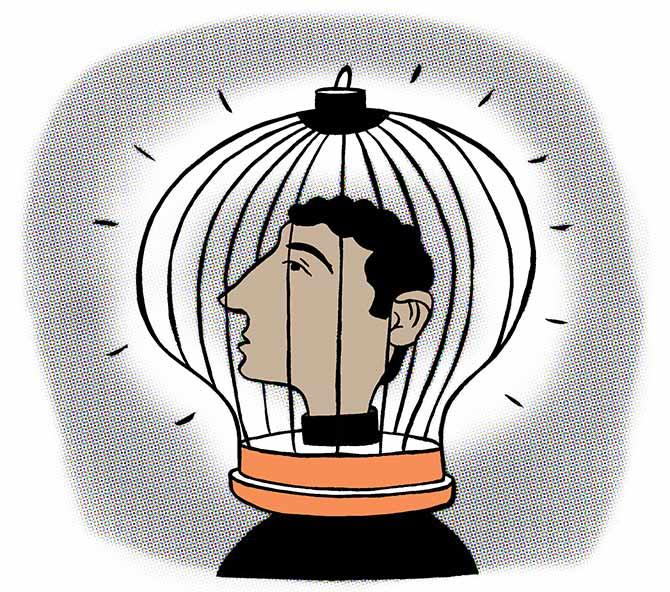 India's unicorn club, or the list of start-ups valued more than a $1 billion each, is not only getting bigger, the pace of achieving this feat has also picked up substantially over the past few months.
This is expected to further pick up in the coming months, as the pipeline of such potential unicorns hungry for growth - and funds focusing on sectors that hold immense potential for their future - is said to be at an all-time high.
According to industry experts and analysts, while India saw additions of around nine start-ups to its growing list of unicorns last year, there are at least a dozen of them waiting their turn and are likely to achieve this milestone in the ongoing financial year.
They include online tax filing platform ClearTax, local language content firm Dailyhunt, payments solutions firm Razorpay, auto classified portal CarDekho, payments company Pine Labs, logistics technology company Rivigo, and a few others.
"The velocity to get to a billion-dollar valuation is the fastest it has ever been.
"Teams from big start-ups have come out and scaled their own companies even faster," said Vinod Murali, founder and managing partner at venture debt firm, Alteria Capital.
For many years, the Indian unicorn club comprised only four firms - Flipkart, Paytm, Ola, and OYO - while several other internet start-ups stayed on the periphery.
Over the last 12 months, bold bets by venture capital (VC) firms like Sequoia, SoftBank Vision Fund, and foreign strategic investors like Naspers have added others to the club.
Byju's, Bigbasket, Swiggy, Delhivery, and Udaan are among the nine start-ups that became unicorns last year.
More start-ups like 1mg and Dailyhunt, currently working on their new funding rounds, may achieve the $1-billion valuation soon.
In 2018, over $7 billion has been poured into 200 deals in consumer internet start-ups, according to EY.
This has led to the emergence of a strong middle layer of large internet companies in sectors such as food, logistics, payments, e-commerce, education, and software.
2015-16 was the year of a funding boom in Indian start-ups, when large foreign investors joined top Indian VCs to create market-leading companies.
Chinese e-commerce behemoth Alibaba, together with its payments firm Ant Financial, put its collective weight behind Paytm to make it a top mobile payments service in India.
SoftBank made large bets on OYO, Ola, and Grofers, among others.
Tencent, the owner of WeChat, picked the cream of the crop like Gaana, Dream11, and Practo, while Naspers made successful bets on Byju's, Swiggy, OLX, and PayU - all top-rung firms today.
The first set of successes gave way to strong No. 2s and No. 3s in each of these sectors.
Mobile payments is now hotly contested by PhonePe, Amazon Pay, and Google Pay, while Flipkart is catching up with Bigbasket in grocery; a series of players in sectors like health (Portea Medical, Lybrate, Niramai) and education (Unacademy, Toppr) are solving a different set of problems for consumers.
Newer sectors have emerged. CureFit, a company started by former Flipkart top executives Ankit Nagori and Mukesh Bansal, is aiming to create India's largest network of fitness centres, combining nutrition, mental health, and advisory into one service.
On the fintech side, a dozen firms are leading a major effort to extend credit to a wider gamut of people and small businesses, using mobile transactions data and alternative credit history.
Udaan, another start-up by the so-called 'Flipkart mafia', is trying to solve the broken business-to-business (B2B) retail supply chain through technology.
Given the potential of B2B e-commerce, which is multifold the size of business-to-consumer, Udaan attracted massive funding right at the start, and became a unicorn within 26 months of setting up shop.
Another trend is how big start-ups are getting into ancillary services, which is opening up newer avenues of synergies, investments, and acquisitions, between large internet companies and small start-ups, said Sanjay Nath, co-founder and managing partner at Blume Ventures.
Ola bought Foodpanda to enter food delivery and counter Uber's Uber Eats.
Flipkart and Swiggy are creating networks for hyperlocal, to launch services similar to Dunzo, and almost all companies, regardless of sectors, are acquiring newer capabilities in fintech, to ultimately offer loans (or financial products) to users.
Nath, however, warned that valuations should not be construed as actual success.
"It is still paper valuations and do not necessarily translate into accounting rate of return or profitability. We have to watch out that unicorns do not become a self-fulfilling prophecy," he said.
Whether the billions of dollars poured into start-ups have brought sustained change in consumer behaviour should be the yardstick of success, says Sharad Sharma, co-founder of product think tank iSPIRT.
"It's all exciting - valuations are there, consumers are benefiting.
"But ultimately, the consumer behaviour changes that what you (the start-ups) are creating will outlast the discounts and is something that will determine the success of Indian start-ups as a whole," added Sharma.