'If I could bet on one start-up engine, it would be India.'
'Bringing more women in the workforce will increase productivity.'
'Companies cannot become great unless they go global.'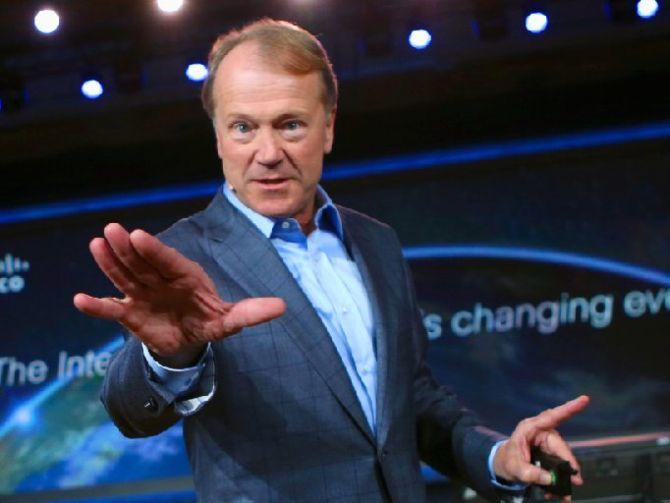 John Chambers, executive chairman of Cisco, can talk about new age technology, artificial intelligence and crickets - insects being used as super food - all in the same breath.
Making his first investment in India in speech analytics and virtual assistant firm Uniphore Software Systems, Chambers tells reporters that his aim is to create a start-up model that the world can replicate. Edited excerpts:
Do you think there has been a slowdown in the start-up culture in India?
I will not say that the start-up culture is slowing down, but it is only growing at 10 per cent.
If you look at employing 1.2 million people (per month) as well as gender inclusion, that is not a strong enough rate.
In the US, the problem is even worse - we are growing at low single digits.
Both countries have to think on how they get the number of start-ups and the culture growing.
The disadvantage India has is that business-to-business (B2B) start-ups have not been able to scale.
That 10 per cent growth needs to be more like 50 per cent growth year-on-year.
How far is India from having a Silicon Valley of its own?
I do think India has a chance to lead, as it produces 600,000 engineers every year.
The country's population, market share is great, so I think if done right the start-up engine here could be the best in the world.
It requires leadership at the top and Prime Minister Narendra Modi really gets it.
If I could bet on one start-up engine, where I put my energy, time and resources behind, it would be India.
How do you plan to take Uniphore global?
From that perspective, one of the things I do know how to do is that I am in 180 countries today, I have done 180 acquisitions and companies cannot become great unless they go global.
Uniphore was able to foresee the growing need for deep technology in the area of speech recognition and has innovated ahead of market to capture this significant opportunity.
We will expand it to newer geographies.
Is there an investment fund that you have for your start-up investment plan in India?
I do believe the start-up engine is not enough.
It needs to be dramatically increased in terms of number of start-ups, they need to be able to scale quickly, go global, and have role models they can learn from.
Yes, I will move into other companies, but what I am really after is a model for the country.
Let's say I end up investing in three to four companies that does not change the total headcount but it does change how they scale.
I am after a replicable model so the country can rescale.
Which are the types of companies you plan to invest in?
Areas that I am excited about include artificial intelligence, machine learning, internet of things, security, drone technology, telephony to make it truly secure and protected, changing the customer experience dramatically.
I have also invested in next generation of protein - crickets.
What do you think can be done to make the Indian workplace more gender diverse?
India has done an amazing job as a country with some of the top women leaders in government, business.
But, as we go further down in the employment, you have to address the gender diversity in start-ups.
It requires commitment as a country to change.
In the US, the number hovers around 24 per cent but more steps need to be taken in both the countries (US and India) to increase the participation of women in the tech industry.
Bringing more women in the workforce to enhance gender diversity also helps increase productivity.
Photograph: Robert Galbraith/Reuters