Amid oxygen shortage and a faltering health system in the country, India is seeing over 300,000 cases daily.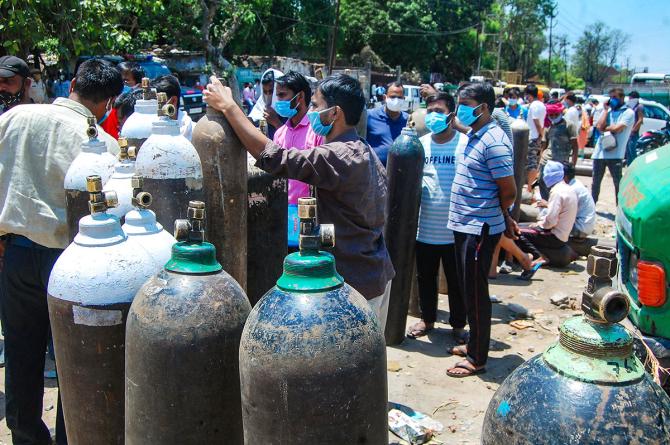 As the situation in India continues to make headlines globally and the oxygen crisis escalates, more and more individuals, start-ups, and venture capitalists are offering help in different ways to people and families.
Early on Sunday, US-based venture capitalist Vinod Khosla tweeted: "I'm willing to fund hospitals in India that need funding to import bulk planeloads of oxygen or supplies into India to increase supply. Public hospitals/NGOs also please reach out."
Later in the day, Zomato co-founder and CEO Deepinder Goyal said the firm was partnering logistics start-up Delhivery to raise Rs 50 crore to buy oxygen concentrators.
Zomato's Feeding India kickstarted the "Help Save My India" endeavour on Sunday to source oxygen concentrators and related supplies to help hospitals and families.
"The current wave has left our country gasping. Our hospitals are operating under dire situations and patients are struggling to get hold of oxygen.
"Under 'Help Save My India' endeavour, we are providing hospitals and patients with oxygen, food and health support for free," Zomato said in a blog.
The oxygen concentrators procured through the initiative will be delivered to hospitals and patients as required through Delhivery.
Amid oxygen shortage and a faltering health system in the country, India is seeing over 300,000 cases daily.
An oxygen concentrator is a medical device that concentrates oxygen from ambient air. It is slightly bigger than an old-time computer monitor, and can be used to provide oxygen to moderately ill patients.
The more severe Covid-19 patients require oxygen cylinders, which have been in severe short supply over the past few days.
On Saturday, Delhivery co-founder Sahil Barua had said in a LinkedIn post: "We're flying charters into India with oxygen concentrators and other essential supplies and can build more capacity."
Paytm founder Vijay Shekhar Sharma said the firm will raise Rs 2 crore to source oxygen concentrators.
"We have sourced supplies for Oxygen concentrators while we place the order using our own money," Sharma tweeted, along with a link to make donations.
The Pune Platform for Covid Response (PPCR) hosted at Mahratta Chamber for Commerce, Industries and Agriculture also announced a crowdfunding effort called "Mission Vayu" to import 250 ventilators and 4,000 oxygen concentrators from Singapore.
"We have raised around Rs 7 crore for the mission with support of corporate houses in Pune and our target is to raise Rs 30 crore.
"The first consignment of 250 bipap machines will arrive from Singapore on Sunday," said MCCIA president Sudhir Mehta.
Organisations like Khalsa Aid and Hemkunt Foundation have been providing oxygen concentrators and oxygen to patients for free in Delhi-NCR and other regions.
Rohan Verma, CEO at digital maps making company MapMyIndia, offered to install GPS in oxygen carrying vehicles for free.
"Ensuring smooth, quick and uninterrupted movement of oxygen, vaccine, hospital bed and medical infrastructure transport vehicles is paramount right now.
"We @MapmyIndia are offering to install GPS tracking systems for free in all such vehicles across India," he tweeted.
Manufacturers, transporters, hospital administrators and govt authorities can see live movement of these vehicles and get alerts instantly on them.
In an appeal to the cryptocurrency community, co-founder of crypto-based start-up Polyon tweeted on Saturday that he would begin a Covid relief campaign to help control the situation in India.
"Need help from the global crypto community. I will take full responsibility for transparency, funds usage and regulatory compliance," he said.
Shailendra Singh, managing director (MD) at Sequoia Capital, tweeted on Saturday asking for leads on importing oxygen concentrators to India.
Tech to the rescue
Other volunteer-led efforts have also collated information to solve problems for those in need.
Digital healthcare platform MediBuddy has enabled a Covid-19 hospital bed availability checker on its app to locate available beds.
The feature provides complete details regarding the availability of beds, real-time, at nearby hospitals for anybody infected with Covid-19.
Mumbai-based chef Saransh Goila, Retool India Growth head Sid Puri and others have also got together to create a tool to easily find home chefs providing meals for Covid patients across the country, searchable by state and city.