The start-up mentors debated if they could drive the price further down, but feared an even lower price would raise doubts about its quality, as was the case with the Tata Nano, reports Amrita Singh.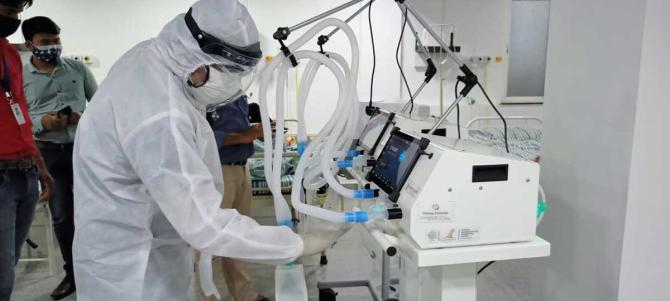 As the economy ground to a halt in March last year, Nikhil Kurele and Harshit Rathore were about to start a new business.
They had responded to an email from IIT Kanpur, their alma mater, inviting proposals from start-ups to make ventilators to fight the pandemic.
Neither had seen a ventilator before, but as they figured out how to keep their two-year-old, Pune-based start-up, Noccarc Robotics, afloat, they reasoned ventilators were the need of the hour.
"If had we not taken that chance, we wouldn't have survived," says Kurele with cheery confidence exactly a year into the journey.
From the day they responded to the mail, the speed with which the project moved was startling.
In three days, on March 26, they had the proof of concept; in two weeks a prototype; and the sweetest success of all came on August 8, when a critically-ill patient was put on Nocca's ventilator at Pune's Ruby Hall Clinic, and his vitals stabilised.
A year on, Nocca has deployed over 400 ICU ventilators in hospitals across India, besides Nepal, Bhutan and Sri Lanka, and saved many lives. It is looking further afield now to Indonesia, Europe and West Asia for exports. For context, India is not known for exporting medical devices; 85 per cent are currently imported.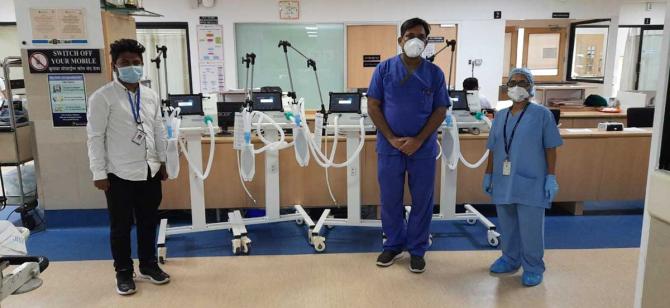 Starting a business in the best of times in India is challenging enough, and Noccarc had taken on the task when the supply chains were halted everywhere. Yet, the ventilator was conceived, designed and built at warp speed--90 days to be precise.
How did they do it?
Their journey has been chronicled in a book called The Ventilator Project by their mentors Srikant Sastri, an IIT alumnus and co-founder of Crayon Data, and Amitabha Bandyopadhyay, who is in charge of IIT-K's incubation centre.
In the beginning, it was the founders' ingenuity that rallied everyone around.
Within a day of submitting the proposal, they faced their first setback when their mentor-doctor insisted they make an invasive ICU ventilator, not a simple Ambu ventilator or the non-invasive one.
"Initially, we were not sure at all," says Rathore, who has the assured confidence of someone with a quiet demeanour.
It was March 25 and India had gone into lockdown.
The founders scrambled for parts, dropped requests in their building block WhatsApp group and in the end contrived a ventilator from whatever they could find around their house-sensors from drones, and pump from a fish aquarium.
"We had this habit of never discarding anything," says Kurele. "It is only now that we have started selling scrap -- for hygiene reasons."
Thirty-six hours later, when they presented their prototype during a Zoom session with a US-based Indian-origin doctor, Bandyopadhyay knew he had made the right call.
"Till March 23, they were making robots, so something had to happen for us to take them seriously," recalls Bandyopadhyay. "This was that moment."
Nocca's success has shown tasks that would normally take 18-24 months can now be done in three to six months.
"Companies usually work on Plan A. If they fail, they move to Plan B and C, while the overheads keep adding up," says Rathore.
The Nocca team followed multiple paths, and within five days of starting work had a few prototypes ready for the project.
But none of this by itself would have been enough. What differentiated the ventilator project was the model of collaboration that galvanised everyone -- industry, academia, government and ordinary citizens.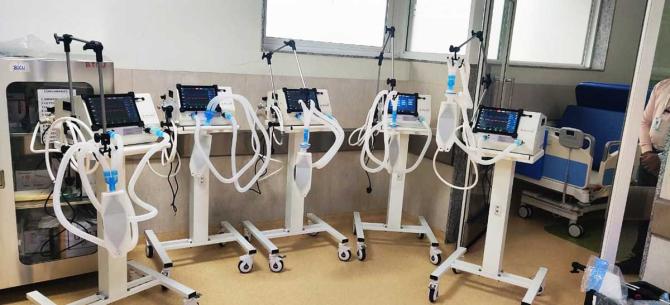 Teaming up
On March 27, after Bandyopadhyay was convinced his team had what it took to make a ventilator, he contacted Sastri and the two started to put together a task force -- a set of 20 people -- to accelerate Nocca's journey to market.
"We were careful to pick only people we knew, those who would roll up their sleeves and do the work, not just give gyan," says Sastri.
For the next three months, this team, which included Padma awardees HCL founder Ajai Chowdhry and entrepreneur and angel investor Saurabh Srivastava, CEOs and people with contacts in government, would remotely meet every day at 12 noon to review what happened in the previous 24 hours, figure out the roadblocks, clear them and set goals for the next 24 hours, explains Sastri.
It would then go back to work and return the next day to compare notes.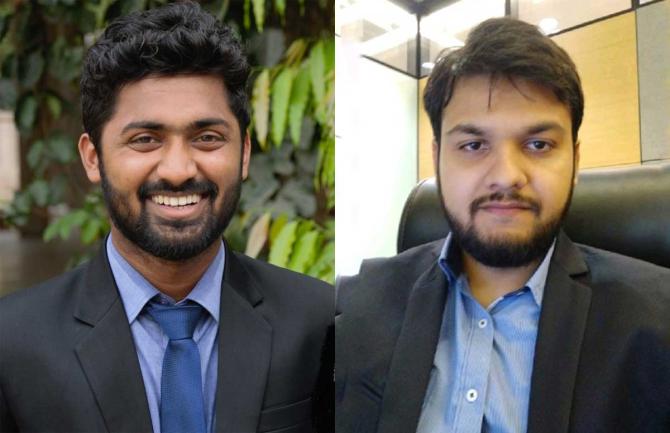 The book enumerates numerous such instances.
When the government tender Nocca was waiting for didn't materialise, a member quickly pivoted to hire a sales officer, and in no time 17 distributors came on board.
When it came to convincing doctors about an Indian-made ventilator, the task force members leveraged their connections to provide introductions to top doctors in metro cities.
Mentors offered advice on overcoming the bias for imported products in the medical fraternity.
A young doctor at a hospital in Pune, who was not part of the task force, agreed to have the invasive ventilators tested on himself before it could be tried on critically-ill patients.
The founders had launched themselves on a mission with just about enough funds for the prototype, but as they went along, funds kept pouring in -- from private banks and the government to US-based software firms.
In the end, what was produced was a world-class product with European CE certification -- India doesn't have a body to certify medical equipment yet -- at one-third the price (Rs 3.5 lakh) of an imported ventilator.
The book reveals the mentors debated if they could drive the price further down, but feared an even lower price would raise doubts about its quality, as was the case with the Tata Nano.
Feature Presentation: Ashish Narsale/ Rediff.com