The flow of deposits from non-resident Indians (NRIs) hit a four-year low in the financial year 2020-21 mainly due to contraction in foreign currency deposits, latest data released by the Reserve Bank of India (RBI) shows.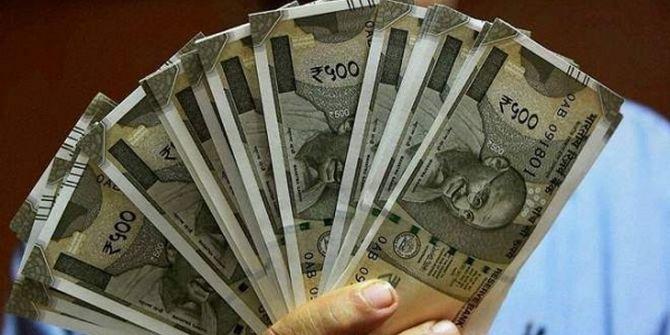 Total NRI deposits during FY21 were $7.3 billion as compared to $8.6 billion in FY20 — the lowest since 2016-17, when such deposits had contracted by $12.3 billion.
Indian banks have three kinds of deposit accounts where NRIs or PIOs (persons of Indian origin) can park their funds: non-resident external-rupee account (NRE); non-resident ordinary rupee account (NRO); and foreign currency non-resident bank account (FCNR [B]).
Deposits in NRE accounts are freely repatriable, unlike NRO accounts. Both NRE and NRO accounts are rupee-denominated. FCNR (B) are foreign currency — dollar, euro and pound sterling — accounts.
The main reason for the slower accretion of NRI deposits is due to contraction of FCNR (B) deposits.
FCNR (B) deposits contracted by $3.8 billion.
These deposits are kept in foreign currencies and interest on them is aligned with global rates.
Bankers said FCNR deposits are no longer attractive as rupee has not depreciated against the dollar.
FCNR depositors gain when the rupee weakens against the dollar.
"Rupee has been quite stable. The exchange is around 73-74 a dollar.
"Whenever the rupee tried to cross 74, some inflows arrested its depreciation," said Ashutosh Khajuria, executive director and chief financial officer, Federal Bank.
"An FCNR depositor is happy when the rupee depreciates because he/she holds money in dollars, and gets more rupee for the dollar when that happens," Khajuria said, adding, "But in the last few years, they have not seen much depreciation of the rupee, so the attractiveness of FCNR deposits has reduced."
In the last financial year — 2020-21 — the rupee appreciated against the dollar by 4 per cent.
In the current financial year, after dropping 2.3 per cent against the dollar in April over March, it again appreciated in May.
The interest rates on FCNR deposits are much lower than the NR(E)RA deposits.
NR(E)RA deposits are rupee-denominated deposits, and also repatriable like FCNR deposits. In 2020-21, NR(E)RA deposits registered strong growth. RBI data shows the growth of these deposits in FY21 was 59 per cent to $8.8 billion, from $5.5 billion reported in FY20.
"FCNR deposits rates are much lower than NRE rates. The FCNR deposit rates are less than 1 per cent because these rates are aligned with global rates of dollar, yen, euro etc.
"Since rates are lower, the only attraction for FCNR deposits is rupee depreciation," Khajuria added.
Bankers said since FCNR and NRE deposits are freely convertible, depositors have converted their FCNR deposits, which is also a reason for the surge in NRE deposits.
A depositor can also convert such deposits before maturity since there is no charge associated with such conversion.
Another reason for robust growth in NR(E)RA is that a lot of Indians came back from various countries like the Gulf nations when the Covid-19 pandemic broke out last year.
The Indian government had operated Vande Bharat flights from various foreign geographies to bring Indians back.
According to bankers, the workers who returned to India, mostly from countries where they cannot get a citizenship, deposited their funds in NR(E)RA accounts before returning since it is repatriable.
This also resulted in NRE deposit flows being the highest since 2016-17.
Photograph: PTI Photo