Driven by the huge opportunity for growth, many Indian Space Research Organisation employees are leaving the comfort of a paycheck and launching their own ventures or getting involved in mentoring other start-ups, says T E Narasimhan.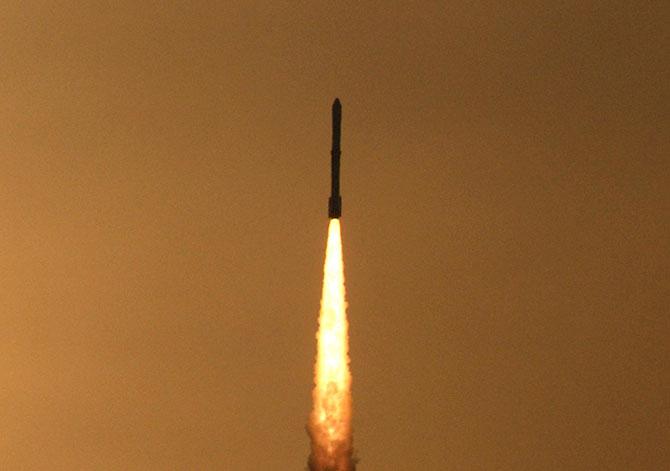 They may be tiny and working on a tight budget, but there is no dearth of enthusiasm in India's fledgeling space industry.
Adventurous space entrepreneurs see sky as the limit going by the magnitude of opportunity in the sector.
The small satellite launch market alone is estimated to be worth $69 billion by 2027, according to a report by satellite applications consultant Euroconsult.
It estimates 7,000 small satellites to be launched globally over the next eight years.
When other aspects of the space market are added to this, the overall industry becomes much bigger at $350 billion, and India has a mere 2 per cent of that share.
Driven by the huge opportunity for growth, many Indian Space Research Organisation (Isro) employees are leaving the comfort of a paycheck and launching their own ventures or getting involved in mentoring other start-ups.
Most of these new ventures have come up in one of the three areas where Indian scientists have an advantage: Designing and manufacturing space-related hardware and components; services built around data gathered from space; and those that are in the business of sharing know-how with other space-related start-ups.
The numbers speak for themselves.
Until three year ago, there were only three or four companies, today over 30 new ventures have come up in the space arena.
"A combination of my interest in the future of space, increase in demand, Indian advantage in global space business, and the need for public-private partnership to be internationally competitive, all together led to moving out and starting my own venture," says Pawan Kumar Chandana, a former engineer at the Vikram Sarabhai Space Centre, who founded Skyroot in 2018.
Skyroot Aerospace has a team of 35 people, mostly former Defence Research and Development Organisation and Isro employees, who have been developing launch vehicles for small satellites.
Covering a wide range of payloads between 200 kg and 720 kg, these launch vehicles (part of the Vikram series developed by Isro) offer the most affordable ride to space.
Branching out of Isro has its obvious advantages, the most important being the industry know-how, says Prateep Basu, co-founder and chief executive officer of SatSure, which was started in 2016 and today has offices in India, Switzerland, the UK, and Australia.
It offers bespoke geospatial big data platform to enterprise customers.
The platform combines satellite imagery, proprietary algorithms with weather, Internet of Things, drone imagery, social and economic data to generate near real-time and location specific insights on agriculture, banking, financial services and insurance, infrastructure and climate.
For instance, it can use the available satellite data from the late 1990s to assess risks of drought or flood or even pest infestation, and take steps to mitigate them using geospatial technology to generate real-time information and early warning signals.
It also assists with monitoring of large area, crop suitability mapping, and early warning signals for natural disaster.
Where there are start-ups, investors tend to follow.
In 2019 so far, $3.4 million has flowed into the sector (see table).
Most of the money has come from incubation centres such as that of the IITs, angel investors, venture capital, PEs and deep-pockets of other entrepreneurs who have made their money online.
PayTM's Vijay Shekar Sharma, for example, has invested in Kawa Space, a start-up that designs and operates earth observation satellites for financial services firms, governments, among others.
This is a sea change from the nature of the space industry earlier, which developed in clusters and was built around the requirement of Isro alone, supplying components for its various missions.
As a result the scale of the industry remained in the domain of micro, small and medium enterprises.
"Now with the exponential increase in the requirement of rockets, satellites, applications and related ground infrastructure, this is an exciting time for the private industry to supply to the domestic market and integrate in the global supply chain," says Ratan Shrivastava, former advisor at FICCI's space Division and an aerospace consultant.
"The space industry today is where the computer industry was in the 1970s," says Awais Ahmed, founder and CEO at Pixxel Labs, which is into building and launching constellations of nano-satellites.
"We are seeing reduction in launch prices, critical electronic components becoming smaller in size and off-the-shelf products (not custom-made for space), shrinking costs of manufacturing.
"It is a very lucrative market for anyone with passion and interest to start up," he adds.
There is no doubt that there is scope for widespread adoption of space technology in sectors like agriculture and in pollution monitoring and more companies today are willing to buy space-related products and services.
But none of these start-ups has a strong foothold yet.
It's an industry growing side by side with multiple companies starting up that complement each other.
"There are problems with growth and sustainability and developing a robust long-term business plan to justify the VC valuations," says Shrivastava.
Currently, the demand comes mostly from other businesses.
Isro hasn't engaged with the Indian start-ups in a big way, he adds.
The business model, therefore, is to generate revenue from other start-ups in the industry; satellite start-ups need the launch start-ups and vice versa; and satellite component manufacturers need satellite operators and vice versa.
For the industry to move out from the work-share model to full-fledged exporter, some things need to change first, "We need to develop space infrastructure.
"At present, we have only one functional space port from where rockets can be launched," says Shrivastava.