'We are looking at a joint venture between ISRO and a few companies to assemble the PSLV and launch it from Sriharikota.'
'In a month or two, the vehicle assembly building will be ready.'
'After that, we could see 13, 14 launches a year.'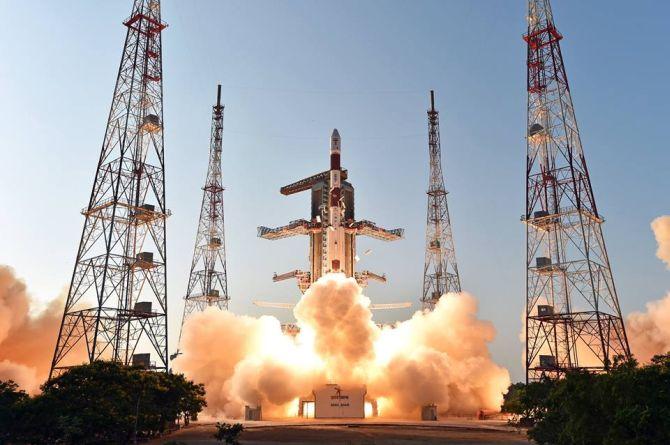 Indian Space Research Organisation Chairman Dr A S Kiran Kumar tells Shivanand Kanavi about developments we can look forward to in India's space programme long after he has retired from space exploration on Sunday, January 14.
The first of a two-part exclusive interview:
What are the challenges facing ISRO today?
GSLV (Geosynchronous Satellite Launch Vehicle) Mark 3 was launched and GSLV Mark 2 has also flown 4 times after January 2014. Cryogenic engines of two types have been tested.
After doing over 200 tests of the heavier engine for GSLV Mark 3, we have flown it successfully.
Now we are asking the government to sanction another 10 flights of GSLV Mark 3.
We will have one in February-March 2018 which will carry an experimental communication satellite.
It will carry 2 Ka (frequency 26.5-40 G Hz) band beams we are also trying out Optical communication and also Q (36-46 G Hz) and V (40-75 G Hz) bands which are even higher.
We are using the opportunity of a developmental flight to try out new communication bands which we cannot do in a regular commercial launch.
It will be called GSat-30. It will be primarily for data.
We flew a GSat 19 which had Ku (12-18 G Hz) and Ka combination eight spot beams with high throughput.
GSat 11 is getting ready which will have 14 GBps capacity it will have 16 beams with two polarisations hence practically 32 beams covering all of India.
We have considerably improved our data communication capability.
We are also trying to involve private companies more and more into satellite integration. We have already given a contract to a private company to assemble and integrate two satellites.
Unfortunately one of them was lost in the last GSLV flight. The second one is getting ready and will be launched shortly.
We are coming up with an RFQ for assembling and integrating different satellites by 3, 4 companies.
We want 60 launches in the next five years which will need assembled and integrated satellites by ISRO and the private sector in a joint venture.
The facilities for assembling are at the ISRO Satellite Centre, Bengaluru. Subsequently they can build their own facilities.
This capacity building will need 5 to 10 years.
We are also looking at a joint venture between ISRO and a few companies to assemble PSLV (Polar Satellite Launch Vehicle) and launch it from Sriharikota.
ISRO will provide critical services to this joint venture.
Who are the likely partners in this joint venture?
Walchandnagar, HAL (Hindustan Aeronautics Limited), Godrej, MTAR, Lakshmi Technologies and Engineering Industries etc who have already been with us.
Some new ones might also come in. This joint venture will have total end-to-end responsibilities.
ISRO will have service contracts like launch site activities etc. Tata Advanced Materials will be part of sub-system realisation.
Five-six entities will be involved and each will have end to end task definition. The total number of companies will be quite large.
Will it be similar to the European Space Agency and Ariane in France and the European Union?
They have reached a stage where the entire thing can be done by one company, whereas here we are creating a joint venture of many companies.
So it is more like Airbus Industries?
Yes.
For launch capacity doubling you will need another launch pad.
Today, we are looking at bottlenecks in the current system. First is vehicle assembly.
Though we have two launch pads, we only have one vehicle assembly.
Earlier the interval between two launches was large. Now, we have brought it down and in fact this year we had three launches in a-month-and-a-half -- PSLV and GSLV Mark 2 and 3.
To sustain this, we need auxiliary capacity like vehicle assembly building, which is a 90-metre building.
In a month or two it will be ready. After that, we could see 13, 14 launches a year.
To achieve 18+ launches a year, we need to create more capacity.
We are also developing a new semi-cryo engine. Once it's ready, we will need another launch pad.
Why semi-cryo?
A semi-cryo will use liquid oxygen and kerosene. What we are using currently is UDMH (Unsymmetrical dimethylhydrazine) and N2O4 (Dinitrogen tetroxide) which are toxic whereas a semi-cryo will not be.
Moreover, it will give better performance. We can add another tonne to our payload capacity.
On completing that, we will use it in GSLV Mark 3 which will be called Mark 3 Aug (augmented) with payload capacity increasing from 4 to 5.5-6 tonne.
Thus we are working on launch vehicles including a Reusable Launch Vehicle (RLV).
We will try landing with a landing gear.
Will the RLV be a scaled-down model like before?
We will demonstrate it in a scaled-down model. The actual cost effective module is still being worked out.
The real cost effective solution for taking payload to space is still a grey area worldwide.
Can you say that the NASA (America's National Aeronautics and Space Administration) shuttle programme was a success as an RLV?
The shuttle programme was aimed at putting humans into space; cost-effectiveness was not the goal.
But today, cost-effectiveness is an issue with a large number of private entities coming into launch payloads and the competition becoming intense.
That's why, internationally they are giving contracts to the private sector.
The space shuttle cannot be a role model for us.
Our RLV has to be cost-effective, otherwise it will have no value for the nation.
There are about 31 companies building small satellite launchers globally.
Who succeeds and at what cost is still to be seen.