Together, the top 10 business groups reported a pre-tax loss of Rs 19,342 crore during the January-March 2020 quarter, as against a profit before tax of around Rs 48,500 crore in the year-ago period and Rs 39,600 crore during the December quarter.
While Vedanta was the worst hit. others included Aditya Birla, Bharti, Adani, Mahindra, and Tata.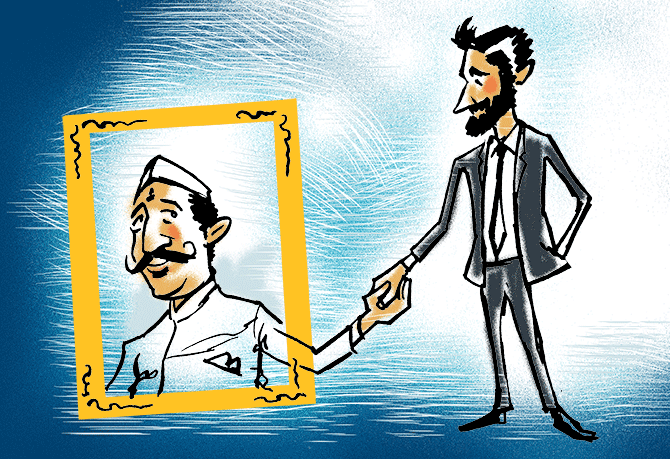 Top family-owned business houses were badly hit in the January-March 2020 quarter, especially those with large exposures to telecom and commodity businesses such as oil, gas, metal, and mining.
The fourth quarter saw six of India's 10 largest family-owned groups (in terms of revenues) reporting pre-tax losses at group level.
The combined revenues, too, were down 9.5 per cent year-on-year (YoY), one of their worst performances in many years.
Together, the top 10 business groups reported a pre-tax loss of Rs 19,342 crore during the January-March 2020 quarter, as against a profit before tax (PBT) of around Rs 48,500 crore in the year-ago period and Rs 39,600 crore during the December quarter.
Their combined revenues including other income stood at Rs 5.03 trillion in Q4FY20, as against Rs 5.56 trillion in Q4FY19 and Rs 5.4 trillion in the third quarter.
The analysis is based on the aggregate finances of the listed family-owned businesses in the country.
The numbers have been adjusted for listed subsidiaries of listed holding and operating companies such as Reliance Industries, Mahindra & Mahindra, Vedanta, Tata Steel, Tata Motors, and Grasim.
This was done to avoid double counting.
Non-ferrous metals, oil and gas major Vedanta was the worst hit as the group reported a consolidated pre-tax loss of Rs 15,182 crore during the quarter, while group revenues were down 20 per cent.
The company took impairment losses in its energy business.
It was followed by the Aditya Birla and Bharti groups.
Other groups that reported pre-tax losses at the aggregate level included Adani, Mahindra, and Tata.
At the other end of the spectrum, the Shiv Nadar-owned HCL group bucked the trend and reported double-digit growth in revenue and profit during the fourth quarter.
Other relative outperformers included the Mukesh Ambani group and the Bajaj group, with a 33 per cent and 36 per cent YoY fall in PBT during Q4.
Vedanta's losses were due to asset impairment as the company marked down the book value of its investment in Cairn India - its oil and gas division - which the company acquired from Cairn plc in 2011.
The markdown followed a collapse in crude oil prices, greatly reducing future profitability of oil and gas assets, forcing the revaluation.
Aditya Birla Group's consolidated losses were largely due to Vodafone Idea, where it partners with UK's Vodafone, reported a pre-tax loss of around Rs 11,700 crore during Q4.
Excluding the telecom joint venture, the group reported a profit.
Excluding its mobile venture, the listed group companies reported a combined PBT of Rs 710 crore during Q4, down 75 per cent YoY from Rs 2,816 crore in the year-ago quarter.
The group's flagship Grasim Industries' PBT declined 84 per cent YoY, while retail venture Aditya Birla Fashion reported losses during the quarter.
Hindalco Industries bucked the trend and saw an improvement in profit.
"Most of our key companies like Hindalco, UltraTech, Grasim, and Aditya Birla Capital have done well and reported profits in the quarter.
"The telecom business is a joint venture and not consolidated at group level unlike other companies," said a spokesperson for the group.
According to analysts, business groups' financial performance is largely a function of their portfolio.
"Large losses in Q4 were largely in commodities, telecom, and automotive space due to a combination of a sharp plunge in commodity prices and impairment charge by companies," said G Chokkalingam, MD, Equinomics Research & Advisory Services.
In comparison, groups with a large presence in sectors such as food, staples, IT services, and financial services escaped with minor decline in revenues and profits during the quarter.
In telecom, companies reported growth in revenue as data traffic boomed but losses widened during the quarter.
Chokkalingam predicts even worse financial performance by many of these groups in June 2020 quarter as the lockdown was in effect for only seven days in Q4FY20, but for a longer period in Q1FY21.
"My biggest fear is about the long-term impact on group balance sheets as losses mount due to the Covid-19 pandemic.
"If that happens, this will delay economic recovery by years, given the balance sheet size and borrowings of these business groups," he added.
Companies attribute the dip in earnings to lower production and sales in the March quarter.
"Steel production in India was down 7 per cent YoY in Q4 against 1.4 per cent decline in global steel production.
"JSW's domestic sales come down by 5 per cent in the quarter in line with the broader market but sequentially, our domestic sales were up 3 per cent," said Seshagiri Rao, joint MD and group CFO, JSW Steel.