TikTok is up against not just government sanction but also a set of feisty home-grown brands that have raised the 'vocal for local' banner to stake claim to the platform's vast small-town reach, point out T E Narasimhan and Sai Ishwar.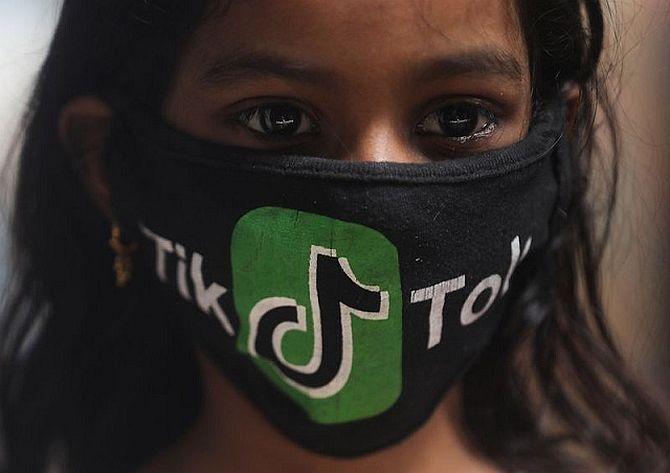 Cast out in a country that ranked as its biggest downloader (more than its parent nation, China) in the first quarter of the year, TikTok is facing its biggest crisis in a market that was never an easy ride.
Can it make its way back from the cold?
Caught in the crossfire of a border conflict between India and China, the video-sharing app is no stranger to controversy, and experts say that the ban is more likely a negotiation tactic between governments and it may do well to just wait and watch.
But the challenge this time around is different from its struggles in the past.
For now TikTok is up against not just government sanction, but also a set of feisty home grown brands that have raised the 'vocal for local' banner to stake claim to the platform's vast small-town reach.
Tiktok has built a formidable reputation among brands and is sought after as much for its ability to keep the young hooked and entertained, as for the diverse set of influencers with large, fanatical followings on the platform.
According to Sensor Tower, a market intelligence and insights provider, the app was downloaded more than two billion times globally during the pandemic, and India has been the biggest driver of these installs.
"India has generated 611 million lifetime downloads till April 2020, or 30.3 per cent of the total.
"China with 196.6 million accumulated downloads was in the second place," it added.
Users are spending more on the app too.
Globally, the lifetime user spending in TikTok has risen to $456.7 million, more than 2.5 times the $175 million the app had generated when it reached 1.5 billion downloads, added the Sensor Tower report.
Size, reach and ease of use offer up a bait that brands find impossible to resist.
"TikTok attracted a large non-metro base and has evolved, from a pranking platform to one with all forms of entertainment and engagement and its own legion of influencers," said Sandeep Goyal, chairman of the Forum for Ethical Use of Data.
Users do not really care about the origin of the app, he believes, and points to the popularity of the app, despite the mounting pressure in recent weeks to uninstall TikTok.
"In the Indian Institute of Human Brands survey, only 21 per cent said they would voluntarily uninstall the app despite knowing it is Chinese.
"The goodness of the product was the reason for the loyalty and love shown by millions," he said.
This may have stood TikTok in good stead in the past, but can it withstand the challenge mounted by local brands that have stepped into the ring?
Inmobi-backed Roposo, Sequoia-funded vlogging platform Trell and another short-video app Chingari have all staked a claim to the throne.
"Our mission is to provide Indians with the largest talent platform that is truly Indian," said Mayank Bhangadia, co-founder of Roposo, and added, "We have built Roposo as a clean and ethical platform."
Roposo, Trell and Chingari say that their traffic surged within hours of the ban.
"Our team is working on server upgradation to meet the crazy jump in traffic," said Pulkit Agarwal, co-founder, Trell.
All three are flaunting their Indian roots and alluding to the government's call to be vocal for local brands, in their appeal to users and brands.
"This is a temporary ban, which can be seen as a tool for negotiation between the countries.
"But this negotiation phase is enough to break the mindset of Indian users," said Sanchit Vir Gogia, founder and CEO of Greyhound Research.
TikTok responded to the move, stating that the company has been invited to meet with concerned government stakeholders for an opportunity to respond and submit clarifications.
"TikTok continues to comply with all data privacy and security requirements under Indian law and has not shared any information of our users in India with any foreign government, including the Chinese government.
"Further, if we are requested to in the future, we would not do so," said Nikhil Gandhi, head of TikTok, India.
The point he makes is that the social media platform will be back soon.
But will its users and partners be as welcoming as they have been in the past?
Photograph: Reuters