Systematic investment plans (SIPs) of mutual funds (MFs) have seen a spike in demand with new registrations touching a five-year high already this year.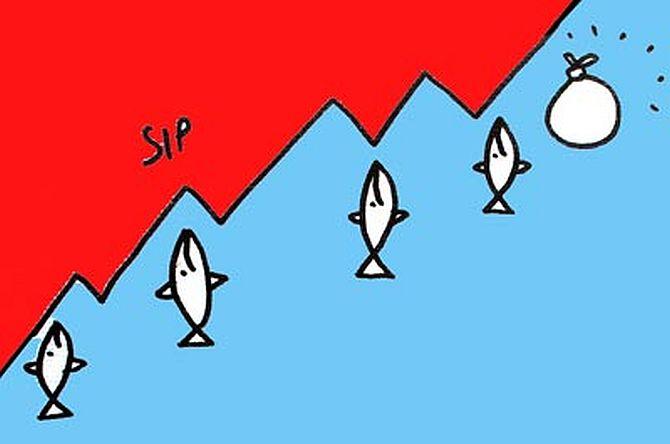 Around 19.5 million new SIPs have been registered till December end, as against 14.1 million in the whole of financial year 2020-21 (FY21).
Market participants say incr­easing investor awareness and positive experiences have spu­r­red this increase.
The data from Association of Mutual Funds in India (Amfi) shows that new registrations have topped 2 million every month since June, touching 2.6 million in September, the highest so far this year.
Ajit Menon, chief executive officer of PGIM India MF, says, "In the last few years, the industry focused on improving awareness.
"Now, that has translated into more people opting for SIPs.
"The disposable income of households has gone up during the pandemic and they have decided to invest in MFs through SIPs."
Investments through SIPs have remained in the limelight and have accelerated since April, recording the highest-ever monthly contributions of Rs 11,305 crore in December.
Inflows through SIPs stands at Rs 89,283 crore so far this year.
N S Venkatesh, CEO of Amfi, said: "SIPs have been the favourite medium of consistent investing and disciplined mode of savings of the common man.
"This is evident from the numbers. Through regular financial literacy, retail investors are understanding the nuances of managing market volatility through SIPs."
The Amfi data also shows that 7.7 million SIPs were either discontinued or their tenure completed this year.
The assets under management (AUM) of SIPs stands at Rs 5.65 trillion as of December.
Market participants say digital fintech players have also helped increase awareness of MFs and many new investors have started investing in equity MFs from such platforms.
Industry officials also feel that while flows into equity funds could reduce if there is volatility in the markets, inflows through SIPs might continue to rise in the months to come.