'I was shocked by the kidnapping episode. I could have lost my life.'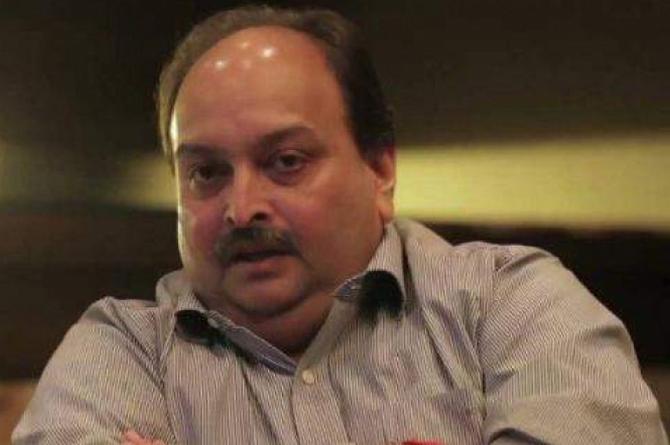 Fugitive diamantaire Mehul Choksi claims he had planned to leave the country much before the letter of undertaking scam at Punjab National Bank broke out in February 2018.
In a rare and exclusive interview with Tamal Bandyopadhyay over Zoom, during which he broke into tears twice, Choksi said he wanted to come clean and was ready to be probed by a special task force for his alleged role in the scam.
In the third week of November, you moved the Bombay high court seeking to quash the proceedings initiated by the Enforcement Directorate declaring you a fugitive economic offender...
These are completely fake charges. Since I left India, I have been in a very bad health and advised not to travel. I'm eager to clear out my name because I am a very reputed person in India. I am ready to appear on a Zoom call.
After the last incident, I am very, very scared. But I want to clear my name.
I am not a political person, but it has gone in a very wrong way. I've become a political football.
As a big businessman, I knew lots of politicians from both parties. The many things appearing against me started after they put 'completely fabricated and wrong' charges in the FIR.
You fled to Antigua and Barbuda in January 2018, just a few days before the PNB scam was uncovered. How did you get a Caribbean passport just in time? Was it a coincidence or you planned your escape?
I very strongly condemn these charges. I had applied for my passport a year before, in early 2017. I completed 40 years of my career in 2017 and was looking to expand my American unit. So, I decided to apply for an international passport.
We finally decided on Antigua in March (2017) because of the tax situation there. In India you have to go through a lot of visa process, so (I thought) why not expand in America and the sub-continent?
My Indian units were very well settled and governed. So, I decided that maybe I would start giving more time and expand my business in the Caribbean and Canadian countries together.
There was a great chance to expand my retail network. I owned Samuels and Rogers, the third-largest chain in America with 150 stores.
Your companies owe Rs 15,000 crore (Rs 150 billion) to the Indian banking system. Of this, Rs 5,500 crore (Rs 55 billion) is on account of allegedly fraudulent/unauthorised LC/LoUs taken from Punjab National Bank. Were you aware that Rs 5,500 crore exposure was not backed by valid documents?
I was enjoying Rs 7,000 crore (Rs 70 billion) of approved limit by a consortium of bankers. On top of that, there was an ad hoc need-based transaction limit in the form of LCs/LoUs. All jewellers bank by these instruments.
I was enjoying it with this bank since 2015, but I had done this business with many others in the past. I did it with IndusInd Bank and ICICI Bank. And there was a gold business with YES Bank, too.
As and when a suitable term came, we switched (banks). These are backed by jewellery or merchandise in store. That's how the entire jewellery business works in the country.
Basically, the lacuna was, when I saw everything -- of course I'm not a finance person, but as the chairman of the company -- I knew this was the cheapest possible way to bring down the credit rate. They (PNB) had not given correct information or a proper information flow to their head office.
There was a concurrent auditor sitting in the branch. There was a regional audit. There was a branch manager. There was a foreign exchange branch involved. Every three months, a statutory auditor came to us, came to the bank (sic). There was an RBI (Reserve Bank of India) inspection, and even the RBI put this whole case against PNB that its information flow was not proper or correct.
So, you say that there were irregularities, but you are not aware of them. These irregularities were done by your people as well as Gokulnath Shetty (of PNB) at the branch level. Is that correct?
I absolutely deny. There was nothing (wrong done by) my company or any of my people. It was only at the bank's level.
I do not know the person; all the charges they have framed are bogus. They have put the charges of corruption, too, which is completely wrong.
Investigative agencies say Vipul Chitalia, vice-president of Gitanjali Group of Companies, was the 'mastermind' who reported directly to you. He left the country along with you and Nirav Modi. There was a look-out notice against him and the immigration officials detained him at Bangkok airport.
He was instrumental in preparing applications for putting through the fraudulent transactions of LoUs and FLCs (Foreign Letters of Credit), conniving with Gokulnath Shetty at PNB's Brady House Branch. Chitalia was also Gitanjali Group's unauthorised signatory for issuance of applications for LoUs and FLCs. Right?
Vipul Chitalia was at the manager level. He was keeping accounts of payables and receivables. Please do not say that it was a fraudulent transaction because my company has never done any fraudulent transaction whatsoever.
On January 29, they put some charges against Nirav Modi's company which we were completely unaware of. In that FIR, they put my name.
I was in America for my treatment and I was going through tests at the time. When the news came to me, I immediately contacted all my consortium members, as well as Sebi (the Securities and Exchange Board of India), to inform the markets that I had no connection.
I even called up PNB, and told them why you have put my name in this (case). I am not a partner in this and I have left his company since 2000. I was there as a partner only for six months or a year.
My nephew (Nirav Modi) was learning from me, and when he started his company, I joined as a partner to help him. But after that particular year, we parted ways.
Despite that, there were lots of raids on my companies. They even seized my server and lots of inventory from my company in the first FIR of Nirav Modi.
When I informed the stock exchange, the news came out and they were a bit embarrassed. I called them up. They also froze my limit and started informing other banks that my name was in the FIR with Nirav Modi.
In that FIR, I'm not even named. I argued and wrote a letter on February 13, when I was in America. On February 7 or 9, I had a talk with the consortium of banks, too. I also clarified my situation.
Until PNB froze all my accounts, there was not a single default by any of my companies.
Why was the debt not declared in the balance sheet by your flagship Gitanjali Gems in FY15, FY16 and FY17? It's a listed company...
Everything is reported in the balance sheet. If you get me access (to my server), I will show you all the possible information. Nobody is able to access. Even we want to prepare for the case.
So you are blaming the banks, right?
This gold product is so attractive for the banker because they earn a commission. They earn foreign exchange. It's a very fast business... every 3-6 months, the money was revolving. There was never a default.
And, the NPA wouldn't have happened even in May or June. There was no default. You know that after three months... after 180 days or 90 days of any default, the NPA would be happening.
Without becoming any NPA or any default, they froze my assets.
In seven days, all my company resigned because everybody was scared. There were attacks -- one agency after another -- without any mistake or fraud. We were celebrating Valentine's (Day) on February 14. And by February 25, the whole company was shut.
What is your current net worth?
At the time when I left the country, my net assets were worth more than Rs 20,000 crore (Rs 200 billion).
And now?
I don't know. There was not even a preliminary inquiry. Nothing at all. They just shut the company without any preliminary enquiry.
Then I heard that the law provides for this. But has any company ever shut down like this anywhere in India? I've lost everything, everything on Earth.
Then how are you able to afford so many lawyers across India and abroad?
Many lawyers have come to offer their services. Of course, it's not free, but there are reasonable costs. My well-wishers from the community are contributing. Besides, there are many lawyers who want to work at a very low fee because they know injustice has been done to my company.
You must be in touch with your nephews Nirav and Neeshal Modi. Do you discuss your plan of action with them?
No, nothing at all, but, of course, you know that we are relatives. They are my sister's sons. So, I have good faith and goodwill from my side. I'm not in touch with them.
You said you were framed in some sense, but was Nirav also framed? Or is Nirav really guilty?
I have no opinion. His business was completely separate. But let me tell you... the creation of brands and everything else... the government should have looked at them and heard the other side also.
I do not know about Nirav's business, but one thing that I know is that they (Nirav) also created a very strong brand.
The way the matters have unfolded should not have happened. It's a very big loss for the country. It's hard, very hard (to accept this). Many, many people have worked towards creating my companies, and it is sad to see what has happened [Breaks into tears].
Any plan to return to India? How do you plan to repay Rs 15,000 crore to the banking system?
It's not Rs 15,000 crore; it is Rs 12,000 crore (Rs 120 billion). It is very clear that the custodian of my assets is the government.
Of course, I want to clear my name, but the very big mess is being created by mishandling this case. You know the monies are in gold or diamond or anything. What would happen if for three-four years nobody looks after them?
The assets are far more than what is payable. But I wish this case would have been handled in a much better way.
I was shocked by this entire kidnapping episode and the way this whole matter happened -- I could have lost my life.
By God's grace, I'm lucky to be here [Breaks down]. It's a trauma that I've gone through and the scare that has been put in my head I cannot even explain.
Sorry, you did not answer my question whether you want to return to India. You don't, right?
No, no. Let me just tell you that first of all my health has deteriorated. I can't even see properly. I have a back pain. This all added up to my normal disease. There is a problem with my brains. They've found some hematoma here. That is why I have been sent to Antigua to cure it.
I am taking many tablets a day and am going to doctors every day. And apart from this, first I have to do... once I'm fit... is to get acquitted from the completely fake charge of illegal entry into Dominica.
I really want to come to India once my health improves. For now, why can it (the case) not be discussed on Zoom? Why can't they send people here? I've been telling them for 2 or 3 years about this.
You said you'd be happy if a special task force is set up to prove your case...
Well, because the opposite party is the government's own bank. That is the reason I would prefer that there is a proper inspection done by a proper person who could see exactly (what had happened) much before putting any kind of charges.
After the on-record interview on Zoom, Choksi reached out to the interviewer and suggested some corrections -- the word chargesheet was replaced by FIR, as -- he claimed -- there was no charge against him. He repeatedly emphasised his willingness to return to India and come clean once his health condition improved.