Bajaj Auto Chairman Rahul Bajaj has hit out at the government, blaming it for the slowdown in the economy, while predicting that it will be a "very tough" year for the domestic motorcycle segment this fiscal.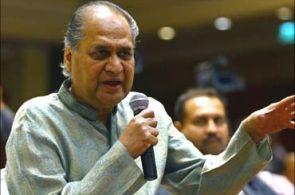 In his letter to shareholders in the company's annual report for 2012-13, Bajaj said despite growing at over 9 per cent for three successive years under the first Congress-led United Progressive Alliance (UPA) government, India failed to "create the necessary infrastructure and investments to maintain healthy growth in difficult times".

"Instead of focusing on highways, power, rail, ports and IT networks that are critical for sustained growth, we steadily raised the nation's fiscal deficit to finance consumption-based subsidies and hand-outs," he said.

This in turn caused inflationary pressures, which led to the RBI imposing high interest rates and a tight monetary regime.

"Added to these were long bouts of inaction and uncertainty in governance, leading to a crisis in the power sector, lack of inter-ministerial clearances of key projects and an unfortunate reversal of a Supreme Court verdict through
retrospective tax amendments. The outcome: fall in investment and overall bearish expectations leading to steady reduction in GDP growth," Bajaj lamented.
He further said it was 'all too easy, almost convenient, to pin the blame on the post-Lehman global world (2008-09 meltdown) for this sharp fall in growth'.
"That is only partly true. For one, India's GDP is much more driven by domestic demand than international trade. For another, China, a country with far greater exports than India, has turned around and has grown by 7.9 per cent in October-December 2012.
"Even Indonesia has grown faster than us in the last five quarters, posting 6.1 per cent growth in October-December 2012," Bajaj added.
On the outlook for 2013-14, he said: "Despite being an optimist, I do not yet see signs of substantial recovery in the near future. The decline in the growth may have bottomed out; but incremental growth will be modest. I shall be pleasantly surprised if India can grow its real GDP by over 6 per cent in 2013-14. In such an environment, the domestic market for motorcycles will be very tough."
In 2012-13, Bajaj Auto saw 2.8 per cent increase in net sales and other operating income to Rs 20,351 crore (Rs 203.51 billion). Sales in volume terms, however, declined by 2.6 per cent to 4.24 million units as against 4.35 million units in the previous fiscal.