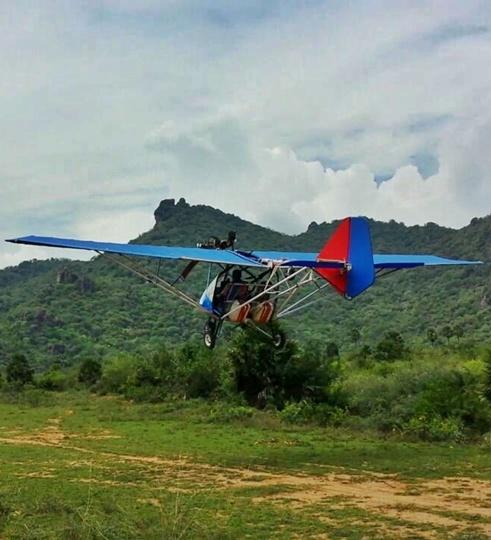 Saji Thomas jots down these inspiring lines in a paper and shows: 'I can't hear or talk but I could build an aircraft and fly it.'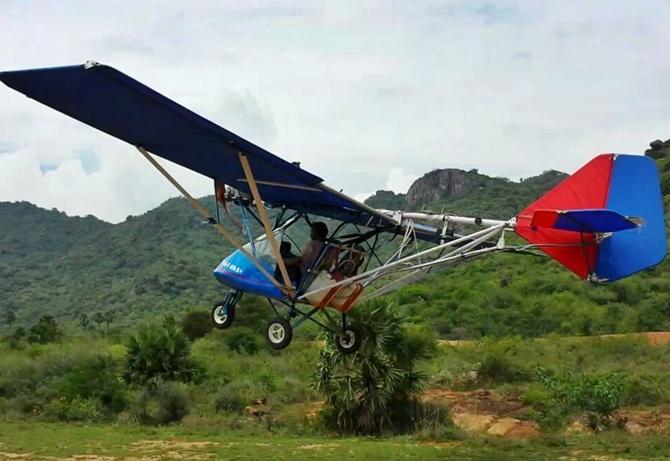 Image: A dream come true for Saji Thomas. Photograph, courtesy: Saji Thomas
Despite building a light aircraft all by himself, there has been complete apathy from the government and the private sector in terms of offering a good job or granting funds to fuel his ambitions.

Even as the government trumpets the 'Make in India' campaign, real stars like Saji who can even turn scrap into a goldmine are totally ignored.

He badly needs the government's help in getting a license for his aircraft and a good job to support his family. But will Saji ever get the recognition he rightly deserves?
Saji and his wife Mariya share the trials and tribulations of an incredible journey with Manu A B.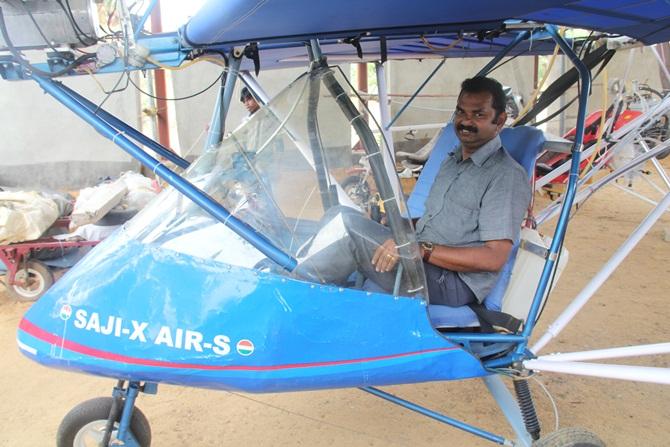 Image: A proud moment for Saji. Photograph: Manu A B/Rediff.com
Saji Thomas did not allow the muted universe around him to clip his wings or his flying dreams.

At the age of 14, when many boys of his age would be happily playing games and whiling away their time, Saji, who was hearing-impaired since birth and a class 7 drop-out, had started working towards fulfilling his dream of building aeroplanes and flying it.
Sounds incredible? In fact, even his relatives and friends chided him for harbouring such weird and impossible ambitions.
The fact that Saji pursued his goal despite all the odds is an inspiring story in itself.
Today, his twin seater ultra-light aircraft, called Saji X Air-S has done several successful flights over the scenic Manimuthar valley in Tamil Nadu.
Watch the video: Saji Thomas flying the X-Air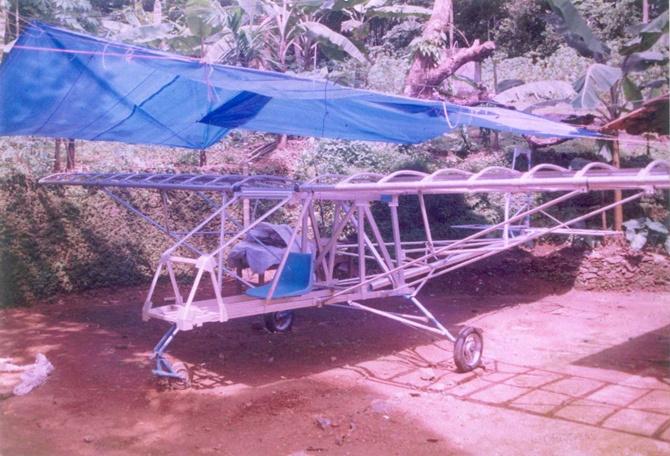 Image: Early stage of making the aircraft. Photograph, courtesy: Saji Thomas
Interestingly, he designed and constructed this plane at almost half the market price, using recycled materials, parts of other vehicles and making his own innovations.
With no support from the government or any other agency, he had to sell off land and personal belongings to garner the funds for buying the equipment and materials needed for making the aircraft.
"It took me five years to make the aircraft, mainly because of lack of funds. Even today I am jobless and don't have a regular source of income," says 44-year-old Saji who badly wants to work in any aeronautical company and pursue his dream of building better aircraft.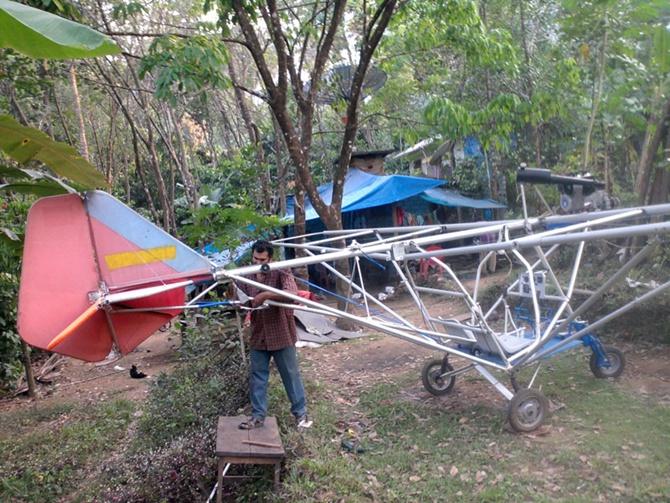 Image: Making the aircraft at home. Photograph, courtesy: Saji Thomas
Early years

People always called Saji 'potten' (dumb) when he was actually more intelligent than most people in the village.

At the age of 5 years, Saji used to make small models of cars, buses and aeroplanes with cardboard. But no one appreciated his talent or nurtured it. His father decided not to teach him after class 7.
The general attitude was what will he learn any way. Little did his father know that out of his three children, Saji would make him really proud one day.

Though Saji could not pursue education, he loved reading books, which helped him get a good perspective on different subjects. He spent time doing odd repair jobs, rubber tapping and being a helping hand at home.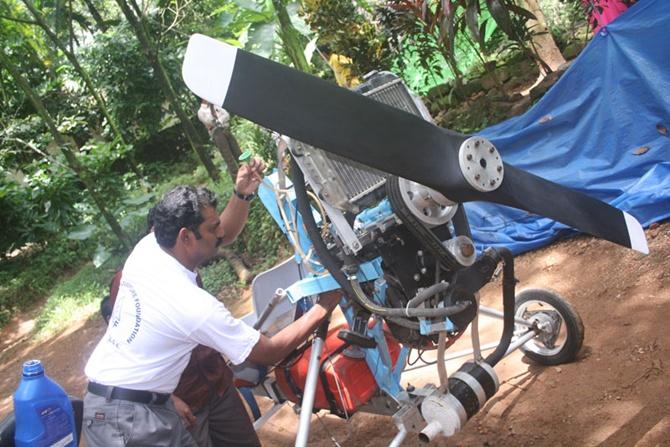 Image: Saji's bond with aircraft grows stronger. Photograph, courtesy: Saji Thomas
He was good at repairing televisions, which turned out to be a source of income. He developed a liking for machines that 'silently' worked wonders. With his keen observation, he could easily understand how machines worked and fix it when it stopped working.
But his biggest fascination was to see planes flying high in the sky.
Once, Saji happened to see two helicopters flying above the rubber plantations spraying pesticides. He spent hours watching them fly around the plantation and finally made friends with the pilots. Seeing his enthusiasm, the pilot offered him a ride in the helicopter before they wound up their work.

The flight was a life changing moment for him. He took down their Mumbai office address and much to their surprise, he left home without telling anyone and travelled all the way to meet the pilots when he was just 15 years. He stayed with them for 2 weeks. They gave him books, a list of aviation companies and people to contact for his dream project.

That was the beginning of a long journey to success.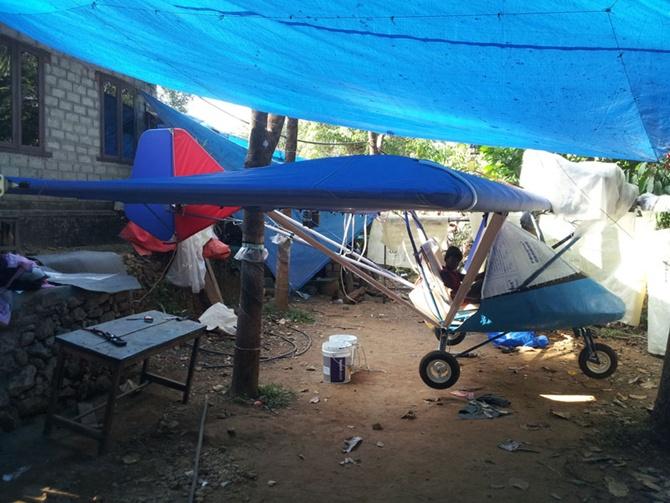 Image: Saji built the aircraft right from scratch infront of his small house in Thattakuzha. Photograph, courtesy: Saji Thomas
Building the 'crazy' idea

People dubbed the idea of making an aircraft as 'madness' of a disabled person.

Years later, he proved them wrong. Once shunned by people as 'useless', he is now the pride of Thattakuzha village, near Thodupuzha in Idukki district of Kerala.

Braving summer heat and rains, Saji built the aircraft right from scratch in front of his small house.

It took months to build each part but his perseverance paid off. His wife says it was tiring to see him put in so much effort into making each and every part.

He also had to travel a lot to meet people to clear his doubts and get the right equipment and machines to build his dream machine.

After 5 long years, when he finished making the aircraft, there was no place in his village to test if the aircraft could actually take off.
Saji's dreams turned into reality in Manimuthar, a remote area in Tirunelveli district, where he tested his flight and proved successful last year.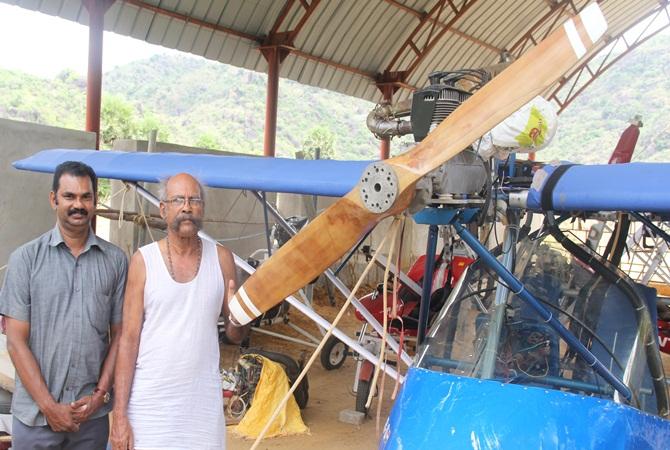 Image: Saji with Retd Wing Commander SKJ Nair at Manimuthar.
Photograph: Manu A B/Rediff.com
Retd Wing Commander of the Indian Air Force, SKJ Nair, who has a flying club in Manimuthar turned out to be Saji's mentor, offering him timely help.

"It is a great achievement to build an aircraft despite Saji's constraints and physical disability. I have flown several models of X-Air aircraft but I find Saji's aircraft is a better version of the existing X-air models in the market. He has made innovative changes like building a propeller with wood instead of using expensive fibre glass. It is very difficult to make a propeller alone. The design of the instrument panel and its arrangement is another change he made, making it easier for flyers. He is very capable of making any model if you show him just the design. There are some minor changes to be done to make it perfect," says SKJ Nair.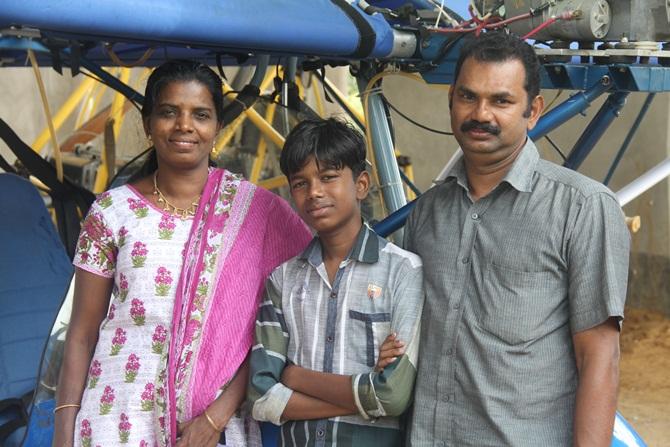 Image: Saji with wife Mariya and son Joshua. Photograph: Manu A B/Rediff.com
Saji excitedly shows the aircraft now kept at Manimuthar, he gestures, to say, "This is my creation, my life."

Mariya says SKJ Nair gave them the opportunity to bring the aircraft to Manimuthar to test-fly it. "We carried the aircraft in a lorry and we followed it in an auto rickshaw. All along the way, I was praying that the aircraft should fly. Just before the take off, Saji drew a cross on the aircraft and did a silent prayer. Minutes later he was flying up in the air. My happiness knew no bounds."
As Saji gestures about his work, his wife Mariya and son Joshua translate his sign language, "I want to fly high. Flying is my biggest passion. If I had money, I could have built better aircraft, educated my son in a good school and led a better life. I really hope someone atleast offers me the job of an aeronautical mechanic," he adds.

Nair says Saji is sincere and committed to his work.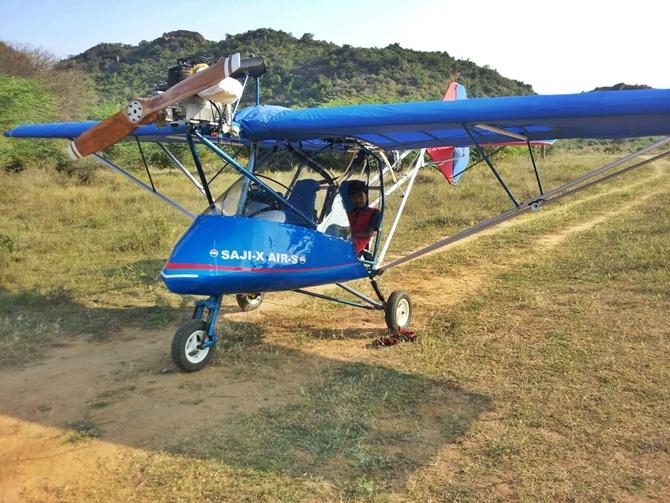 Image: Saji has received a certificate from National Innovation Foundation appreciating his innovation. Photograph, courtesy: Saji Thomas
Saji X-Air-S
The fascinating aspect of the aircraft, Saji X-Air-S is the use of recycled materials to keep the cost low. If you buy a similar aircraft, it will cost Rs 25 lakh. However, Saji invested only Rs 14 lakh to build it.
Built with a 65 HP hirth German engine, the aircraft which weighs 265 kilograms can fly up to a height of 10,000-13,000 feet. It can be used for sports aviation, recreation and training purposes. It has a speed of 140 km/hr. For an hour's flight, the plane needs 16 litres of petrol.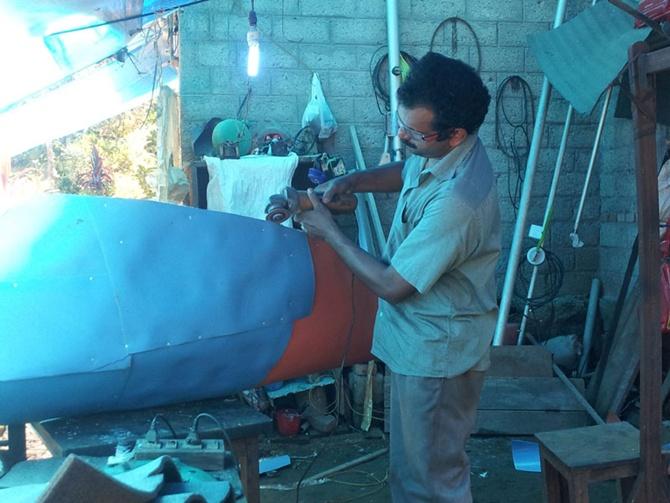 Image: Saji making the low cost cockpit with locally sourced materials. Photograph, courtesy: Saji Thomas
The material to build a cockpit usually costs Rs 40,000 but Saji made it with just Rs 5,000, using his own idea.
Pointing to the blue wings that spread across a length of 60 feet, Saji gestures, the cloth that covers the wings is from USA. He then points towards the wheel and tries to explain the shock absorbers are from a scooter.

Interestingly, this is the second plane Saji built. The first one was a smaller version. Though it was a well-built model it could move on the land but it could not fly as he had used a Yamaha bike's engine to cut costs.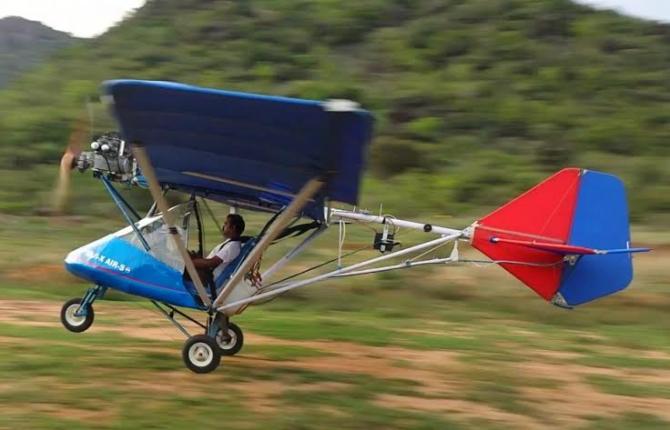 Image: To fly above 20 feet, Saji-X Air-S needs a license from DGCA. Photograph, courtesy: Saji Thomas
Unfortunately, Saji-X Air-S, does not have a license. To fly above the height of 20 feet, he needs to get a license from the Directorate General of Civil Aviation (DGCA).
"It will be almost impossible for Saji to get a license. It is a voluminous process followed by stringent medical tests, which he will not be able to clear. Our government will not bend rules to accommodate people like him. Had he been in any other country, he would have risen to great heights," says SKJ Nair.

If the aircraft does not get a license, Saji's efforts will just go waste as it can never be airborne.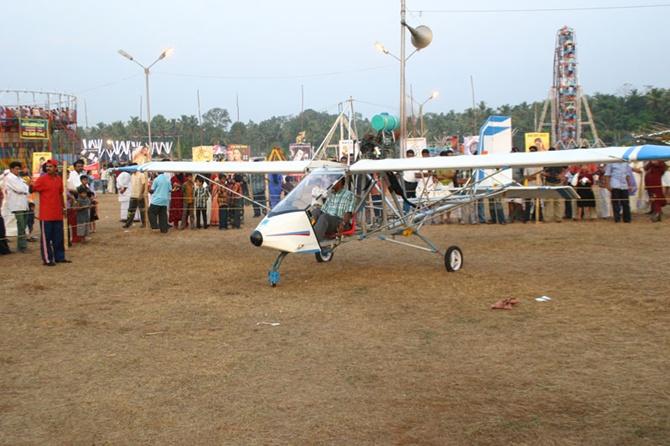 Image: Saji's first aircraft. Photograph, courtesy: Saji Thomas
Saji's flying machines
"In 2005, when APJ Abdul Kalam was the President, he had come to Thodupuzha town to attend a function and Saji wanted to show his first aircraft. But because of heavy security, he was unsuccessful in meeting him -- he was very disappointed," says Mariya.
However, Saji got a chance through Kalam to attend a competition in Ahmedabad, where he won the SRISTI Samman.

In 2014, after reading a newspaper report on the success of Saji's test flight, Basil M G, from MBITS Engineering College, Kothamangalam contacted us and he did a website for highlighting Saji's innovation. He then wrote to Kalam about Saji's aircraft and his wish to meet Kalam. Kalam replied promising to meet him the next time he visits Kerala, Mariya explained.

"I met Saji at his home in Thodupuzha. I found several books on aerospace and engineering that he refers. His talent is outstanding, his ideas are innovative and he is focused on making low-cost solutions. It is rare to find such brilliant people. If he were in any European country, he would have been recognised and given the best opportunities," says Basil M.G.
Basil also made visiting cards for him, impressed by his brilliant work.
The first aircraft was spotted by professors from Visveswaraya Institute of Engineering in Kerala during an exhibition. They bought the aircraft for Rs 150,000 to teach students. So engineering students now learn the nitty gritties of an aircraft from a school drop-out's mean machine.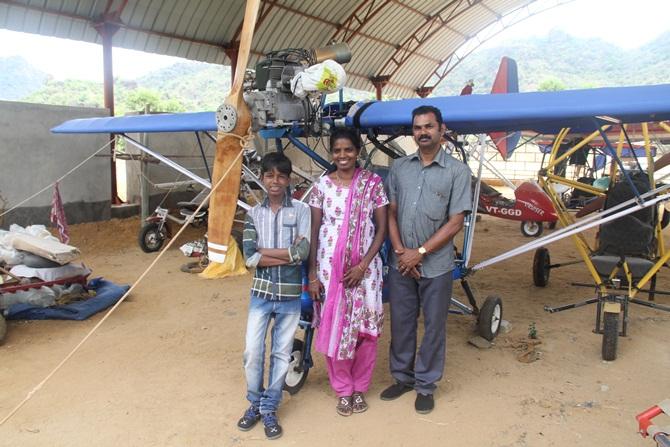 Image: Family support was crucial for Saji's success. Photograph: Manu A B/Rediff.com
Their encouragement and support made Saji think about making another aircraft that could fly.

"Since we did not have enough money, people kept saying he is just wasting money for his crazy ideas. I was very upset. But he is so determined and hardworking. At home, he repairs everything so we don't have to depend on anyone for electrical or electronics work," Mariya says.
Saji admits that without his wife's support, this dream would not have come true. She has been his voice literally and a caring homemaker.

"When I got married and came here, I also used to think he is wasting time. He used to travel a lot, meeting people, doing research for building aircraft. We did not have mobile phones then. I used to wait for days and weeks praying he is safe and will return safely. Even now he travels to Coimbatore and Bengaluru to buy parts for the aircraft. But now he sends us messages so we know his whereabouts," says Mariya.
An uphill task
Saji loves to read books, however since he had to learn everything by himself, he first started learning English.
Once he did that, it was easier for him to read and understand the technical details of aircraft making.

He was quick to update himself with technology. He is Internet savvy, has learnt to work on computers, mastered photography and has good knowledge about electronics and aeronautics.

Even engineering college students remarked that his work is outstanding. They told him that even though they have technical expertise and formal education, they will not be able to make a flying machine the way he did single-handedly.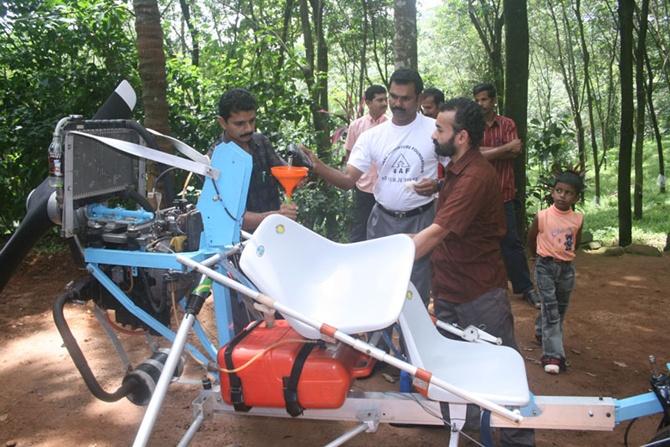 Image: Saji shows the first aircraft to visitors at his house. Photograph, courtesy: Saji Thomas
All through the years of painstakingly building the aircraft, he was mocked and ridiculed by people.
"Saji has been humiliated by people several times. But he was determined to build an aircraft that could fly. Being a sensitive person, Saji was hurt but he did not give up. Five years is a really long time and after a point even I started doubting his capabilities," says Mariya.
Though Mariya is proud of his achievements, she feels let down by everyone.
"We even approached Chief Minister Oommen Chandy for help. But promises just remain unfulfilled so far. Even now we have been calling up government officials. They keep saying the process to give him a job is going on. We lead a difficult life without enough money. I wonder how we will educate my son. Saji has spent all his savings on this aircraft," says Mariya on a sombre note.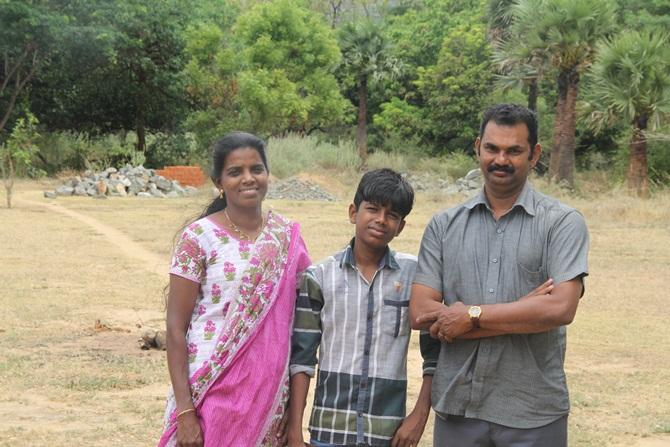 Image: Saji and family hopes for a better tomorrow. Photograph: Manu A B/Rediff.com
Road ahead
Saji cannot think of anything else other than planes, says Mariya.
"People have felicitated Saji for his work and offered us money. Heera college granted Rs 100,000 last year. A company in Kochi offered a job but traveling was a problem for Saji. A professor has offered to arrange a place nearby to carry on that job. The path ahead is quite uncertain. We hope the aircraft gets a license to be airborne. Without a license, we can't fly it beyond 20 feet. It was not built to be kept in a hangar. Now that Saji has built an aircraft that can fly, we are confident that if he gets good opportunities, he can do much better. I am just hoping some good Samaritan comes forward to help Saji reach greater heights," she says.

Saji's dream destination is United States. "He keeps telling me that if I were in America, I could have done much better work as people are supportive and disabled people are offered better opportunities," she says.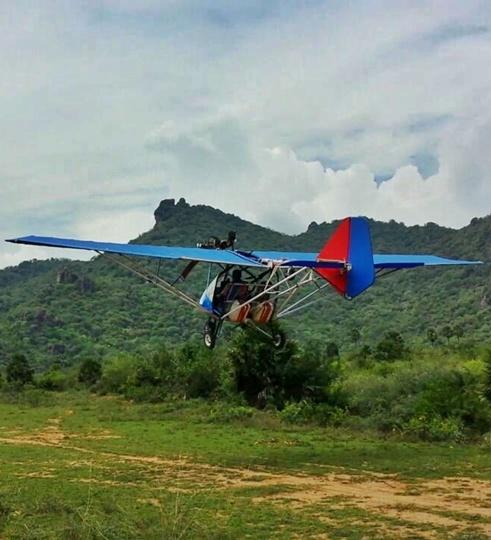 Image: Sky is not the limit for Saji. Photograph, courtesy: Saji Thomas
His next plan is an twin-engine aircraft which can take off without having to move on the runway. But this plan cannot take off as he has no source of income or funds to pursue it.

Saji was excited when Malayalam film maker and writer Santhosh Echikkanam expressed his interest to shoot a film based on his story. He really hopes it materialises so that more people know about him and get inspired to dream big and achieve their goals.

Meanwhile, Saji's continues his experiments silently…He lives to see the day his aircraft will get the license to touch the skies.

If you wish to help Saji Thomas, you can get in touch with his wife Mariya at 94467 47473. You can SMS/WhatsApp Saji at 94003 36313. His e-mail id is sajixair@gmail.com