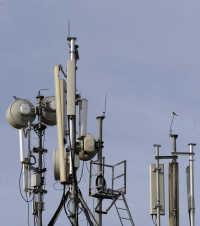 Telecom operator MTNL says it has no plans to participate in the 2G spectrum auction as it already has the spectrum required to carry out the business.
"We already have spectrum and licence with us. We have sufficient spectrum. So we will not participate in the auction," MTNL chairman and managing director AK Garg told reporters on the sidelines of an event in Mumbai.
Stating that the government-owned utility firm was now focusing more on GSM services network, broadband services and wired telecom segment to expand its reach, he said that MTNL is working on fibre-to-home project, under which it aims to provide 15,000 ultra high-speed broadband connections in Delhi and Mumbai where it primarily operates.
"We want to expand and looking at 250 sites (towers) each in Delhi and Mumbai. We have already floated tenders and will decide on the issue by December. This is to increase the speed of 3G network," he said.
On the CDMA expansion, Garg said that the company was awaiting
government guidelines on the issue. He also said that the telecom entity is taking several steps to curtail losses, reduce interest burden and shore up revenue.
"We are taking steps such as surrendering BWA license, trying to trim losses, reduce interest burden. We are also leasing out spare space with us which is expected to fetch Rs 100 crore (Rs 1 billion) annually," he said.
The company had recently approached the DoT for surrendering Broadband Wireless Access Spectrum in Delhi and Mumbai and for refund of Rs 4,533.97 crore (Rs 45.339 billion) for one time upfront BWA Spectrum charges paid.
Besides, MTNL is also exploring options to commercially exploit its land bank, he said adding it is assessing the prospects of both developing the land on its own or with some private players.
On the company's capex plans, the MTNL chief said that around Rs 300-400 crore (Rs 3-4 billion) have been set aside for investment in FY 13.
Earlier, MTNL and city-based B-school Welingkar Institute announced a strategic alliance to launch two new management courses in telecom sector.