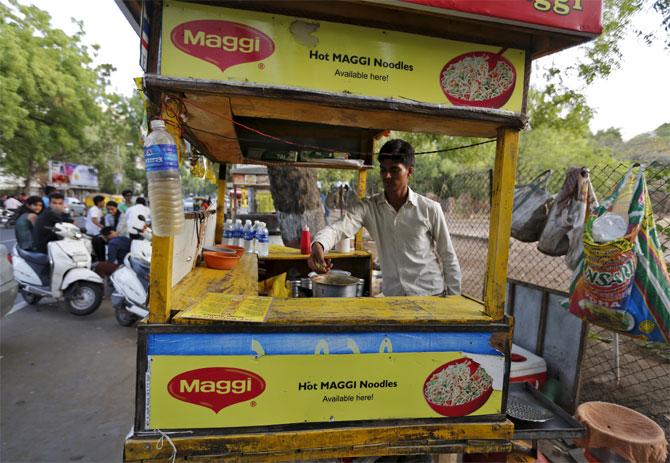 Popular instant noodles Maggi is back on the shelves in select markets from Monday, five months after it was banned for allegedly containing lead beyond the permissible limit, with Nestle India preparing a staggered roll out except in eight states where it is still not allowed.
The company, which has suffered a damage of 70-85 million Swiss Francs (nearly Rs 530 crore) due to the ban, has also not ruled out a suit against food safety regulator, FSSAI.
Interacting with the media, Nestle India chairman and managing director Suresh Narayanan said Maggi has been relaunched in 100 towns through 300-odd distributors and will be rolled out in many more areas in the coming days.
"We have relaunched Maggi into the market. We have been through arguably a very big crisis in the last couple of months. I am glad that we have been able to vindicate once again, the quality, safety and credentials as we reintroduce Maggi selectively," he said.
Maggi had passed tests by three government-accredited laboratories, as ordered by the Bombay High Court which in August had lifted ban on the instant noodles that was imposed by food safety regulators.
It paved way for Nestle India to bring back Maggi in the market after it was banned in June by Food Safety and Standards Authority of India (FSSAI) which stated that it was 'unsafe and hazardous' for consumption due to presence of lead beyond permissible limits.

The company withdrew the noodles brand from the market.
While Nestle India had challenged the orders by FSSAI and Maharashtra FDA in Bombay High Court, the government had also filed a class action suit against it seeking about Rs 640 crore (Rs 6.4 billion) in damages for alleged unfair trade practices, false labelling and misleading advertisements.
When asked if the company would file a suit against FSSAI to seek damages, Narayanan said: "At the moment, we are very clear that we would be focusing on building the brand and at any stage if there is any thinking, as of now there is no thinking, but if there is any thinking, we would let you know but today, there is no thinking."

Commenting on the class action suit, Narayanan said it is "unfortunate" but added that Nestle India "will defend ourselves to the best of our abilities in the matter".
"We have been transparent, you want our products to be tested again and again, we would say ok test it. I have nothing to hide," he asserted, adding that many of the allegations in the class action suit have been addressed by the Bombay High Court in its order.
With its standards vindicated, Narayanan said Nestle India has not changed the contents of Maggi saying "we give what consumers have loved for 32 years", adding that the only change is on the package by adding "a small set of words" that conveys the company's "commitment to quality and goodness" that "consumers can trust".
At present, Nestle India is manufacturing Maggi noodles at three locations - Nanjangud (Karnataka), Moga (Punjab) and Bicholim (Goa).
Two more plants in Himachal Pradesh and Uttarakhand -- where the instant noodles is still banned -- are yet to start and Narayanan said the company is engaging with authorities there in order to start production in those two units at the earliest.
He said at the moment the ban on Maggi is in effect in eight states including, Punjab, Orissa, Manipur, Bihar, Himachal Pradesh and Uttrakhand.
Sharing the company's strategy to win back trust of consumers, he said Nestle India will carry out intensified campaigns across various medium to overcome the impact on the Maggi brand by the whole controversy, "what has been like a life issue for a human being" and "to nurture the brand back to its health".
He said the company will be a "fairly substantial" increase in advertising campaigns as there has also been "collateral damage" on other products due to the Maggi issue.