Valued at $104.5 million and the face of over 20 big brands and almost every big hit in Bollywood, it is Akshay Kumar's comic timing and sense of humour that the brand seeks as much as his mass appeal.
T E Narasimhan reports.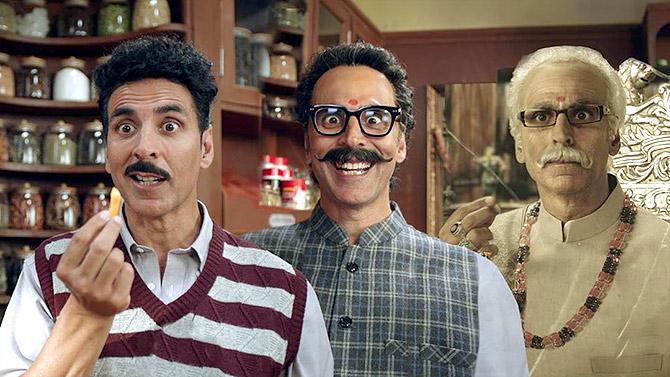 In an age where actors and brands spend every waking hour under the glare of a billion spotlights, endorsements are a fraught issue.
Ask PepsiCo India and Akshay Kumar, who have recently come together for Brand Kurkure, the corn puff snack that has traditionally spun its advertising narrative around fun and quirky tastes and targets young consumers across the country.
Both have run into a cloud of criticism and some loud carping over their choices.
Where is the brand fit between a health food and fitness fanatic and a snack brand and; how does a 52-year-old actor appeal to the young Kurkure consumer?
Dilen Gandhi, senior director and category head, Foods, PepsiCo India has no doubt that the brand and the endorser make a good team and is clear that the brand is harnessing the entertainer in Kumar.
"We believe that Akshay Kumar, with his comic-timing and OTT (over the top) personality, personifies the brand tenets of Kurkure.
"Both have entertained Indian families for more than 20 years, in an endearing and fun manner," he says.
Kurkure stands for a fun snack and, the company said that at the end of the day, everyone including a celebrity would like to indulge.
Valued at $104.5 million (Duff & Phelps, Celebrity Brand Valuation 2019) and the face of over 20 big brands and almost every big hit in Bollywood, it is Kumar's comic timing and sense of humour that the brand seeks as much as his mass appeal.
Kumar who has a huge fan following and is well known for his comic capers in the popular Hera Pheri (movie) franchise says, "Kurkure for me has always been about fun and crazy times with family.
"The brand's quirky and unconventional campaigns have stood the test of time and are remembered by all.
"I love entertaining the audience and am looking forward to adding zing and liveliness (to the brand) in a memorable and unique way."
Kurkure, a brand born in and made for India, has built its persona around being rooted in local tastes.
Its 'Tedha hai par mera hai' (twisted but mine) campaign helped establish the premise and created huge recall for the brand.
However, in recent years, it has faced stiff competition from local and hyperlocal brands that have converted traditional domestic fare into packaged snacks.
And experts believe that this is where Kumar can help the brand rebuild its pan-Indian appeal.
With Kumar, the company has launched two new flavours, Kurkure Gazab Golmaal and Kurkure Hera Pheri Hungama, both names draw on a hit comedy franchise and its characters.
The ads are funny and have Kumar playing three generations of consumers.
He brings a dash of slapstick to the storyline and the ads clocked one million views in a day, the company said.
Kumar is also the face of the brand on digital and social media as well.
"We believe the combination of Kurkure and Akshay Kumar's wide appeal cuts across geographies and town-classes and can weave magic across the country," says Gandhi.
Does Kumar's allure extend to the young consumers that PepsiCo wants to target?
Sandeep Goyal, advertising and media practitioner and founder Mogae Media believes so.
"He has the necessary appeal and the requisite connect with millennial audiences, in fact much better than that of younger, emerging heroes," he says.
Using older heroes to reach out to the young is not just Kurkure's choice, Salman Khan for Pepsi and Shah Rukh Khan for Byju's are directionally similar, Goyal points out.
Brand fit, according to several experts, has to be redefined in the age of social media.
Many older stars are extremely prolific with their tweets and posts and have managed to build a huge following on many platforms, brand are tapping into these spaces and not just the body of work or the age of the celebrity, they say.
However, Kurkure must be careful as to how it uses Kumar, warns Goyal.
The company must leverage the right attributes that represent Brand Kumar, which is beyond just humour and fun, he notes.
Photograph: Courtesy, akshaykumar via Instagram.