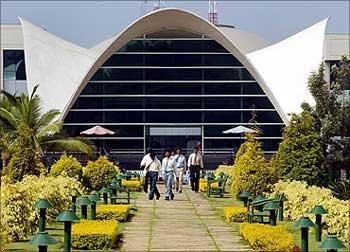 Infosys, the nation's second largest software exporter, on Wednesday paid a record $34 million fine to settle a visa row in the US.
Infosys allegedly sent employees to the US with B-1 visitor visas and not on H1-Bs permits designed for high-tech workers.
To settle the case, the company agreed to $34 million penalty, the largest ever such fine in the outsourcing industry.
The Bangalore-based firm, however, denied any visa fraud and misuse. Infosys said it "has completed a civil settlement that concludes investigation by the US Attorney's Office for Eastern District of Texas and resolves all issues with the US
Department of State, Immigrations and Customs Enforcement and US Department of Homeland Security relating to I-9 paperwork errors and visa matters..."
Form I-9 is used to verify the identity and employment authorisation of individuals hired for employment in the US.
"There were no criminal charges or court rulings against the company. Furthermore, there are no limitations on the company's eligibility for federal contracts or access to US visa programmes as a result of the settlement.
"In the settlement, Infosys agreed to pay $34 million to resolve all allegations, for which the company had already taken a reserve of $35 million which included attorney's fees," Infosys said in a statement.
The settlement is focused on historical I-9 paperwork errors from 2010-2011 that Infosys began correcting before the investigation began, Infosys said. "There is no evidence that the I-9 paperwork violations allowed any Infosys employee to work beyond their visa authorisation," it added.
This settlement removes the uncertainty of prolonged litigation and allows the firm to continue to focus on delivering measurable results for its clients, it said.
"Our company policy demands adherence to all laws, rules and regulations everywhere we operate and we take our compliance obligations seriously.
In the settlement agreement, the US Government acknowledged that Infosys demonstrates a commitment to compliance with the immigration laws through its current visa and I-9 practices, Infosys added.
On Tuesday, in a media advisory, the Office of US Attorney John M Bales for the Eastern District of Texas said DHS and the State Department would on Wednesday "announce the settlement of systemic visa fraud and immigration abuse allegations with an international corporation."