Many would have racked up debt this Diwali, using credit cards and consumer loans. Here are a few simple steps on how to fix your financial mess, says Bindisha Sarang.
Illustration: Dominic Xavier/Rediff.com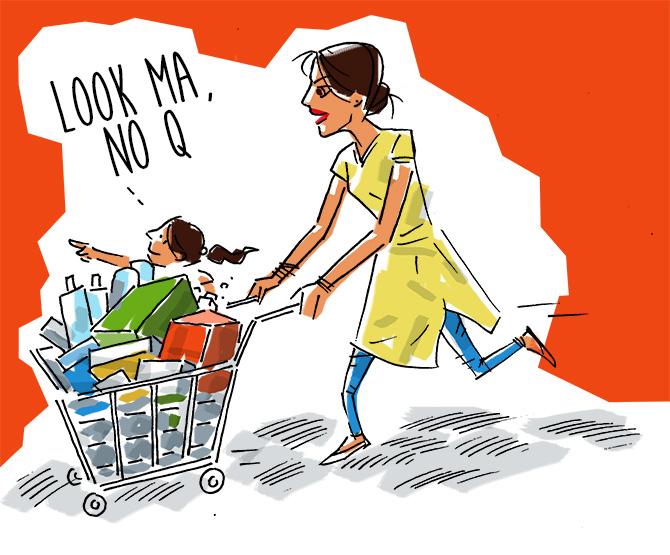 A hangover in the morning shows you had a fantastic party last night.
Similarly, there is something called "buyer's remorse", which reflects the guilty feeling after a sudden splurge.
Usually, this follows an expansive spending session during the festival season.
Many would have racked up debt this Diwali, using credit cards and consumer loans.
Here are a few simple steps on how to fix your financial mess.
Reduce the weight of credit
D Muthukrishana, a Chennai-based certified financial planner, says: "This is nothing but a Diwali debt hangover. Pay it as priority."
You need to be laser-focused on reducing the debt you racked up this festive season and finally repaying it.
The first thing is to estimate the damage.
You've bought items, so you know the figure.
Add 20 per cent for various Diwali-related things like extra eating out, sweets, and others to the amount spent on items.
Remember, unused items anyway will depreciate, and their value will eventually become zero.
Sell that second or third phone lying in the house.
It may be old technology, but someone else might still be wanting to use it.
Then, get rid of that old gadget that you have accumulated.
The idea is to reduce Diwali debt as soon as possible.
Muthukrishnan says: "Pay off the credit card first, as it's the most expensive debt. Followed by consumer loan, if any."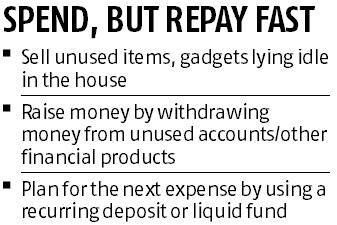 Cut down on spending for a while
Deepali Sen, founder, Srujan Financial Advisors, says: "The next step is cutting back on your expenses, so you have extra cash to pay towards the debt."
Using behavioural finance techniques is a good idea.
Sen says, "One way is to remind yourself of the amount of debt you have. Put a note in your wallet, with the amount of debt you owe, (and this) will work as a good deterrent when you go shopping next time."
People often understate the amount they spend.
If you have a sibling or friend who is willing to get in your face and tell you not to buy something, that would be a great idea.
Remember, it is good to have an accountability partner.
Another way to spend less and repay your Diwali debt is to set automatic payments towards your credit card over and above the minimum amount due.
Set the auto-debit for the same date your salary hits to a bank account.
Use future festive discounts
The sale season starts on the Independence Day in August, then moves to Ganesh Chaturthi, Nav Ratri-Durga Puja, Dussehra, Dilwali, Christmas, New Year, Pongal right up to Gudi Padva.
Says Muthukrishnan: "There's no harm in buying things, like repaying appliances that need replacement or buying a new item. But don't do it without a plan or a budget. If you get into festival shopping with a plan or a budget, there won't be any need for debt handover. Plan for what you would like to buy in the future, start a recurring deposit (RD) towards this, and when the festive season arrives, splurge."
He further adds that instead of paying interest on credit cards and processing fees on consumer loans, when you pay full cash payment at a store, you might even get a better deal and more discount.
If RD is not your choice of instrument, you can start an SIP in debt mutual funds or liquid funds.
Muthukrishnan says, "Our culture is of celebration, but now it's about buying things during festivals. There is nothing wrong with buying things. But, remember a seller always wants to sell, he is only looking for occasions to sell.
It's up to us; it's always buyer beware."