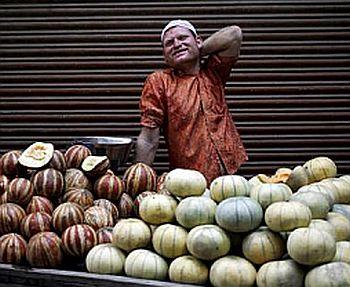 Data on Friday is expected to paint a grim picture of the economy and could reinforce doubts about the health of the world's fastest growing major economy.
Annual output growth at factories, mines and utilities in April is estimated to hit a six-month low of 1.6 per cent compared with 2.1 per cent the previous month, according to economists polled by Reuters.
Consumer inflation in May, meanwhile, will likely edge up to 5.0 per cent from 4.87 per cent the previous month on higher energy and food costs, the poll found. "India is on a slow road to economic recovery," said Radhika Rao, an economist with DBS Group Research.
"Friday's data would only support that view."
India's statistics office is due to release the data at 5:30 p.m.
Weak output data would underscore the view of the central bank that India's economy is not doing as well as the latest rosy GDP numbers suggest. Data released last month showed India outpaced China by growing 7.5 per cent in the March quarter.
But the Reserve Bank of India (RBI) cut interest rates for a third time this year last week to put the economy on a sounder footing.
Adding to growth concerns is the forecast for below average rains in June-September, which are crucial to farm output and rural incomes. Some private economists say poor farm output could pull down headline growth to as low as 7 per cent from 7.3 per cent last year.
Less rain could also drive up food prices, straining household budgets and crimping non-food spending.
"Overall, risks to agricultural production, rural demand and food price inflation have increased," analysts at Nomura wrote.
The RBI has said further rate cuts would depend on the monsoon's impact on food prices, which make up almost half the basket of goods used to measure inflation.
New Delhi says existing food stocks will be sufficient to contain any food price shock.
As a pre-emptive measure, it has extended duty concessions on lentil imports and is ready to provide high-yielding seeds for replanting of crops. "Still, some spillover into retail prices is inevitable," said Rao.