Benchmark share indices ended lower on Wednesday weighed down by selling pressure in bank shares on concerns of rising non performing assets in wake of the economic slowdown. Selling in metal and capital goods shares also dampened market sentiment.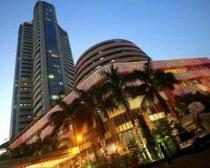 The Bombay Stock Exchange's 30-share Sensex closed at 17,313 down 127 points. The National Stock Exchange's 50-share S&P CNX Nifty closed down 48 points at 5,226. The Sensex and the Nifty reached an intra-day low of 17,251 mark and 5,216 levels, respectively.

On the global front, Japan's Nikkei average fell to a near five-week closing low on Wednesday as soft U.S. manufacturing data and construction spending added to concerns about a global economic slowdown. Bearish bets on China-related stocks also helped pull the market lower as some investors were factoring in an abrupt slowdown in the Chinese economy.

Concerns over China's sluggish growth have hit commodities, with iron ore falling to its lowest level since October 2009. The Nikkei ended down 1.1 per cent while the Hang Seng dropped 1.5 per cent and the Shanghai Composite was marginally down by 0.3 per cent.

European shares which opened slightly higher in early trades, on hopes of action from the European Central Bank to resolve the debt crisis in the region, witnessed profit taking at higher levels. CAC and DAX have gained between 0.2-1 per cent. FTSE is trading marginally lower.

Back home, Indian private sector services business expanded at the fastest pace in six months in August, driven by the strongest growth in new business since February and increasing optimism about the future, a survey showed on Wednesday.

The HSBC Purchasing Managers' Index for services business, based on a survey of about 400 private-sector companies, rose to 55.0 in August from 54.2 in July, marking nearly a year of uninterrupted monthly growth.

On the sectoral front, BSE Metal, Capital Goods and Bankex indices declined between 2-3 per cent followed by counters like Power, PSU, Oil & Gas, Healthcare, Consumer Durable, Realty and Auto, all falling down by almost 1 per cent each. However, BSE FMCG index gained by nearly 1 per cent.

Metal shares witnessed selling pressure on rising concerns of demand slowdown in wake of the sluggish economy both local and global. Jindal Steel, Tata Steel, SAIL, Sterlite, Hindalco plunged between 1-5 per cent each.

Capital goods shares ended lower on concerns over delay in execution of major power projects.

BHEL was the top Sensex loser, down almost 5 per cent after JP Morgan has downgraded BHEL to "underweight" from "neutral" and lowered its target price to Rs 185 from Rs 200, citing prospect of capacity under utilization and pricing pressure on new orders. Larsen & Toubro slipped 2.5 per cent.

Bank shares witnessed profit taking at higher levels after recent gains on concerns of rising non-performing assets in the wake of sluggish economy and government's reduced fiscal flexibility.

Fitch Ratings says fiscal 2013 impaired assets across the banking sector may exceed its initial forecast as the economy slows. The rating agency adds that absolute cumulative gross NPLs reported at India's five largest banks - accounting for over a third of the system assets - increased by around 62 percent in the first quarter of FY13.

ICICI Bank was down 3.56 per cent while State Bank of India was trading lower by 2.17 per cent. Among other banks, Bank of India and Bank of Baroda were down over 2.5 per cent each.

Axis Bank slumped nearly 5 per cent after Morgan Stanley today downgraded the bank to "underweight" from "equal weight", as it expects the impaired loan formation of Axis Bank to rise to 4 per cent of total loans in FY14.

Among the index heavyweights Reliance Industries nearly dipped 1 per cent while Infosys slipped over 1 per cent. Other notable losers included Tata Motors, Sun Pharma, Cipla, Tata Power, NTPC and M&M.

However, FMCG shares such as Hindustan Unilever and ITC gained 1-2 per cent each on hopes that the revival of monsoon rains across the country would help improve farm income aiding growth in rural spends.

Meanwhile, BSE Midcap index dipped by 0.31 per cent whereas BSE Smallcap index closed down 0.49 per cent.

The market breadth in BSE ended unhealthy with 1,559 shares declining and 1,232 shares advancing.

Smart Movers

KSK Energy Ventures locked upper circuit of 10 per cent at Rs 64.55 on back of heavy volumes on the Bombay Stock Exchange (BSE).

Orissa Minerals Development Company (OMDC) locked upper circuit of 5 per cent at Rs 53,276 on announcing bonus issue plans.

Torrent Power ended 4 per cent higher at Rs 164 extending its previous day's 7 per cent rally after its promoter hiked stake in the company by around 1 per cent through open market transaction.

Castrol India ended lower by nearly 4 per cent at Rs 274, extending its Tuesday's 3.2 per cent fall after the stock turned ex-bonus on Tuesday.

Balalji Telefilms soared 6 per cent to Rs 42 on reports that STAR India may sell its 25.99 per cent holding in the company to its promoters.