While the Narendra Modi government has stuck to its stand that pending payment is Rs 12,343 crore, MSMEs calim outstanding amount is Rs 2-3 trillion. Moreover, MSME ministry's SAMADHAN portal has been of little help.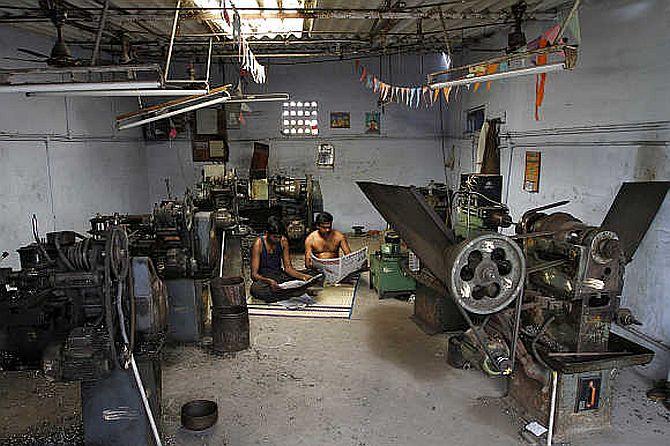 Pending payments of the central and state governments are much higher than official estimates, industry bodies representing Micro, Small and Medium Enterprises (MSME) say.
While exact figures are difficult to come by, there is a widespread consensus that dues from the government stand at about Rs 2-3 trillion.
However, the Narendra Modi government has stuck to its stand that the amount is Rs 12,343 crore, pointing to data from the SAMADHAN portal, the MSME Ministry's online Delayed Payment Monitoring System.
The dues pending with the Centre are divided between central ministries and public sector undertakings.
"The lack of detailed figures makes it tough to estimate but almost Rs 2-3 trillion remain unpaid to MSMEs," said Anil Bhardwaj, secretary general of Federation of Indian Micro and Small & Medium Enterprises.
The All India Manufacturers Organisation (AIMO) pegs it at an even higher Rs 5 trillion.
"Delayed payments have become a regular part of business now. We still don't see payments being fast tracked.
"Meanwhile, we have written to the prime minister that micro entities be allowed to take in money up to Rs 10 lakh from friends and family members without tax liabilities, to sustain their business during this crisis," said AIMO National President Sudarshan Sareen.
No solution
AIMO has informed the ministry that most MSMEs have not taken the SAMADHAN route for fear of reprisal from government departments against whom they might complain.
Firms have suddenly stopped receiving contracts or have had existing deals prematurely cancelled, sources said.
The MSME Development Act, 2006 contains provisions to address delayed payments.
The most important among these is that state governments have to establish Micro and Small Enterprise Facilitation Councils (MSEFCs) for settlement of disputes after MSEs have filed claims.
Launched in October 2017, the SAMADHAN portal brings MSEFCs online and has led to 44,000 applications being filed of which 3,735 or 8.48 per cent applications have been settled mutually, according to data available on the platform.
Buyers are currently mandated to make payments to suppliers within 45 days of accepting goods or services.
In case of failure of payments, every case filed in the facilitation council "shall be decided within a period of 90 days from the date of making such a reference.
As a result, 3,293 or 7.4 per cent of applications have been disposed by the MSEFCs.
But many MSMEs have also been deterred by the high rejection rate for applications.
This stands at 7,572 cases or 17 per cent of all applications filed.
Back and forth
Last month, MSME Minister Nitin Gadkari hinted said in a television interview that all state and government departments and the private sector owe MSMEs an estimated Rs 5 trillion.
The figure was circulated widely on social media and touted by critics as the government's admission of massive dues.
Later, expenditure secretary TV Somanathan clarified that Gadkari was pointing out the large share of dues owed by the private sector.
Case in point, he had pointed out that 26 top Central Public Sector Undertakings owed MSMEs Rs 773 crore as on March 31, a figure that was much lower than dues owed by private sector entities.
However, the figure quoted by him has since then more than doubled to Rs 1,960.84 crore.
The idea that governments - both Centre and state - remain the biggest debtors for small businesses have been pointed out elsewhere as well.
A quick poll of MSME members by the Confederation of Indian Industry (CII) had indicated that about 450 firms reported delayed payments worth Rs 1,819 crore.
Of this, public sector or government departments, including state departments, owed MSMEs Rs 1,709 crore, while the private sector also owed about Rs 110 crore to MSMEs.
Photograph: PTI Photo