India's sourcing from China may not necessarily be for cost-effectiveness alone but also for the lack of domestic qualified bidders, technology or other know-how.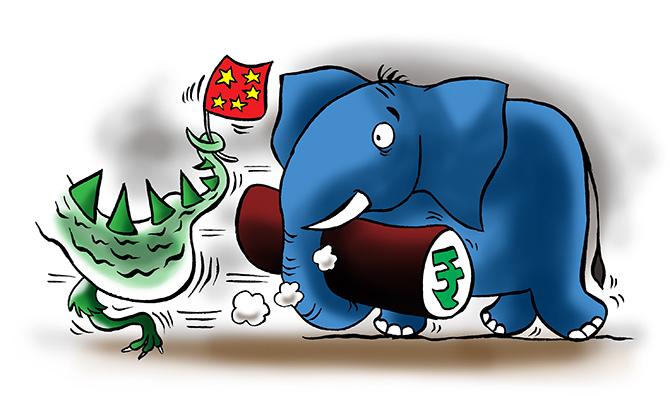 With the ongoing border tension pushing India to re-think its dependence on Chinese imports, the clamour to depend on domestic companies is getting louder.
But a closer look at some of the tenders awarded by the public sector undertakings to Chinese companies in the past six months tell a different story.
India's public sector undertakings (PSUs), such as Steel Authority of India (SAIL) and Bharat Heavy Electricals (BHEL), also import from China.
Besides, India's sourcing from China may not necessarily be for cost-effectiveness alone but also for the lack of domestic qualified bidders, technology or other know-how.
Based on the data available in public domain, Business Standard found at least 30 tenders combined for SAIL, BHEL, Power Grid Corporation (PGCIL), and Oil and Natural Gas Corporation (ONGC) were awarded to Chinese companies.
These tenders were awarded since January this year when China was coming under the grip of Covid-19 pandemic. Of these, 23 tenders were by BHEL.
At Rs 117 crore, the combined value of these 30 tenders is not huge.
Though it may not be an exhaustive list and these companies have also awarded several other projects to domestic and foreign companies.
The data has been sourced from tender award details shared on company websites.
On June 17, Vedanta Resources chairman Anil Agarwal tweeted: "Most of the power plants in India are imported from China.
BHEL, a PSU, is very capable to produce the best power plants in the world. If given full autonomy and either corporatized or privatized, without laying off any personnel, it can do wonders for #atmanirbharIndia."
However, BHEL's tender documents suggest the PSU also sources some of its raw materials from China.
Some of the tenders that BHEL awarded to Chinese companies either did not have any other qualified bidder or majority of the qualified bidders were Chinese companies.
These 23 tenders were related to fuel gas desulphurisation (FGD) items or tubes and other fittings.
The FGD items were marked as single acceptable offers or those without any other qualified bidder in the contract details shared on BHEL's website.
An email query sent to BHEL's chairman and managing director (CMD) requesting details on its annual Chinese imports and whether it will consider a change in its policy, remained unanswered.
The ministry of power on Friday announced import restrictions on equipment used for "power supply systems and networks", citing security and cyber threats.
In February, tender details available on the website showed Power Grid Corporation awarded a small tender of Rs 7.28 crore to a Chinese company for a composite insulator package.
The award of contract details state, of the six parties that bid for the project, two did not qualify, BHEL is one of them.
In addition to BHEL, India's public sector steel maker SAIL also has Chinese companies on their supplier or vendor list.
Between January and April, SAIL awarded five contracts to Chinese companies.
These awards were a mix of limited tender, global tender, and propriety.
A query sent to SAIL remained unanswered.
"Many PSU vendor lists include various countries and China.
"However, most of the other countries are legacy ones, which the Chinese companies are recent additions and they dominate supplies in certain product segments," said an executive from a company that participates in these tenders.
Chinese companies are often consortium partners with Indian companies for various public sector infrastructure projects.
Tata Projects, for instance, has a joint venture with China Harbour Engineering (CHEC) for a package in the Mumbai Metro project.
The company called it a 'historical pre-bid alliance' that helped understand international execution.
"These are historically pre bid alliances - though ITD Cementation (leading JV partner) and Tata Projects have taken on most of the execution….these helped us in bidding and understanding international execution practices," a Tata Projects spokesperson had earlier said.
L&T is another company that is building a package for Mumbai Metro in consortium with a Chinese firm.
Another executive from an infrastructure company said, "Some of the Indian companies partner with Chinese firms primarily for the pre-qualification and bidding stage.
"This helps tap the Chinese expertise for costing and other similar parameters."
With inputs from Aditi Divekar