In India, cricket beats all other sports hollow when it comes to sponsorships and the World Cup is an opportunity no brand wants to miss.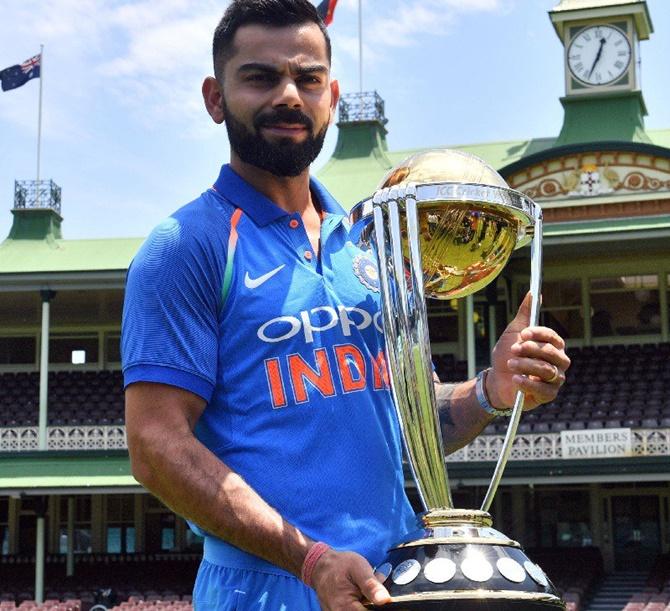 Virat Kohli is everywhere, not just getting his gear on for the upcoming month-and-a-half long ICC World Cup that is barely ten days away, but also on every screen; plying friendly taxi rides, shoes and sportswear, he is asking viewers to cheer the team on as they battle for the Cup.
Even as Kohli whips up the loudest buzz, his team mates MS Dhoni, Rishab Pant and former players are all adding to the noise made by brands cracking their bat at the biggest game of them all.
No surprise this, for as the recent report by ESP Properties showed, in India, cricket beats all other sports hollow when it comes to sponsorships and the World Cup is an opportunity no brand wants to miss.
Cricket, which had accounted for 63 per cent of team sponsorship amounts in 2017, rose to 68 per cent in contribution in 2018, the report said.
The big catch for most brands is the young male consumer.
Be it automobile brand Nissan, or sports apparel and footwear brand Puma, or Britannia, the target is the same.
But for others, such as Uber, the association presents a different opportunity.
It helps seal its association with the country and establish itself as a global brand committed to local values.
Manisha Lath Gupta, head of marketing, Uber India & South Asia said with an estimated global viewing audience of 1.5 billion, the World Cup is one of the most watched sporting events.
Uber said that this is its biggest branding activity in the country.
And as part of its initiatives for the tournament, it has created an ICC World Cup 2019 anthem, applying a common marketing practice for football leagues to the game of cricket.
Apart from the campaign, Uber also has a contest where users score runs for every ride on the cab-hailing app and their food-ordering platform Uber Eats.
The points can be added up to win prizes, including a trip to England for a World Cup match.
It is also running contest for its driver partners and food delivery agents.
"That's how we are bringing the delivery community together.
"In some ways we are bringing the backseat and front seat in the car together, building a bigger human connect," said Gupta.
The campaign is helmed by Kohli who is also Uber's brand ambassador.
Kohli is driving Puma's campaign for the World Cup too.
The brand will launch a new limited collector's edition product for Kohli, a new set of cricket merchandise under the Puma and Kohli's One8 umbrella and there will also be a song-and-dance routine.
Puma has signed on rapper Divine who will create a special music video with Kohli that will be unveiled on May 30, the day of the first match of the tournament.
Nissan is pushing its latest SUV model Kicks through the World Cup.
Car owners get a shot at winning an all-expenses-paid trip for big matches.
The company is also flying top 25 Nissan dealer partners with their families for the game.
Sriram Padmanabhan, vice president, marketing, Nissan India said, "Since the Indian audience has a high affinity towards the sport, the association helps us build a strong connect with our target audience."
Nissan has benefited from its association with cricket. Padmanabhan added that the 2017 ICC Champions Trophy was a huge success with over 40 million viewers in Nissan TG and more than 400 million reach across social media.
Along with on-ground activities Nissan is betting big on digital this season.
"Our content partner Hotstar will be the key property to garner eyeballs.
"We are going all out with large scale influencer marketing and engaging content for the duration of the World Cup," he said.
Britannia is bringing back a 20-year-old campaign, Britannia khao World Cup jao (Bite into Britannia for a trip to the World Cup), spending around Rs 80 crore for what it calls one of its biggest campaigns ever for its mother brand.
"Our association with cricket is very old and strong. We want to reignite that," Ali Harris Shere, VP-marketing, Britannia Industries had said in an earlier interview to Business Standard.
Photograph: ICC/Twitter