The Olympic silver medalist could charge between Rs 75 lakhs and Rs 1 crore per endorsement, says Urvi Malvania.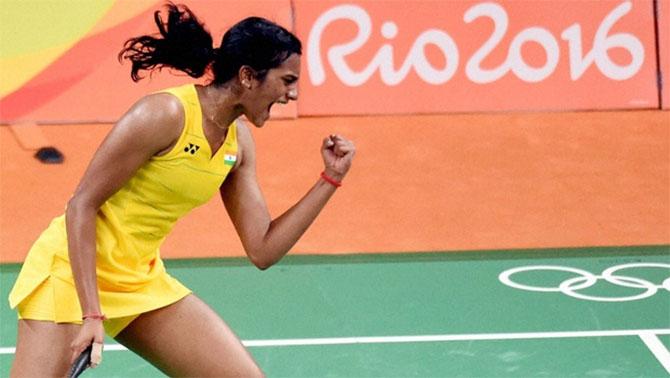 While 1.3 billion Indians cheered as P V Sindhu clinched India's first-ever badminton silver at the Olympics, scores of brand managers weighed the pros and cons of having the shuttler as the face of their brand.
With the silver under her belt, the 21 year old could see her endorsement value soar as much as three times, say experts.
Currently in a sponsorship and endorsement contract with Yonex, the sports goods manufacturer, the right-handed Olympic medallist charges approximately Rs 25 lakh (Rs 2.5 million) a year per endorsement.
This will go as high as Rs 75 lakh (Rs 7.5 million), and some believe Rs 1 crore (Rs 10 million) a year, after Friday night's medal win.
This will put her just behind tennis ace Sania Mirza and fellow shuttler Saina Nehwal. Sania and Saina charge between Rs 1 crore and Rs 1.25 crore a year for endorsements.

Nehwal endorses a score of brands, the latest being antiseptic liquid Savlon and financial services firm Edelweiss.
Sindhu will be ahead of other female athletes like Mary Kom, Dipika Pallikal and the latest sensation from Rio, Sakshi Malik.
She will also be ahead of young cricketer finds of this Indian Premier League season like Yuzvendra Chahal, Bhuvneshwar Kumar, Sreenath Aravind and K L Rahul, who, analysts believe, could charge Rs 30 to Rs 35 lakh (Rs 3 million to Rs 3.5 million) per endorsement per year.
"The kind of brands coming her way might not change drastically from what female athletes get offered. So, there will be the usual fast-moving consumer goods, insurance, health and nutrition and sports apparel/accessories brands. The qualities that the brands will want to capture are her aggression and perseverance. Being a female athlete, she will add an aspirational value to the messaging, which the brands always love," says Neerav Tomar, managing director and chief executive officer, IOS Sports and Entertainment, a sports talent and endorsement management agency.
IOS is also the official commercial partner of the Indian Olympics Association and has been instrumental in raising around Rs 10 crore (Rs 100 million) in sponsorship deals for the Indian contingent. Tomar also has experience in handling endorsement deals for Olympians like Nehwal and boxer Mary Kom.
The worry when it comes to endorsement deals for Olympians is the visibility, or the lack of it, since most of the sports are not played regularly, or not followed/covered as diligently in India.
However, given the general awareness around badminton, there is hope for the player to cash in on her Olympic success, and continue to grow, not only the number of brands she endorses, but also the value of her endorsement deals.
"What works in Sindhu's favour is her age. She has a long way to go and badminton as a sport is quite visible in the country. Also, thanks to Saina, it is more popular today than it was, say, a couple of years ago. Nehwal has had a few injuries and may not have as much time left to play as Sindhu; so the younger player definitely has a bright future for endorsement deals as long as she continues to perform," says Indranil Das Blah, partner and chief operating officer at CAA KWAN, a sports and celebrity management agency.
Experts, however, caution that efforts will have to be put behind projecting the shuttler's image, managing her public persona and maintaining the same over time.
"She will need to be groomed. Unlike Sania and even Saina now, she will have a mass appeal, and whoever manages her will have to make sure there is a distinction between her and the other female athletes. The fact that she is the first woman to win an Olympic silver medal in badminton for the country will distinguish her from others, but there will have to be a clear projection of her personality, and most importantly, she will need to be controversy-free and, at the same time, edgy enough for the youth to relate with her," says a brand manager, who preferred to remain unnamed.