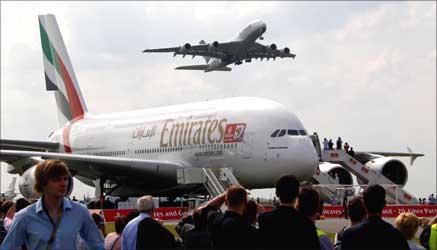 Dubai-based Emirates Airlines has invested more than $6 million to train crew for onboard emergency care.
Last year, Emirates delivered a total of 33,430 hours of medical training for cabin crew and pilots, ensuring they are equipped with the right support to assist passengers on board, the airline said in a statement.
"In 2013 and 2014, we diverted over 100 flights for medical emergencies, costing more than $12 million.
"Unplanned en route diversion of a flight has its own challenges and logistics, and in a number of cases extended delays are experienced," said Adel Al-Redha, Emirates' EVP & COO.
"Once the affected passenger has been accompanied off the aircraft for medical attention, the aircraft is usually refuelled and en route to its original destination within one to two hours," he said.
All Emirates cabin crew go through a comprehensive initial training program, which is required by the United Arab Emirates General Civil Aviation Authority, as well as additional specific training for the use of onboard medical equipment.
This includes both practical and theory elements.
The training prepares them to provide emergency medical attention for situations.
Pilots also attend training sessions covering topics such as hypoxia, malaria, dengue, trauma, CPR, and choking and occupational health issues.
As part of their initial training program, all ground staff and cabin crew are trained to be observant during the boarding process to identify any individuals who may not be fit to travel.
If there is a concern about a customer's fitness to travel, the crew can contact MedLink, emergency telerequest center and a decision can be given within minutes based on professional medical advice, thus reducing the likelihood of a medical emergency in flight.