Before buying property, please carefully study the agreement with the builder, advises Sanjay Kumar Singh.
Illustration: Uttam Ghosh/Rediff.com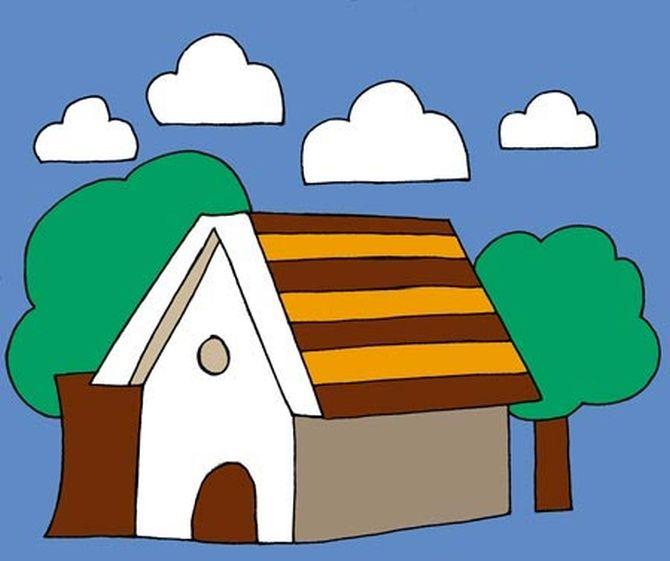 In a recent case involving a Gurugram-based developer, Pioneer Urban Land and Infrastructure, the Supreme Court ruled that one-sided builder-buyer agreements will not be binding on buyers.
While this is a landmark judgment that is expected to have a bearing on how courts rule in matters related to one-sided builder-buyer agreements in future, legal experts say that buyers still need to exercise a lot of caution before signing on the dotted line.
Courts' attitude likely to change:
While the recent judgment is case specific, it is expected to influence future judgments of other courts.
In the past, courts have mostly upheld the terms of a contract.
Their stance has been that if the buyer has signed a contract, s/he must abide by its terms and conditions.
S/he should not complain at a later date that its terms are unfair.
But after this judgment their approach could change.
"There has been a departure from the earlier principle of caveat emptor or buyer beware. If a buyer is able to demonstrate that at the time of entering the contract, s/he had no option but to sign on the dotted line, then the court will look into those terms," says Vineet Naik, senior advocate, Bombay high court.
"And if it decides that the condition is onerous, it could rule that it is not binding on the buyer," Naik adds.
In future, builders, on their part, will have to be more wary about imposing unfair terms on buyers through one-sided builder-buyer agreements.
"This landmark judgeent will ensure greater parity between builders and buyers in future," says Samantak Das, chief economist and head of research and REIS, JLL India.
RERA ushering in improvements
Most disputes pertaining to builder-buyer agreements, say experts, are old ones.
The implementation of the Real Estate (Regulation and Development) Act from May 1, 2016 has brought about a change for the better.
The central Act has a model agreement to sell whose terms and conditions are even-handed towards both builders and buyers.
Most states that have implemented RERA have adopted this model agreement, with slight variations.
The problem, however, is the uneven implementation of RERA throughout the country.
"Some states, like Maharashtra, are very progressive. But several states still lag behind in the implementation of this Act," says Vivek Dahiya, managing director-north, Cushman & Wakefield India.
In such states, buyers need to be more watchful about the clauses in the builder-buyer agreement.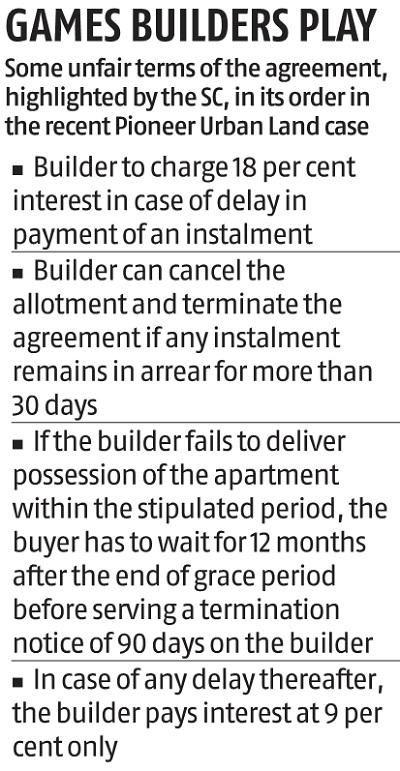 Watch out for grey areas
Before you buy a property, it is advisable to get to know the provisions of the model agreement to sell of their state RERA Act, and ensure that the document you are going to sign has broadly similar provisions.
Look closely at the penal provisions in the builder-buyer agreement.
"There could be clauses within the agreement which stipulate that if there is a delay by the buyer in paying an instalment, s/he would be charged a higher rate of interest, while if there is a delay by the builder in offering possession, s/he would get a grace period and would also pay a lower rate of interest," says Naik.
The clause pertaining to delivery or possession date is also crucial.
Some agreements do not mention a specific date, as stipulated by RERA.
Instead, they use more ambiguous wordings like '36 months from date of start of construction'.
When a delay happens and buyers complain, builders dispute the date of start of construction.
Buyers should also examine the provision regarding change in building plan.
RERA norms stipulate that any change can only be undertaken with a buyer's consent.
If alterations have to be made to the layout of the project and to the common areas, the consent of two-thirds of the buyers in the project must be obtained.
Check if the agreement you are signing contains similar norms.
Provisions pertaining to pricing, too, should be examined closely.
"Buyers should get clarity on the final price they will have to pay. Many builder-buyer agreements have open-ended clauses that allow builders to escalate charges," says Neeraj Sharma, director, Grant Thornton.
"As a result, by the time of possession, buyers could end up paying a price that is 15% to 20% higher than the one originally quoted to them," adds Sharma.
Buyers, Sharma points out, should examine closely the circumstances under which such escalations can be carried out.
Finally, pay heed to the clause regarding contract termination.
If the developer fails to deliver the project on time, or even after the end of the grace period, you may not want to purchase the property at all from the builder.
"If there is a delay, you can opt out and ask for refund with interest. Under RERA, you are entitled to get an interest rate equal to the SBI MCLR rate plus two per cent," says Das.
Make sure that the exit clauses in your agreement are not unfairly burdensome.
Look at the fineprint
The builder-buyer agreement is a voluminous document.
Most buyers sign it blindly without going through its provisions.
"Before signing a contract, especially one involving a large sum of money, it is a good idea to have a lawyer scrutinise it on your behalf," says Simranjeet Singh, principal associate, Athena Legal.
If your lawyer finds terms and conditions in the agreement that are onerous for the buyer, ask the developer in writing to change that provision.
If s/he does not agree to change it, you have the option to walk away from the deal.
You may also complain to the RERA Authority in your state.
"Even if you buy and later the developer tries to enforce that provision, the written communication will help you demonstrate in court that it was a one-sided contract," says Rupali Singhania, founding member, Areete Consultants LLP.
She further adds that it a good practice to get the agreement to sell registered.
Recently, the Maharashtra RERA Authority, too, recommended doing so.