Vodafone to invest 1.3-billion pounds in upgrading and expanding its network in India.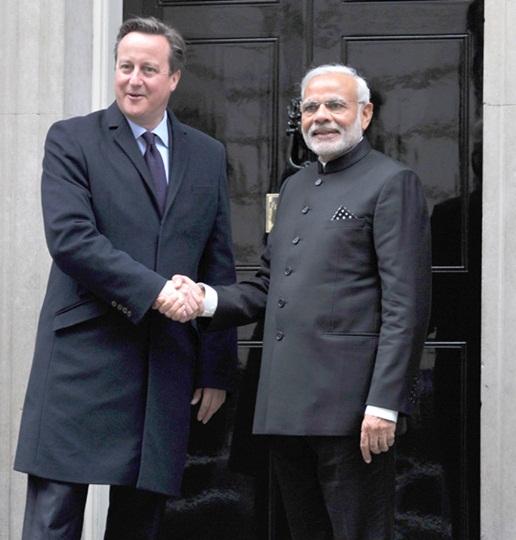 Image: Prime Minister Narendra Modi with Prime Minister David Cameroon in London. Photograph, courtesy: Press Information Bureau
Six significant agreements were among 9-billion pound deals signed between India and the United Kingdom on Monday Prime Minister Narendra Modi's maiden visit to the country.
1. Vodafone to invest 1.3-billion pound in upgrading and expanding its network in India; creating new tech centres in Pune and Hyderabad and creating new data centres and a new payment bank.
2. Light Source to invest 2 billion pounds in India to design and manage 3GW of solar power over next five years which will lead to creating 300 jobs in India as well as 300 in Britain.
3. Intelligent Energy has signed a 1.2-billion pound contract to provide clean energy to 27,400 telecoms towers in India and towards the deployment of hydrogen fuel cell power.
4. King's College Hospitals Foundation Trust and Indo-UK Healthcare to set up a hospital in Chandigarh. This will be the first of 11 new India-UK hospitals in India. Over a period the deal will be worth 1 billion pound investment into Indian healthcare.
5. India Bulls to invest 66 million pound in British start-up bank Oaknorth.
6. Yes Bank and London Stock Exchange (LSE) signed a bondand equity issuance deal in green infrastructure finance and have future plans to issue a green bond to the tune of 300 million pounds.