Insisting that PM Modi has consistently cared for the farmers, Goyal said the Rs 75,000 earmarked for paying Rs 6,000 per annum to each of 12 crore farmers is not one time but a 'sustainable' provision.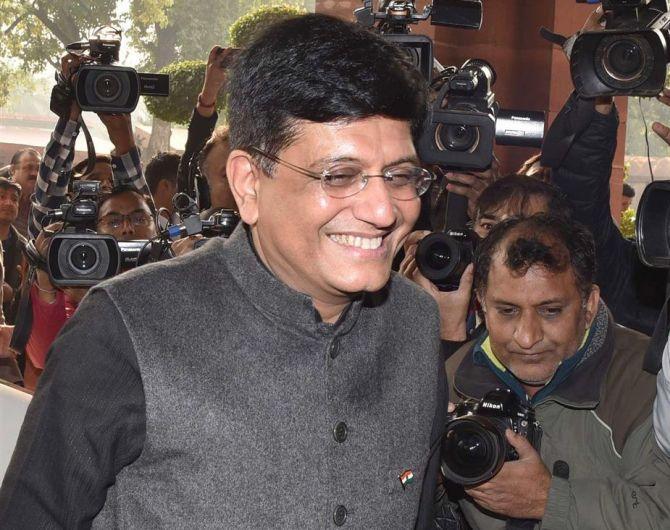 The scheme to give financial support to marginal farmers is 'not a dole' or 'charity' but a mark of 'respect' for the agriculturists who feed the nation, Union Finance Minister Piyush Goyal said on Friday, hours after making the proposal in the interim Budget.
In an interview to ANI, he also refused to accept the 'narrative' about the high figure of unemployment, saying a huge number of jobs have been created through various infrastructure and developmental projects undertaken by the Modi government over the last four-and-a-half years which are not counted.
He said Prime Minister Narendra Modi has worked for all sections of the society and taken 'historic and courageous decisions' during his tenure and expressed confidence that people recognise his efforts.
The last five years have been a period of 'big reforms and development' of the country, be it the North East, Jammu and Kashmir, tribal areas, coastal areas or nomadic tribes.
The finance minister referred to the farming community and said nobody else than Modi had bothered about them.He referred to the provision in the interim budget for payment of Rs 6,000 annually to marginal farmers.
When pointed out that the amount was very meagre as it converts into just Rs 500 per month, Goyal shot back, saying 'those sitting in AC rooms don't know how important Rs 500 is for a farmer.'
Elaborating, he said a farmer can use this amount for various expenses like buying medicines, seed or fertilisers.
"It is not a dole or 'khairat' (charity). It is not any kind of subsidy," the finance minister underlined.
He said it is just a 'supplemental income' for the farmer or 'a mark of respect' for the 'anna data (one who feeds)'.

"It is a kind of giving them back for the work they have done."
When queried why it can't be termed as a 'dole', he argued that it is because the amount is not linked to land holding of the beneficiary.
At the same time, he acknowledged that farmers have been facing 'difficulties' and stress.
Insisting that PM Modi has consistently cared for the farmers, Goyal said the Rs 75,000 earmarked for paying Rs 6,000 per annum to each of 12 crore farmers is not one time but a 'sustainable' provision.
He then went on to attack the previous United Progressive Alliance government, saying it never delivered but only made "noise' and 'tall promises' when it came to the farmers' issue.
Questioning what the Congress did in 10 years of its rule, Goyal said the loan waiver was announced in 2009 without any budgetary provision.
He added that the loan waiver was provided to select groups of farmers, without benefitting the real sufferers.
When pointed out that farmers have been committing suicide even during the NDA rule, the finance minister said the Modi dispensation has helped the farmers by providing them facilities and support.
"We are encouraging them to have 3 crops (in a year)," he said, adding the government has been laying thrust on educating farmers and providing better irrigation facilities.
It was pointed out to him that proper irrigation is still missing.
In his response, Goyal said the government was laying thrust on micro-irrigation.
Asked by when everybody would be able to get proper irrigation, the finance minister said it will be done in 10 years, except Andhra Pradesh, where he alleged, there was corruption.
Turning to another major provision of income tax exemption on salaries up to Rs 500,000, Goyal said such a measure has never been taken earlier.
He said 3.5 crore people will benefit from this decision.He, however, added that he had not tampered with the income tax slabs as it was an interim budget.When referred to a 'leaked' report about unemployment, Goyal said the argument about 'no jobs can be narrative of some'.
He said India was one of the largest growing economies of the world and a huge number of people were getting jobs directly or indirectly in various infrastructure and developmental projects.
He referred to the solar power sector and said lakhs of people get jobs which may not be counted in a formal manner.
He also spoke about Railways and said the ministry is going to hire about 150,000 people and there will be a vacancy of 220,000 more in two years.
Besides, there are various road, railway and other infrastructure projects where people get jobs, the finance minister said.
"Formalisation of the economy started only 4 years back. It was never before. The formalisation will benefit people," he said.
"There are difficulties but we have to face those and find solutions, rather than just criticise," he said.
The finance minister was asked whether he would agree that demonetisation and GST implementation had hurt the economy.
"To the contrary," he said, adding had there been no demonetisation, the tax collections would not have increased and had there been no GST, the pile-up of vehicles on state borders would have continued.
He said GST was a 'successful experiment' and no nation had the courage to take such a big reform decision.
"Implementation of GST was done by all states and the Centre," he said, answering criticism about "poor' implementation of ushering in the single tax regime.
Photograph: Courtesy, PIB