'The Indian economy has been subsidised by the poor.'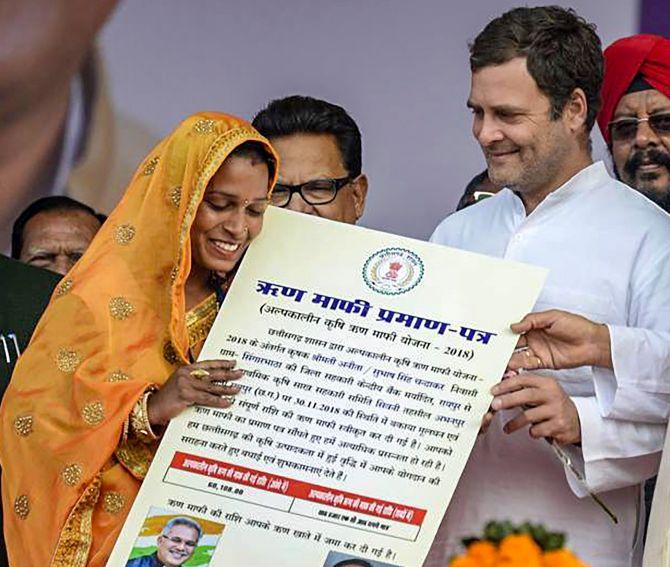 Echoing the Garibi Hatao (Remove Poverty) slogan coined by his grandmother then prime minister Indira Gandhi during the 1971 general election campaign, Congress President Rahul Gandhi on January 28 promised that his party would offer a minimum income guarantee for every poor person if it comes to power at the Centre.
Gandhi described as historic the Congress decision announced by him while addressing a Kisaan Abhaar Sammelan in Raipur to express gratitude to Chhattisgarh's people, particularly farmers, for voting the party to power in the state after 15 years.
The minimum income guarantee is a spin-off of the global concept of Universal Basic Income which economists all over the world are talking about as artificial intelligence is gobbling up more and more jobs and driving unskilled people to unemployment.
So will India, home to a large number of the poor, succeed in implementing such a scheme when countries like the United States, Finland and Kenya failed to succeed?
"I think it is a progressive idea and it makes good economics because if you take care of the existential issues of the people then they become more productive in society," Dr Arvind Mayaram, former finance secretary in the Government of India and current economic advisor to Rajasthan Chief Minister Ashok Gehlot, tells Rediff.com's Syed Firdaus Ashraf.
Rahul Gandhi has announced a universal basic income scheme for the poor. Do you think such a scheme is practical?
Universal means it is for everyone, people like you and me also.
What I understand from the announcement is that those who do not have a particular level of income, they will get support from the government.
This scheme is basically for the poor.
Can such a scheme be called a case of good politics, but bad economics?
I don't think so.
The reason is that we are only looking at the poor and you must remember that there is already an emerging scenario where artificial intelligence is taking away jobs all over the world and not in India alone.
Therefore, this discussion is going on everywhere in the world.
What is being proposed is that a certain level of income must be provided to people so that they can have a certain level of living standards, which means they must be able to eat two meals a day and send their children to school and also have hospital facilities and so on.
I think it is a progressive idea and it makes for good economics because if you take care of the existential issues of the people, then they become more productive in society.
Therefore their productivity increases, so their contribution to society also increases. It also adds to growth.
For example, when people have money to spend they spend the money and then it adds to the economy.
Trade increases, sale of goods and services increases.
All this adds to the GDP.
I don't think it should be seen as bad economics.
Where can India find the resources to meet the expenses for such a scheme? Where will the money come from?
My understanding is that we have a large number of schemes already which are in some manner or other trying to support (poor people).
So there are two ways.
One is, you give the people income, and secondly you make things cheaper for the people without income so that they can afford it.
For example, the Ujjwala scheme of free gas to the poor by this (Narendra Damodardas Modi) government.
Though there are problems in the scheme, it provides free gas because the poor could not afford it.
Now you can reverse it by saying I will give you cash so you can buy the gas.
So logic must be seen in this way.
Similarly, you have the MNREGA (the Mahatma Gandhi National Rural Employment Guarantee Act).
It is supposed to provide you income in times of distress.
But in MNREGA people work on government infrastructure projects and earn money, unlike here where you give money without doing any work.
No.
If you look at the (MNREGA) Act, it did not say that.
The Act says it is enhancement of livelihood of security.
It does not say you do projects, etc.
In fact, it is a deviation from the Act.
The Act does not says that it is only employment guarantee.
If you want to spend on (infrastructure) projects you find money in other schemes, why should it be through an employment scheme?
In India 276 million people are considered to live below the poverty line. Can we pay some money to them every year without having any repercussions on the Union Budget's fiscal calculations?
It is 276 million or 380 million, depending on which number you take.
The Dr C Rangarajan committee number is different from the Suresh Tendulkar committee's number.
So it could be any way.
If they put universal minimum income guarantee scheme in the Union Budget, for instance, then many other schemes will have to go.
In my opinion, MNREGA will have to go as we spend Rs 55,000 crore (Rs 550 billion) around it.
If MNREGA goes, that money is subsumed in income to the poor.
SO, you are looking at almost one-fourth of what is required for such kind of scheme (universal basic income).
Similarly, if you take away the Ujjwala scheme, another Rs 15,000 crore (Rs 150 billion) will come for this scheme.
Old age pension, which is around Rs 1,000 crore (Rs 10 billion), will get subsumed in this new scheme.
I think people are just simply not looking at the bigger picture, but adding this as another expenditure.
I don't think it will be like that.
The only country that carried out UBIS was Finland and it too selected only 2,000 people, before discontinuing the scheme. Is it possible to implement in India, as similar experiments in other countries like the United States, Kenya and Canada too did not succeed?
The US gives an unemployment dole.
Most advanced economies have some kind of unemployment allowance.
Universal income is larger than that, which means everyone will get money.
(Let us say) there (in other countries) they transferred money where everyone gets $5,000 per month irrespective of what your income will be.
That is universal, but here (in India) we are not looking at that.
In (those countries) that was difficult to sustain and anyway not progressive.
It wasn't even equitable because why should the rich and poor get the same subsidy?
Putting more money in everyone's hands also has adverse consequences on inflation, doesn't it?
One point you must remember is that inflation is not bad.
Today we have low inflation and if you see the December figures it is minus 2.5% inflation in rural areas, which is actually a cause of distress.
So when you have disinflation, the economy slows down and we are beginning to see the economy slowing down.
If inflation falls below a certain level, the economy begins to shrink.
The growth in economy is fuelled by inflation.
The question is -- shouldn't it be hyper inflation?
Inflation is only a function of goods being less available than the money which is circulating in the market.
Therefore, what you need to do is that you have to have demand where there will be more production. You have to create a cycle.
You are creating demand, so now increase the production.
Why are you getting tomatoes for Rs 2 a kilo and farmers are throwing them on the street?
Because nobody has the money to buy them.
The production is more and demand is less.
People don't have money in their pocket and when they have money with them you will not see farmers throwing away milk or tomatoes on the roads.
I think these arguments are not looking at the bigger picture of the economy.
We are going by what is obvious.
I think this is a very progressive announcement and it will actually add to the economy.
When MNREGA came people said the same thing, that people will become non-productive and become lazy, but the fact is between 2005 and 2012, 150 million people came out of poverty.
That has been one of the fastest recorded transformation in terms of poverty anywhere.
There is always the fear that providing dole is lazy economics that will in turn lead to a lazy populace because of easy money. Is this fear justified?
It is a mindset.
In my opinion, which I have held even in the past, the Indian economy has been subsidised by the poor.
Unskilled and semi-skilled labour has never been able to bargain because it has been a buyer's market. So there is a surplus of labour.
If you have an income of Rs 2 lakh salary per month, how much money do you pay your servant?
Rs 5,000 a month, as we believe that we are entitled to a higher salary and that poor servants are losers, why should they be given more money?
This is the mindset of the urban middle class or urban rich who have everything going for them.
This is the mindset which says why should tax-payer's money be wasted on JNU (Jawaharlal Nehru University) students?
Now the assumption is that only income-tax payers are tax-payers, whereas it is a very small part of the tax collected by the government.
GST or sales tax is the universal tax which is a retrogressive tax as it is equally taxed on the poor and rich.
If you buy a toothpaste, the poor person pays the same tax as a rich man.
Cheap labour is available in abundance so the middle class and upper middle class don't pay their servants well, isn't it?
Therefore, how do you get bargaining power?
What did MNREGA do?
They gave Rs 100 per day to a household.
In UP, immediately what happened, the minimum wage was Rs 35 per day, now it went up to Rs 100.
There is also dignity of labour.
Minimum wage is not India's invention. It is all over the world.
In the USA, labour gets $8 per hour and you cannot pay anybody less than that.
Can you say there why should you pay $8 when you are getting labour at $2 per hour?
Minimum wage is something that is determined by what is the bare minimum required for a man to keep his heart and soul together.
The same logic has to be applied here in India.
There is a formula for minimum wage.
There is a basket of prices that you take from the market and that basket of prices decides this.
If you have to run a household you have to buy flour, cereals, electricity and other things that you put in a basket.
A weighted average is then taken to arrive at a minimum wage. It is not that minimum wage is unscientifically done.
These prices are collected on a daily basis and this data is available.
You can see this data at the NSSO (National Sample Survey Office), and the food departments of every state of India has this data.