Today, when the nation's attention is on the Union Budget, take a moment to consider ways to improve your finances.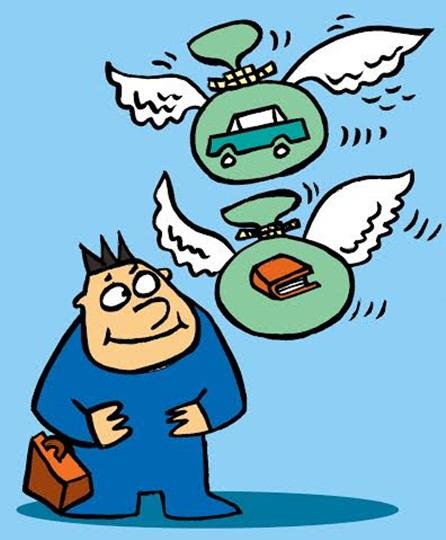 This Budget day, after you have heard Finance Minister Arun Jaitley's speech, turn your thoughts to your own household budget.

If you haven't begun doing the budgeting exercise yet, it is time you begin. If you are already doing it, the tips we offer might help you save more.
Just do it: Create an Excel sheet or use the humble notebook. On one worksheet keep track of your monthly income. On the next couple of worksheets, keep note of your non-discretionary and discretionary expenses. Rent, insurance premiums, EMIs and utility bills fall in the category of non-discretionary expenses. Movies, dining out, gifting and travelling are discretionary expenses. The last worksheet should be devoted to tracking your investments. Once you begin tracking your income, expenses and investments, you will have a good sense of how much you earn, spend and invest. Thereafter, you can make changes by consciously allocating sums to these categories at the start of the month. Then try to adhere to these allocations.
Create a contingency fund: Squirrel away three months' worth of household expenses into this fund. An emergency has the potential to make your entire budget for the month, and even for the near future, go haywire. "A study showed that 97 per cent of Indians between the age of 30 and 45 would go bankrupt if they had an emergency. It also showed that each one of us is likely to encounter at least three emergencies," says Nitin Vyakaranam, founder and CEO, ArthaYantra. Put the contingency money in a liquid fund where you can access it quickly.
Keep track of expenses: Most of us don't keep track of expenses at all. The more diligent among us may bother to note down our bigger expenses. But financial planners say that small expenses can lead to big leakages in your budget. Ankur Kapur, founder, Ankur Kapur Advisory, suggests a way to track smaller expenses. "Create a WhatsApp group that includes your spouse. Every time you make a small payment of below Rs 1,000, send a message. At the end of each week, compile these expenses in an excel sheet," says Kapur. Several expense tracking apps are also available nowadays.
According to Vyakaranam, we tend to ignore small expenses. "The trick is to convert these small daily expenses into semi-annual and annual expenses. When you do so, the amount becomes bigger and it starts to register in your consciousness," he says. Once you take cognizance of these expenses, consider possible steps to curtail them.
Enhance investments: Just as the government looks to curtail its revenue expenditures and enhance capital expenditures, you too should try to increase the amount you allocate to build assets and invest for future goals. Most people follow the formula: Income minus expenses equals savings and investment. They spend throughout the month and only invest the amount, if any, left at the end of the month. The smarter way is to change the formula to: Income minus savings equals expenses. In the first week of the month, take out the money earmarked for investment. Only such enforced saving will enable you to build corpuses for goals like retirement and children's education.
Prevent leakages: Impulse buying, dining out and entertainment-related expenses have the potential to cause big leakages. The only way to avoid these seemingly impossible-to-control expenses is to allocate money at the start of the month to investments, non-discretionary expenses and discretionary expenses. As far as possible, do the spending under the first two heads at the start of the month. Segregate the money for discretionary expenses and try to stretch it till the end of the month. Once the money runs out, defer your expenses and don't steal from the savings basket.
Leakages also occur on the non-discretionary side. Premiums paid for insurance products that neither fulfil your insurance needs nor give high returns are one example. Paying a higher interest rate on home loans than the best rate available in the market is another. If required, take expert help to plug these leakages.
At the end of each month, review the numbers you have compiled. Which are your big expenses? Which are the wasteful ones? Which are the good expenses that will help you build a brighter future? "Use the insights gained from these numbers to prepare the budget for the next month, and thus consciously direct the way you earn, spend and invest," says Anil Rego, CEO and founder, Right Horizons.
Disciplined budgeting has the potential to put you firmly in-charge of your financial life and augment its quality. If you have not begun it yet, do so and watch its magic.
BUDGETING MISTAKES TO AVOID
Entertainment: Draw a budget at the start of the month and don't overshoot it
Shopping: Curtail unplanned, impulse purchases
Travel: Plan your vacations in advance
Home loan: Switch to the provider of the best rate
Home purchase: Don't stretch your budget to buy a house
Insurance: Don't pay exorbitant premiums on low-insurance and low-return policies
Bank deposits: Don't let huge amounts lie in savings deposits
Utility bills: Automate payments so you don't pay late payment fines
Consumption: Reducing consumption of alcohol, cigarette, junk food will not only help save money but also be beneficial for your health