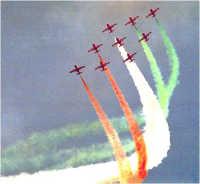 As in the past, the armed forces have been asked to surrender around Rs 4,000 crore (Rs 40 billion) ahead of the Budget.
Normally, this is the amount not spent from the capital account, usually from the army.
Former defence secretary Ajay Prasad said: "In my time, around this time of the year, I used to get a call from the finance minister, saying, 'we want Rs 5,000 crore [Rs 50 billion]'."
In the past decade, about Rs 45,000 crore (Rs 450 billion) has been returned, either because it was unused or since the government needed the money to balance its books.
Instructions have been given not to conclude any contracts before March 31.
The affected projects are the Medium Multi-Role Combat Aircraft, basic trainer aircraft Pilatus and possibly the Multi-Role Tanker Transport aircraft.
In the case of the army, it is the American light howitzer gun, the light helicopter and smaller projects.
The armed forces have long complained that this practice of taking back unspent money to balance the finance ministry's books makes nonsense of procurement plans with long gestation periods.
The surrender amounts to roughly Rs 3,000 crore (Rs 30 billion) from the army and Rs 1,300 crore (Rs 13 billion) from the air force.
Senior sources in the army and air force, however, denied any funds were being surrendered. The army says it has readjusted the unspent amount, partly through the capital component under the revenue head of 'war stores'.
The navy seems to have managed to balance its books by December 2011.
Highlighting the need for funds, the army made a presentation to defence minister A K Antony last month, indicating the 'hollowness in critical fighting equipment' such as shortages in war wastage rate of ammunition, thermal imaging equipment in the T72 and T90 battle tanks, no purchases of air defence systems or artillery and slow modernisation of the infantry.