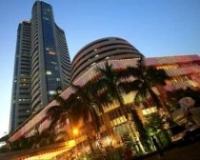 Stock market cheered the union Budget for the second consecutive day with a record-breaking rally, taking the total addition to investors' wealth to over Rs 2,33,500 crore (Rs. 2335 billion) in just two trading sessions.
The benchmark Sensex on Tuesday soared higher by 623.10 points - the biggest one-day gain since May 18, 2009, when the index had rose by nearly 2,111 points to cheer the people's majority verdict in favour of the incumbent UPA government.
In the process, the total investors' wealth, measured in terms of cumulative market value of all listed stocks, rose by Rs. 1,85,549 crore (Rs. 1855.49 billion) at the end of Tuesday's trading.
Prior to this, the investors' wealth had risen by nearly Rs. 50,000 crore (Rs. 500 billion) on Monday, when the Sensex rose by over 122 points despite paring most of the nearly 600-point gains on the back of union Budget announcements.
At the end of Tuesday's trade, the investors' wealth stood at Rs. 65,28,620.46 crore, up from Rs. 63,43,071.92 crore on Tuesday.
Besides, Tuesday's gain of 3.5 per cent, it is also the highest one-day rise for the Sensex for a day after the Union Budget announcement.
So far, the gain of 3.27 per cent registered on the day after the Budget announcement of February 28, 2002, was the biggest ever, which has now been relegated to the second position.
However, the market had fallen sharply, with a 3.87 per cent plunge in the Sensex, on the Budget day itself in 2002.
Over the past 10 years, the markets have registered mostly negative returns in the one-month period post Budget.
The average return for this period has been negative 1.2 per cent, with the best and worst movements being a gain of 9 per cent and a loss of 11 per cent, respectively in one-month period after the Budget announcement.
Marketmen said that the market has mostly responded to the pro-reforms announcements made in this year's Budget.
Besides, a sharp sell-off in the run-up to the budget as the Sensex has fallen by about 15 per cent over past two months and absence of any major expectations, have also helped the markets register smart gains on Tuesday and on the Budget day.