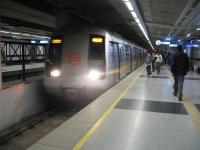 The Budget tries to address the financing challenge in infrastructure by deepening the corporate bond market.
The limit for investment by foreign institutional investors in corporate bonds with maturity of over five years has been raised from $20 billion to $25 billion.
FIIs may also now invest in unlisted bonds with a lock-in period of three years and trade in these among themselves.
We need a deeper corporate bond market as an alternate to bank finance. As the size of projects and volumes grow, banks will hit exposure limits," said Ankineedu Maganti, director, Soma Enterprises, an infrastructure company.
The Budget measures, experts say, will help in increasing the width and depth for infrastructure financing.
Interest payments on borrowings by notified infrastructure debt funds will now attract a withholding tax of five per cent against 20 per cent earlier; income of these debt funds have been exempted from tax.
The outlay for infrastructure has gone up by 23.3 per cent to Rs. 2,14,000 crore (Rs. 2,140 billion) in 2011-12, which is 48.5 per cent of the Plan expenditure.
"The infrastructure intensity of the budget has increased (last year it accounted for 46 per cent of the Plan expenditure), with a slew of measures to channel long-term debt into infrastructure," said Vinayak Chatterjee, chairman, Feedback Ventures.
The deduction of Rs. 20,000 (Rs. 200 billion) for investment in long-term infrastructure bonds provided in 2010-11 has been extended by one more year.
Public sector undertakings will issue tax-free bonds of Rs 30,000 crore (Rs. 300 billion) in 2011-12 to boost development in railways, ports, housing and highways.
A number of sops have been given for creation of agri infrastructure such as cold storages and equipment, all aimed at combating the supply chain-driven inflation in food prices.
Any investment for creation of cold chains and post-harvest storage facilities will be eligible for the viability gap funding scheme of the finance ministry.
The government will add modern silos that can store an additional four million tonnes of grain.
Equipment suppliers to mega or ultra mega power mega power projects will not attract excise duty, as a level playing field, since imports attract a concessional duty of 2.5 per cent.
Capital expenditure in fertiliser will qualify for infrastructure status but this has surprised a few.
"Manufactured goods as part of the product market economy are not classically termed as infrastructure and, hence, it is surprising," said Chatterjee.