Their startup investments number 13 so far, compared to 17 deals in 2020.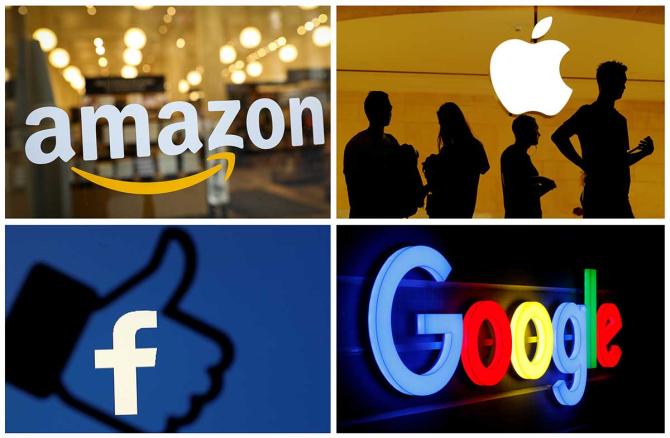 Big technology firms Amazon, Google, Microsoft, Twitter, Facebook and Flipkart have collectively invested $1.82 billion in Indian startups so far this year, compared to $899 million in calendar year 2020, according to Venture Intelligence data. And their startup investments number 13 so far, compared to 17 deals in 2020.
Though the big tech firms are often criticised for killing competition, they have given India's growing digital consumption story a resounding vote of confidence.
For instance, Flipkart has been an active investor in the country and has a portfolio of minority investments in more than 12 companies, which include startups such as Ninjacart, Shadowfax and Blackbuck, as well as established corporate entities such as ABFRL and Arvind.
"Innovation is in Flipkart's DNA. It's how we began and how we continue to grow and make a difference. We believe that our next big innovative solution can come from anywhere, and that's why we've built an ecosystem to back ideas," says Jeyandran Venugopal, the company's chief product and technology officer.
Flipkart has, over the years, invested in several startups in the areas of augmented reality, last-mile delivery, and gaming, always looking for synergies to build industry-best solutions.
Among the largest investments by Big Tech firms in India are those by Facebook and Google in Reliance's Jio Platforms. In April last year, Facebook said it would invest $5.7 billion in Jio Platforms for a 9.99 per cent shareholding in an all-cash deal. A few months later, Alphabet Inc's Google paid $4.5 billion for a 7.73 per cent equity stake in Jio Platforms.
"All of these are emerging trends and areas. The philosophy is to enter the area and build it as part of their own portfolio, like Google has done in the past through YouTube," says an industry executive who did not wish to be named.
Facebook has investments in social commerce unicorn Meesho, a segment that has seen increased interest from investors, and edtech platform Unacademy. Twitter has put money in local language social network ShareChat, while Google has been working on a host of initiatives around its Jio Platforms partnership.
"Facebook's investment in Meesho is aimed at fuelling a business model that can result in rapid job creation and the rise of a female entrepreneurial class in India. Meesho is translating the power of online communities to expand economic opportunity for all of India, and especially women," according to a statement from the technology giant, which rebranded itself as Meta on Thursday.
Flipkart launched its startup accelerator programme "Flipkart Leap" last year. Some of the innovations shortlisted this year include startups that understand the emotions of shoppers using artificial intelligence; companies which provide mobile robots that sort packages and improve personnel productivity; and firms that capture data using on-farm sensors to provide recommendations to farmers.
Last November, Flipkart acquired Scapic, an augmented reality company, to enhance its e-commerce shopping experience capabilities. Flipkart also strengthened its gaming strategy by acquiring intellectual property from Mech Mocha, a mobile gaming startup that runs India's first live-social gaming platform, Hello Play.
"Some of our strategic investments such as Shadowfax, which deals in last-mile deliveries, have played a pivotal role in elevating the customer experience through faster hyper-local deliveries," says Venugopal.
The company has also introduced "Flipkart Boost", a programme for new-age digital-first consumer brands to move into the next phase of growth.
Flipkart Ventures, the investment arm of Flipkart, launched in 2019, is a $100 million fund. This July, along with Tiger Global, it invested in G.O.A.T. Brand Labs (which intends to acquire third-party lifestyle brands to help them grow online), a company set up by Rishi Vasudev, who had earlier headed Flipkart Fashion.
Rival Amazon has also been backing innovative companies in India and is making several fintech investments where partners are enabling innovations and serving the company's core strategic goals.
Among the firms Amazon has invested in are Capital Float, ToneTag (which uses sound waves to enable contactless offline data communication across devices, allowing customers to pay offline or digitally to make purchases), and BankBazaar (an online marketplace for financial products).
Early this year, Amazon also funded direct-to-consumer beauty brand MyGlamm, along with Ascent Capital and Wipro Consumer. Facebook and Google have, of course, made bigger bets on emerging areas of technology that could serve a larger population.
Last Friday, Google and Jio Platforms rolled out JioPhone Next as part of their commercial agreement to jointly develop an entry-level affordable smartphone with optimisations to the Android operating system and Play Store. If the two get the pricing and tech specifications right, it can be a game changer in getting the next 500 million Indians on to a smartphone platform.
Google has also invested in Dunzo, Fynd, Halli Labs, and Sigmoid Labs (the last two are acquisitions). Moreover, it has invested through CapitalG, Alphabet's independent growth fund. Its investments include Aye Finance, CarDekho, Cuemath, Freshworks and Practo.