None of the Big Tech companies or tycoons appears to be playing a meaningful role in the testing, spread, cure, or eradication of the virus or even in contact tracing so far, says Prosenjit Datta.
All illustrations: Dominic Xavier/Rediff.com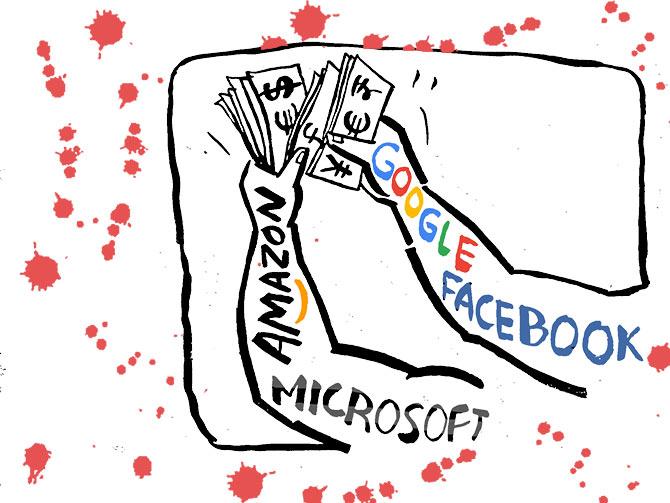 Though we are at most six months into what promises to be a very long pandemic, it is clear that Big Tech has gained enormously because of the spread of the disease, without offering any real solutions about how to contain or treat it.
Amazon, Microsoft, Google, Facebook and the other Silicon Valley giants and tech companies around the world have all been big winners after countries went into lockdown, offices implemented work from home (WFH) and social distancing, and consumers were stuck at home for days together because of the virus.
At the same time, none of the Big Tech companies or tycoons appears to be playing a meaningful role in the testing, spread, cure, or eradication of the virus or even in contact tracing so far.
Their vaunted tech tools have been unable to accelerate the search for a cure and even their contributions for research in the field of a vaccine or a cure have been modest compared with the billions they have gained since the virus started spreading.
Most of their efforts have been on the periphery, largely confined to relief operations and information dissemination.
The sole exception is perhaps Bill Gates, whose Bill & Melinda Gates Foundation is now the biggest funder of the World Health Organization (WHO) and who is investing in a Covid-19 Therapeutics Accelerator and also in facilities to mass produce the vaccine so that poorer countries are not denied access after the discovery.
The technology companies have been big beneficiaries of the virus because they had the solutions for work and entertainment at home.
Their founders have become wealthier after the pandemic struck while ordinary people have got poorer.
Mark Zuckerberg of Facebook and Jeff Bezos of Amazon have each seen over $30 billion added to their wealth between mid-March and mid-May.
Sergei Brin and Larry Page of Google had each added $14 billion to their net worth, while Microsoft co-founder Gates had seen an addition of $8 billion to his net worth.
Elon Musk (Tesla) and Larry Ellison (Oracle) have gained several billions each.
This, at a time when the global economy is headed for a recession and unemployment in every country is going up.
Possibly the biggest gainer from the disruption has been Amazon.
Its retail operations got a huge fillip as more people ordered home delivery instead of going out shopping during lockdowns.
Its AWS Cloud Services is more popular than ever while its Prime Video offers have seen viewership soar.
A few years ago, Bezos, using tech, set out to disrupt healthcare.
He teamed up with Berkshire Hathaway and JP Morgan and brought in noted surgeon Atul Gawande to head the new effort.
Reports suggested that the brief for the team was fairly broad -- ranging from using telemedicine to cut out traditional steps to finding a cure for the common cold.
So far, however, Amazon has not shown its hand in handling the spread of the virus or finding a cure for it though it has committed $20 million for the AWS Diagnostic Initiative.
Other than that, its role has been largely restricted to hiring additional people, donating devices and masks, and Bezos's personal contribution for the Feeding America programme.
Microsoft, too, has gained through its video-conferencing solutions and the adoption of its cloud services.
It has started offering some solutions to help analyse data on the disease and contribute to the search for a cure by offering its platforms and software to companies working at the forefront.
But these are very early days yet.
Google plans to dominate contact tracing in the future, grab a big chunk of the video-conferencing market, and add other services.
It is already working on features for these.
Facebook too has found new relevance as it introduced features in WhatsApp, Facebook, and Instagram while others such as Zoom, Twitter, and Netflix have all gained in this period. (There have been losers too in the digital economy with Uber, WeWork, Oyo, and AirBnB and those with similar models of shared resources taking a big hit because of travel restrictions and safety concerns.)
However, apart from making video consultations in healthcare easier and offering app solutions for contact tracing and health monitoring at home, none of the big players seems to have ideas on how to massively speed up vaccine research or help in mass sanitisation of public places.
In fact, Amazon, despite its prowess, has failed to even check the transmission of the virus in its warehouses in the US and is facing lawsuits from infected workers and their families. [It has started making process updates and giving personal protective equipment (PPE) now, and has changed policies to offer two weeks' extra paid time off for the people detected with Covid, and health benefits to those detected with the virus.]
AI and robotics may offer many solutions but they haven't yet come up with practical solutions in making treatment of the virus easier in hospital settings even in the US.
Neither have they played a role in developing better and cheaper PPE or ventilators or been able to figure out ways to use big data analytics in combing through treatment data records across the globe to come up with any good insights into future protocols. (Reports suggested that the initial ventilators donated by Tesla were suitable but full-scale ventilators, which were needed, were not.)
In the near future, the power of technology giants could go up even further.
With contact tracing and pinpointing overriding concerns of data privacy, the influence of Google, Amazon, and the others in every bit of our lives can only increase.
At the same time, robotics and automation in offices are getting a huge fillip to the detriment of human employees and that will be one of the lasting legacies of the virus.
This leads to the question that knowing what we know currently, would governments around the world and venture capitalists in the future deploy more resources in things like drug and vaccine research, better health care innovation, and other such things that can save lives?
I would suspect not.
Governments might briefly toy with the idea but eventually they will still focus on the technology developments that will help them win Industry 4.0 wars and not on things that will improve treatment protocols.
Venture capitalists will also shun health care because there is not much money to be made from it, and anyway billionaires can always take care of such minor things as hospital bed shortages, social distancing, and safety when it comes to their own lives.
---
Prosenjit Datta is former editor of Business Today and Businessworld and founder and editor of Prosaicview, an editorial consultancy.
Production: Ashish Narsale/Rediff.com