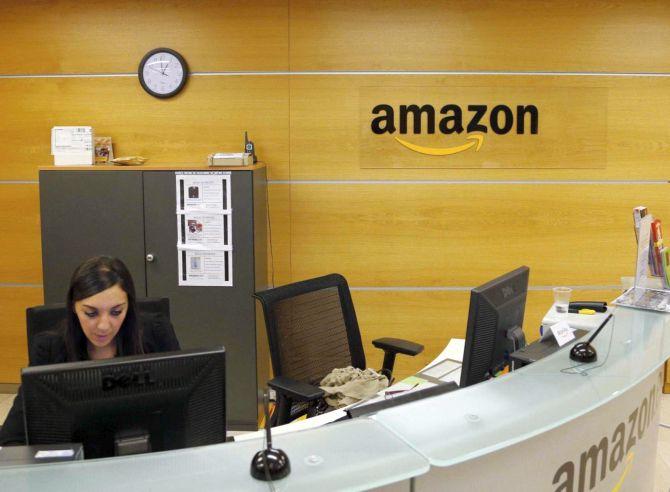 Seattle-based e-commerce company Amazon, rival to Flipkart, waited two days after its third anniversary in India to step up its investment in its fastest growing market.
Amazon founder and Chief Executive Jeff Bezos announced an additional investment of $3 billion (Rs 19,952 crore) for India during an interaction with Prime Minister Narendra Modi at Washington DC Tuesday night, taking its total spend to $5 billion in the market.
The company had in 2014 announced an investment of $2 billion for India.
In fact, soon after that announcement, Bezos had met Modi during his last India visit.
In three years since it entered India in 2013, Amazon has emerged a competition for posterboy of Indian e-commerce Flipkart, which is funded by marquee investors such as Tiger Global, DST Global, GIC, Iconiq Capital, T Rowe Price among others.
Both Amazon.in and Flipkart have their headquarters in Bengaluru.
Flipkart, founded Sachin Bansal and Binny Bansal in 2007, has so far raised around $3.2 billion, according to estimates. It's big dollar fund-raising had begun in May 2014, since when it has raised a large chunk of $2.6 billion.
In 2016, Flipkart has not raised fresh funds over differences on the company's valuation, reports suggested.
The company's valuation has been marked down from $15 billion to around $9 billion in the past few months.
But, the Bansals have termed the markdown a theoretical exercise by some investors as it is not in the market to raise funds.
On the other hand, Amazon does not have to depend on investors for funding.
Its India head Amit Agarwal had recently said, "we have an open cheque book for India." The $3 billion additional investment by Amazon is expected to escalate its competition with the home-grown rival Flipkart, experts said.
"I can assure you it's only the beginning and as we say in Amazon, it's only day one," 52-year-old Bezos said Tuesday night.
Amazon, which has concerns related to the conditions in the latest guidelines on foreign direct investment in e-commerce, is looking to open a Web Services Cloud Region in India this year.
Its largest software engineering and development centre outside the US, is also coming up in Hyderabad.
"We have already created some 45,000 jobs in India and continue to see huge potential in the Indian economy," said Bezos.
"Our Amazon.in team is surpassing even our most ambitious planned milestones,'' he added while announcing the new investment.

AMAZON INDIA JOURNEY
Enters India in 2013
Announces investment of $2 billion in 2014
Announces fresh investment of $3 billion in a meeting with PM
FLIPKART SO FAR
Founded in 2007
Raises around $3.2 billion funds from global investors till now
Valuation marked down by investors from $15 bn to $9 bn
Source: Companies, industry
Image: View of the reception of Amazon Europe Holding Technologies in Luxembourg. Photograph: Francois Lenoir/Reuters
http://www.rediff.com/business/report/amazon-is-indias-most-trusted-online-shopping-brand/20160304.htm