Ayan Pramanik reports on former Infosys CFO V Balakrishnan's fintech firm, which aims to make borrowing easy for small firms and individuals.
Illustration: Uttam Ghosh/Rediff.com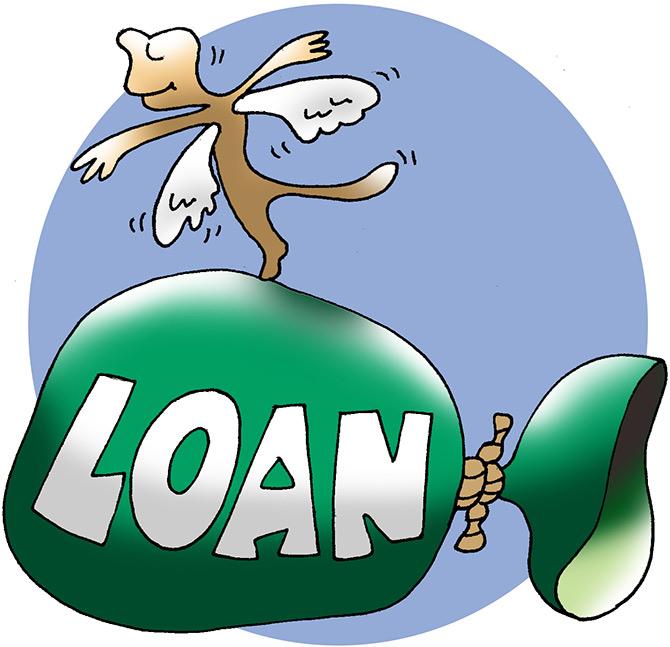 Former Infosys board member V Balakrishnan has founded a financial technology (fintech) firm named billionloans that looks to make borrowing easy for small businesses and individuals. The fintech firm, founded jointly by Rangan Varadan of MicroGraam, will replicate the social impact organisation's model to link commercial lenders with borrowers.
The focus is to build a credible 360 degree credit profile of borrowers based on their banking history and social graph so as to minimise risk for lenders.
"We have integrated a lot of technologies to ensure better user experience with less manual intervention by creating a 360 degree credit profile," V Balakrishnan told Business Standard in an interview.
He has invested $1 million in the venture that would raise funds from investors.
Balakrishnan, who also runs a venture capital firm that focuses on investing in start-ups that builds technologies for enterprises, is looking to offer short-term loans and bill discounting services to small businesses that are vendors to large companies. This would help the firm to start with a base before it expands its operations targeting individuals and small merchants.
India's banking industry is undergoing disruption due to technology shifts.
The government's push for a less-cash society is forcing organisations and businesses to transfer funds digitally to their vendors and employees.
It is also bringing millions of unbanked Indians into the formal system by opening bank accounts and using Aadhaar-enabled payment systems to bypass traditional methods of digital transactions such as cards.
This opens up opportunity for firms such as billionloans to tap a new base of borrowers. Ahmedabad-based peer-to-peer lending firm LendingKart focuses on loans for small businesses, while Bengaluru-based Capital Float focuses on working capital finance for small and mid-size businesses.
These platforms by fintech firms may ensure easy and low-cost loans for many across aspiring students, individuals planning to buy or build home and small retailers or businesses and can potentially disrupt the model of large banks
For small industries and individuals, borrowing from banks have become costly due to increasing non-performing assets of the large banks. Based on the Reserve Bank of India data, the total non-performing assets or bad loans of both public sector and private banks stood at Rs 6 lakh crore as on June 2016.
It also becomes difficult for individuals to borrow money from large banks given their poor credit profile or the traditional method followed to check credit rating.
Billionloans aims to create credit profiles of borrowers through a three-fold background study -- details of cash flow on bank accounts, social media profiles and the friend circle, and psychometric test to check the intention to repay the loan.
"This comprehensive credit profiling will certainly give flexibility to both the borrowers and the lenders," said Balakrishnan.
The firm will begin its operations from the Southern states of Karnataka, Tamil Nadu and Andhra Pradesh.
With a low risk-appetite and better credit profiling, billionloans will facilitate loans up to Rs 20 lakh. The firm is planning to close the first round of funding worth nearly $1 million from external investor in the next two weeks and has applied for an NBFC licence.
"We are tying up with few institutions on the lender side and we hope they will come to our platform because of the quality of the credit profiling. We have created a website and a feet-on-the street to get access to the borrowers and also tying up with a lot of large companies," added Balakrishnan.