'People are already sending congratulatory messages. But I have said, "Please don't until the trials are over".'
Ritwik Sharma reports.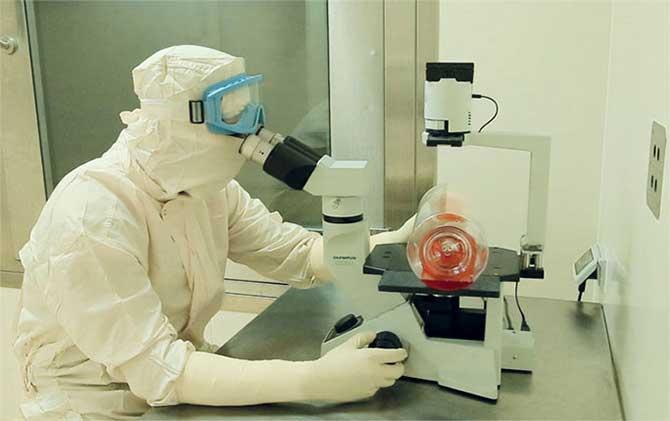 India, a vaccine manufacturing hub, is in the thick of the action as the global pharma industry races to find a cure or vaccine for COVID-19.
The Serum Institute of India is one Indian manufacturer that is developing a vaccine and is hopeful of a successful partnership with researchers at Oxford University.
But its optimism is guarded, given the uncertainties involved in the various stages of vaccine trials.
The Pune-based company also plans to start trials on people to assess whether the Bacille Calmette-Guérin (BCG) vaccine for tuberculosis can also protect against the COVID-19 virus.
It has also collaborated with American biotech firm Codagenix to develop a 'live attenuated vaccine' (which reduces the virulence of a pathogen while keeping it alive).
The vaccine developed by an Oxford University group led by Andrew Hill, director of the Jenner Institute, has held out the most promise in the global race.
The Serum Institute has partnered with Hill's team to mass-produce the vaccine.
Human trials were carried out in the UK last month, backed by government support.
At the time, the Oxford attempt was reported as faring better than other research projects.
The New York Times reported that six rhesus macaques were healthy after they were inoculated with the vaccine in March and exposed to the COVID-19 virus.
The Oxford scientists now intend to conduct trials on over 6,000 people by May-end, and hope that a vaccine will be developed by September.
"People are already sending congratulatory messages. But I have said, 'Please don't until the trials are over'," says Adar C Poonawalla, CEO, Serum Institute of India, the world's largest vaccine manufacturer by the number of doses produced and sold globally.
The Serum Institute will be ready with 40 million to 50 million doses of the vaccine by September-October, Poonawalla says.
The company is preparing for a best-case scenario, as Poonawalla recognises that developing an effective vaccine could take up to a year or longer.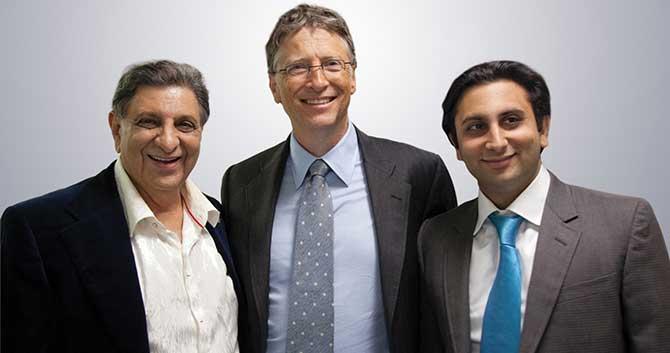 Cyrus S Poonawalla established the Serum Institute of India in 1966.
His son Adar joined the company in 2001 and took over a decade later.
The company produces 1.5 billion doses annually -- including for polio, diphtheria, tetanus, pertussis, BCG, measles, mumps and rubella -- mainly from its two facilities in Pune.
It has acquired two smaller plants in The Netherlands and the Czech Republic in 2012 and 2017, respectively, and supplies vaccines to 170 countries.
In Pune, the pandemic hit the company's operations as its plants are functioning with less than half its employee strength of 6,000.
Its exports, which make up more than half of its turnover, have also ground to a halt.
"Parents of children in other countries are not going to clinics for vaccination as they are afraid of COVID-19. So it's a domino effect," says Adar Poonawalla.
The Serum Institute's readiness to manufacture a vaccine before it is a proven success owes to its strength in terms of additional capacity.
It is investing Rs 642 crore (Rs 6.42 billion) to set up a dedicated plant that can eventually churn out half a billion doses, but that will take at least two years.
Meanwhile, says Adar Poonawalla, the company had already set up two facilities to add to its capacity for producing existing vaccines.
"So capacity (to produce a new vaccine) is not an issue at all," he says.
As the lockdown foists a new order in our social lives and prioritises the pandemic over all other diseases, there are concerns over disruption of immunisation in general.
The Serum Institute has stocks of vaccines for other diseases but demand is currently low.
"Only with fears going down will we be able to vaccinate children against diseases such as pneumonia and measles, and ensure there are no other serious outbreaks which could further strain our health system," says Adar Poonawalla.
The COVID-19 crisis has fuelled unprecedented research for a vaccine, with 100-odd vaccines in preclinical stage and eight in human trials as of the middle of last week.
In India, half a dozen major companies, including Zydus Cadila, Bharat Biotech and Indian Immunologicals, are developing vaccines.
The Indian pharma industry supplies more than 50 per cent of the global demand for several vaccines, and accounts for 20 per cent of the exports in generic drugs, according to data published in January 2019 by the India Brand Equity Foundation.
Adar Poonawalla realises it is a gamble, and a vaccine other than Oxford's might win this massive global race.
But even as the enormity of the crisis offers an opportunity and pits private profit against public health, he is confident that the successful company and researcher would out-license to multiple manufacturers just like Oxford has done.
Besides the Serum Institute, the UK-based AstraZeneca has entered into a partnership with the university to manufacture the drug.
The Serum Institute plans to sell the COVID-19 vaccine at Rs 1,000.
The central government will distribute it for free under the Ayushman Bharat scheme, it has said.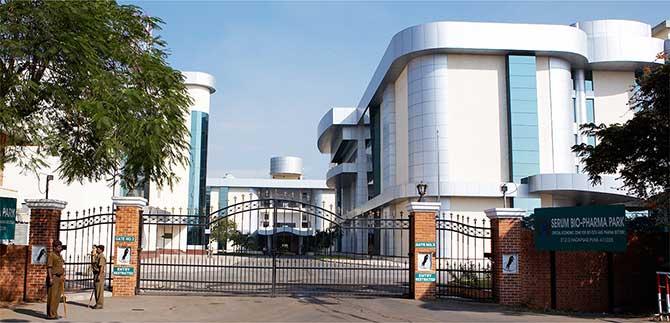 One eminent scientist, who did not want to be named, feels the Oxford scenario is overly optimistic.
If the experimenters are extremely lucky, proof of concepts could be available in three to four months.
But we will probably not get a vaccine for at least a year, says the scientist.
The Oxford study yielding positive animal and antibody results has led to the hope that it will work on humans too and quickly overcome regulatory and manufacturing hurdles.
But the process is more complicated than that.
"Just having an immune response doesn't mean that a vaccine protects you against the virus. We have to know what exactly constitutes a protective immune response and then determine whether a vaccine produces that effect," the scientist says, adding that many pharma companies also overstate the ease of manufacturing.
Mass access to the vaccine will also remain a critical issue, notwithstanding the promise of free distribution among the poor.
Much will depend on all stakeholders working together, and the fate of initiatives such as the Access to Covid Tools Accelerator (ACT Accelerator), a collaborative taskforce recently launched by the World Health Organisation.
Just before India's lockdown ends, the rapid spread of COVID-19 cases with record single-day spikes puts a question mark on all efforts.
What lies ahead after restrictions are lifted?
Dr Jayaprakash Muliyil, an epidemiologist and former principal of the Christian Medical College, Vellore, has pointed out that herd immunity (when more than half of the population is infected) is a natural progression.
To attain this, he has suggested allowing transmission in the young, which is a low-risk category compared to the elderly.
Of course, he points out, a vaccine is a superior option simply because it can grant immunity to people without harming them, unlike natural infection.
"Unfortunately, for a vaccine to develop, we have to make sure it is safe. And that takes a while. There are two issues: Does a vaccine work and protect? And does it do any harm?
So it should be a vaccine without any side effects."
India has produced fairly good vaccines in large amounts in the past, and the government has been able to negotiate with companies and fetch them at competitive prices.
But, for now as a company like the Serum Institute of India would attest, it's a race against time unlike any in recent memory.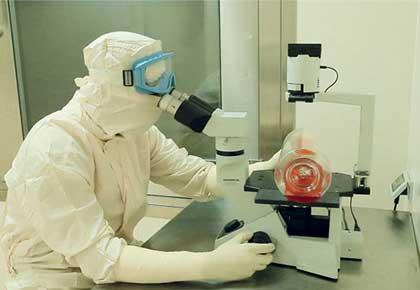 Production: Ashish Narsale/Rediff.com