'Currently, scooters contribute to one third of the total domestic two-wheeler market and it continues to grow.'
'That is why many new models are being launched in this category.'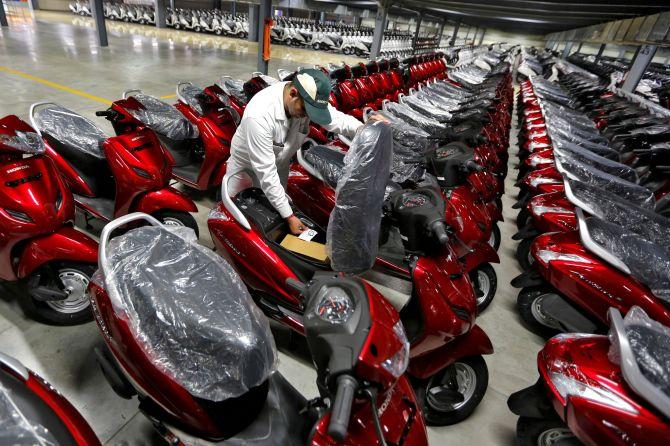 IMAGE: Currently, scooters contribute to one third of the total domestic two-wheeler market. Photograph: Amit Dave/Reuters
Japanese automobile major Honda has its feet firmly entrenched in the Indian two-wheeler market, thanks to a wave of 'scooterisation'.
The second biggest two-wheeler company in India, Honda Motorcycle and Scooter India (HMSI), commands a 57 per cent share in the fast growing domestic scooter market.
Minoru Kato, bottom, left, president and CEO, HMSI, tells Ajay Modi and T E Narasimhan that semi-urban markets will bring the next phase of growth in India.
You are close to completing one year as India chief. What is your reading of the market?
These 11 months have been very exciting.
I can recognise that there is a greater potential to expand further, especially in rural areas.
On the other hand, in big cities, the motorcycle industry may mature. We can expect more female customers from both the cities and rural areas.
Does it mean your next big growth will come from outside the urban markets? Can these markets take more scooters?
I think so. The semi-urban markets have high potential. Many customers who use a motorcycle want a scooter when they look for an additional vehicle for the family.
Scooter is more flexible, comfortable for everyone, including the female members.
How are you planning to expand?
We are going to expand our sales and service network in semi-urban markets.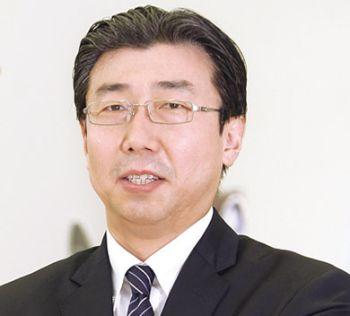 We have a lot of open areas.
Besides, we launched the Cliq last year, a new scooter for the semi-urban markets.
This is not only priced reasonably, but is also easy to ride and has a loading capacity.
Currently, scooters contribute to one third of the total domestic two-wheeler market and it continues to grow.
Do you see it going up to 40 to 45 per cent of the total demand?
I think so. Not only for us, the competitors are also thinking about that.
That is why many new models are being launched in this category.
We welcome more scooters and a healthy competition.
You sit on a high market share of 57 per cent in scooters. Will it be possible to retain such a share, as competition turns aggressive?
I do not care about the market share. We want to focus on customer demand, to expand their joy of riding.
We will focus on continuous improvement in our products and on addition of latest features as you can see in the Activa 5G.
Some customers have shifted to scooters and they have understood the benefit of a scooter.
Once that happens, Honda will be the eventual choice.
India is your largest market in terms of volume. Is there a scope to have a higher share from this market?
At present, about 31 per cent of Honda's global two-wheeler volume is from India.
With the Indonesian market going down and our contribution going up, we can have a higher share.
But this is uncontrollable and unpredictable. We are going to focus on our sales and take care of our customers in India.
The per cent contribution to Honda global sales is immaterial.
With the kind of growth you are witnessing, will you face capacity constraints and is there any need to expand?
We are very much comfortable now. We always think about the next investments, but it is still under consideration and as of now no news there.
Any concerns or challenges do you see in the Indian market for the two-wheeler segment?
The biggest challenge for us is BS-VI fuel emission norms that come into effect from April 2020.
We have 11 production lines, more than 10 models and it is a big challenge for us to shift to BS-VI.
However, we remain confident of meeting the deadline.
In the big cities, the traffic situation is getting worse and accidents are increasing. That is one of the concerns.
You can see so many customers driving without helmets. We want to promote safe driving.